ASITE PLATFORM PRODUCT NOTIFICATION
Asite Platform – Classic View to retire
From July 1, 2021, all project users using Classic View will be automatically upgraded to the Adoddle View experience.
This change is part of an update to the Asite platform interface and functionality which provides increased value to admins and end users.
This includes:
Rich web interface – access to information in two clicks alongside collaboration across your project portfolio.
Configurable dashboards.
Improved team collaboration.
Federated search.
Advanced task management.
Business analytics and visual workflow tools.
Improved column filters.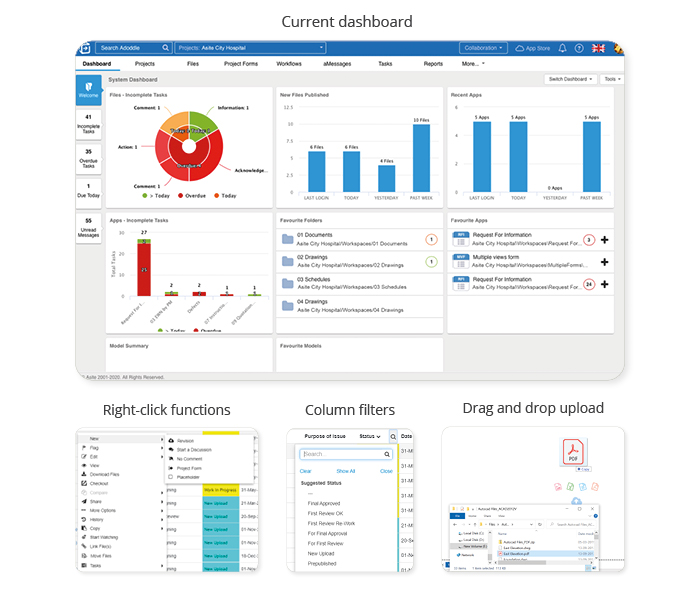 ---
What is the change and when will it happen?
The Asite platform Classic View will retire on all supported platforms and devices on June 30, 2021. Customers should transition their users to the Adoddle View to access the Asite platform.
---
What will happen after the June 30, 2021?
From July 1, 2021, Classic View will be discontinued and access to the "Workspaces" and "Reports" functionality will be disabled. Organization Admins will be allowed to perform admin functions.
Your account will be automatically upgraded to the Adoddle View on the July 1, 2021. However, we highly recommend that admins enable the Adoddle View for their users and supply chain prior to this date.
---
What if you need to have a managed upgrade across your supply chain and need more time?
Please contact our Customer Success team as soon as possible to discuss your options. You can do this by requesting a call-back via CustomerSuccess@asite.com
---
More information:
If you have further questions, please email CustomerSuccess@asite.com
---
This announcement is for reference. Future releases may impact the information presented below. If you have any queries, questions please contact support@asite.com