Asite's cloud platform, Adoddle, celebrates a win at this year's Construction Computing Awards for the Best Use of IT on an Infrastructure Project on Thames Tideway Tunnel and runner up for Best Collaboration Project.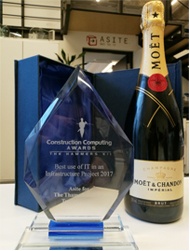 Affectionately known as "The Hammers" the Construction Computing Awards showcase and reward the technology, tools, solutions and highlights the leaders of technology in the AEC industry. The 12th year of the award ceremony hosted by the Construction Computing Awards was held in London on Thursday night, attracting the largest global attendance of AEC Technology providers in the history of the event. Speaking on Asite's win, Tony Ryan, Group CEO said, 'We are honoured to be working with the Thames Tideway team and to receive this award is a clear sign the collaboration is always a winner'.
About Adoddle
The Adoddle platform is used worldwide by leading property owners, architecture, engineering, and construction firms to manage their largest and most demanding capital investment programs. Adoddle helps people manage their projects and supply chains collaboratively, accessing the information they need, when and where they need it. It enables AECO companies to measure and track capital projects and asset operations.
About Asite
Asite's CDE cloud technology gives everyone involved in construction and facilities projects access to key information regardless of location or device. It enables increased collaboration which results in fewer mistakes, delivering huge time and cost savings. Asite's Adoddle CDE platform allows firms to store and manage all project data in one central and secure repository. It is a bespoke platform which allows the clients to fully configure the structure of their content with highly controlled access and rich workflows. Asite was founded in 2001 and is headquartered in London's Tech City in the UK, with North American operations based in New York, and regional offices in Australia, India and South Africa. For more information, please visit www.asite.com or www.youtube.com/asitesolutions