Asite to join the Smart Affordable Housing panel, discussing the use of digital twins in the housing industry
Asite will take part in the Smart Affordable Housing Webinar, hosted by Quadrant Smart on the 9th of June. The purpose of the webinar is to explore the relationship between sustainability, technology, and housing.
Asite is sponsoring the 1:30 - 3:00 PM BST (GMT +1) slot of the event and will participate in the discussion centered around whether digital twins can be used to revolutionize the housing sector.
Asite CEO, Nathan Doughty will sit on the panel to provide his expertise in regards to digital engineering solutions and digitals twins. The physical and virtual worlds are becoming increasingly blended, providing the opportunity for new technologies such as digital twins to play an important role in the future of housing.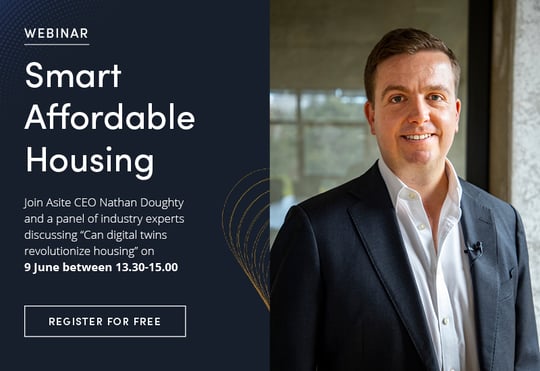 Nathan will join a host of industry leaders to debate this topic, including:
Technical Manager of LHC, Tony Woods

Head of Technical of Thirteen Group, Mark Arnold

Programme Director of Atkins, Peter Lewis
Asite recently published an extensive report, examining the importance of digital twins in helping us to tackle real-world problems such as manufacturing, logistics, and housing. The report shines a light on digital twins as a possible solution to delivering smart, sustainable, and high-quality homes through rich data and visualization techniques.
Nathan Doughty said:
'In fluctuating and increasingly uncertain times, digital twins can provide the built environment with a level of predictability and certainty that we need to remain resilient.'
To hear more insights from our CEO on digital twins and the future of smart housing, join us on the 9th of June.
Tickets to the event are free and are available at: https://lnkd.in/dbbW9sU