Asite, as Gold Sponsors of the event, will discuss the latest trends, opportunities and requirements in the Indian infrastructure market
Asite will join a host of key stakeholder groups at InfraBuild India – India's largest virtual event for Infrastructure Construction taking place over the 19 and 20 January.
The event will bring together representatives from a number of areas, including developers, contractors, and technology providers, across a range of infrastructure sectors such as roads, airports, and railways.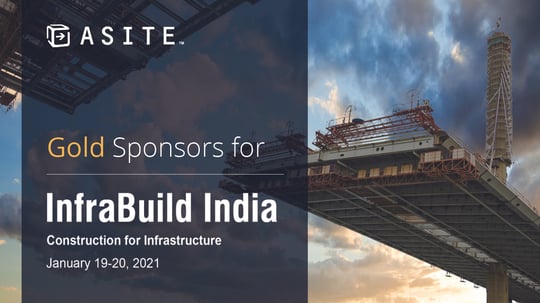 Asite is a Gold Sponsor of the event which aims to help attendees stay on top of industry practices and the latest technologies, products, and solutions. The event will host over 1,000 leaders in Engineering and Construction from sectors such as roads, railways, airports, and irrigation, with attendees set to hear from over 100 speakers, who will drive the conversation surrounding project execution and cost-effective construction.
InfraBuild India could not be timelier – the Indian construction sector faces burgeoning demand in line with the launch of the ambitious National Infrastructure Pipeline (NIP) and the Government's aim to make India a $5 trillion economy by 2024. Accordingly, construction-intensive sectors will see significant capital investment between 2020-2025.
As part of the event, Asite Executive Vice President, Ritesh Narain will host a panel discussion examining airport construction, discussing how it has evolved over time and examining key issues and trends in the sector, bringing the company's expertise from working on exciting, innovative, and world-class airport projects worldwide.
Asite will also host a presentation during the two-day event looking at the rail industry. The presentation entitled 'Digital Engineering for better Information Management on Infrastructure/Rail projects' will discuss how collaborative technologies can positively impact projects.
InfraBuild India is organized by India Infrastructure Publishing, the leading provider of information, analysis, and insight on the infrastructure sectors in India. The organization produces magazines, conferences, websites, newsletters, and research reports as well as over 50 infrastructure-related conferences every year in India.
To read more or to register, click here.