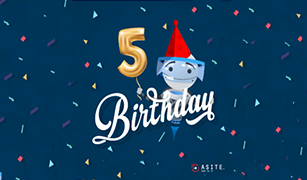 We are very excited to celebrate the 5th Birthday for Adoddle this week. We have come a long way and would like to thank you for all your support over the years. Based on our customer's needs and feedback, there have been 27 version releases and we plan to release a lot of new features this year.
The next Adoddle User Update is on 21 March 2019 and we would like to see you there.
Where:
The Flowerpot Hoxton, Tuscany Wharf, 4A Orsman Road, N11 5QJ
Date and time:
Thu, 21 March 2019, 13:00 - 17:00, followed by informal after-session drinks 17:15 - 20:00.
What to expect:
Adoddle user update is all about bringing together our key users, business stakeholders and industry experts. Get an update on the product, demos of exciting new features and a sneak peak into the roadmap for 2019.
Network:
You will not want to miss this exciting event where you can meet and network with influential people from across the AEC community, as well as learn from the sessions and interactive Q&A.
Contact esalinieka@asite.com to reserve your spot at the event.