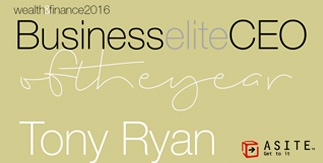 Founded in 2001 and headquartered in London, Asite helps people share information and build knowledge in a secure cloud environment. Asite's cloud technology gives everyone involved in projects access to key information online in a secure environment. It allows for increased collaboration, fewer mistakes, reduced rework, giving huge time and cost savings. In an interview with the firm's CEO - Tony Ryan, he reveals that he was honoured to be awarded the Business Elite CEO of the Year 2016, and sheds light on the firm's Asite's cloud technology.
The CEO at Asite since 2006, Tony turned the business around to produce consecutive quarterly growth and led Asite to its current position as a leading corporate collaborative cloud solution provider. Prior to Asite, Tony held a number of senior roles with companies including Renaissance Worldwide, Group Bull and Cara Information Technology. He has over 27 years' experience in the IT services arena, with extensive knowledge of corporate collaboration technologies. When he can find the time, he enjoys nothing more than playing (albeit badly) a game of golf or two.

First of all, can you elaborate on what the firm does?
Asite's cloud technology gives everyone involved in construction projects access to key information online. It allows for increased collaboration, fewer mistakes, reduced rework, giving demonstrable time and cost savings.
Asite's Adoddle platform allows teams to store and manage all project data in one central and secure repository, integrating with existing solutions for big data capabilities. It also enables customers to fully customize the structure of their content with highly controlled access and rich configurable workflows to allow for improved project controls.
The Adoddle platform is used by leading architecture, engineering and construction firms, as well as property owners world-wide to manage their largest and most demanding capital investment programs.
Can you go into detail about the areas your company specialises in?
Adoddle helps global organisations manage their projects and supply chains collaboratively, accessing the information they need, when and where they need it. It enables AEC companies to measure and track capital projects and asset operations.
Can you tell us how the business is going and the challenges you face at the helm of it?
I have steered the company through some very tough conditions in a market that suffered the hardest since the downturn in 2008. I could not have done it without the incredible team that I have had the honour of working for - the Ateam.
What experience do you have in the IT services arena and also in corporate collaboration technologies?
I am the CEO of a business that helped start the wave of cloud collaboration services. I have over 27 years of experience working within the IT industry and have enjoyed every minute of it. Asite's position as a global leader of corporate collaborative technology or cocial as we call it around here, will only continue to grow.
What kind of clients do you serve and how do you approach them?
Historically, Asite managed the entire asset lifecycle for the AEC community, from concept through to completion. We now take care of the beyond by offering our Cloud based services to the owner operators and FM firms. Through the firm's award winning collaborative Building Information Modelling (cBIM) technology, we cover the entire spectrum. However, the firm is increasingly being asked to look at every aspect of technology within these businesses from CRM, Digital Media through to Finance.
Do you have any plans for 2016 and beyond that you would like to share?
The next three years will see exponential growth for Asite, particularly in the infrastructure and ever increasing manufacturing sector. BIM is a key focus for our clients in the AEC community. The firm are the leading provider of cloud based model servers and we will continue to lead in this area.
What challenges lie ahead in 2016 for you as a CEO and for your company in 2016?
UK's exit of Europe and Donald Trump's hair. But seriously, the main challenge is keeping up with our clients' expectations and ensuring that Asite delivers the best service for their needs. I love a challenge but I prefer solutions - and the Ateam always deliver, we have a very exciting future ahead of us.
Are there any specific industry based challenges you are facing now and in the future?
My Golf handicap, helping government's around the world and globally shaping the future of BIM.
Do you have any further remarks to make?
Asite's company ethos is to make a difference and enable clients to Get to IT!.
Asite Insights in your inbox.
Sign up for product news and our latest insights published monthly. It's a newsletter so hot, even global warming can't keep up.