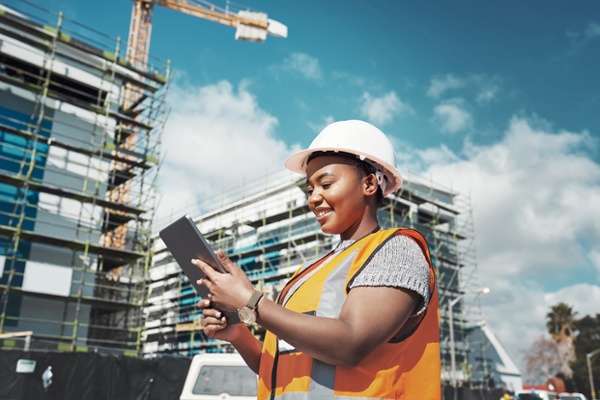 It's a fact: the construction industry has been on the verge of a full-blown global labor crisis for years. With the rebound in many sectors and countries around the globe striving to "build back better," the pressure is on to add more skilled workers.
Women, again, are being reminded of why they should choose roles in carpentry, electrical, and masonry or in the office as project managers, estimators, or owners. This year, Women in Construction Week (March 6-12, 2022), celebrates "Envision Equity."
However, the construction industry remains a male-dominated profession:
- In the U.S. only one out of every 100 employees in the construction industry is female
- In the UK only 11% of the construction workers are women
- In Australia, the stats are slightly higher with women making up 12% of the construction workforce
- While in India, 25% of construction employees are women
Despite these low numbers, there are signs this tide could be changing.
Let's look at some of the reasons why women are finding the benefits like higher pay and opportunity for advancement outweigh any perceived negatives.
Job Security

i

n a Tough Economy
Globally, the COVID-19 pandemic led to women losing $800 billion in income. In 2020 alone, women lost more than 64 million jobs, or 5% of the total jobs held by women, according to Oxfam International. This is more than the combined GDP of 98 countries.
Torn between caring for children at home and staying in the workforce, many women left their jobs or saw their hours reduced. Some began to rethink their career choices—moving away from struggling sectors such as retail and hospitality.
By comparison, the construction sector has seen steady growth since 2012. There is a consistent shortage of workers with the industry eager to add new talent from under-represented groups, such as women and minorities.
This is especially true as many countries turned to infrastructure projects to jumpstart their economies. In the U.S. alone, a $1.2 billion infrastructure plan—along with the Build Back Framework—could add 1.5 million jobs per year for the next 10 years. While in the UK, the government are pledging £600 billion to redress the country's historic underinvestment in infrastructure.
The U.S. construction industry needs more than a half of a million workers above its hiring pace to meet demand just in 2022, according to the Associated Builders and Contractors. The U.S. Chamber of Commerce survey found that 88% of commercial construction contractors reported moderate-to-high levels of difficulty finding skilled workers, and more than a third had to turn down work because of labor deficiencies. This skills gap is prevalent in the UK also, with builders reporting difficulties in finding skilled works across all key trades— 38% reporting bricklayer shortages and 34% are struggling to hire carpenters/joiners—according to the Federation of Master Builders (FMB) State of Trade Survey Q1 2021.
In February, construction employment added 60,000 jobs as hourly wages rose to the highest they've been since 1982, increasing 6%, according to Ken Simonson, the Association of General Contractors (AGC) chief economist. In the UK, construction wages rose faster than any other sector—by 6.7% between February and July 2021.

Construction Jobs Bring Higher Salaries
As of 2021, women in the U.S. make up 11% of the construction workforce — 1.2 million women, compared to 10 million men — according to data from the Bureau of Labor Statistics.
Typically, wages and salaries in construction are 10% higher than private-sector wages, according to the AGC. Wages in construction have a history of outpacing and rising faster than other sectors.
In 2021, the average hourly construction wage was consistently over $30 an hour, according to the  Bureau of Labor Statistics. In August 2021, the pay wage rose to over $33 and stayed consistent through the rest of the year.
A Smart Asset study showed that the construction jobs popular with women have salaries ranging from $68,000 for laborers and painters to $156,000 for construction managers.
In 2015, only one in 15 workers held three of the top 10 fastest-growing jobs for women in construction. These occupations include construction managers, construction and maintenance painters, and construction laborers. All three roles saw increases of more than 50% in female workers from 2015 to 2019, even though they remain male-dominated.
---
Plenty of

Room for Advancement
Over the past two years, female employment in traditionally male-dominated fields, such as construction, surged for the first time in almost a decade, according to the Bureau of Labour Statistics.
However, when it comes to the front lines of the construction industry, only 1 in every 100 employees in the field are women. However, the Smart Asset study found that the number of women with the title construction manager increased by 101% between 2015 and 2019. This makes it the third fastest-growing job for women overall.
According to Randstad, women in construction management roles increased by 9% in the UK between 2018 and 2020.
Although men hold most leadership roles, there's evidence that having women in leadership roles can have a beneficial impact on any company. Though women own only around 13% of construction firms in the U.S., 9% of these firms achieved revenue of over $500,000 or more.
Such statistics prove the point that women in leadership roles can have a significant impact on the profitability of any construction business. In fact, 4% of all new construction firms were female-owned in 2018. 

Changing

Gender Pay Gap
Prior to the pandemic, there was much buzz in the U.S. about construction—not only being a higher paying field for women—but one with a smaller gender pay gap. Much was made of the fact that women in construction were earning about 95 cents or 72 pence for every dollar a man earned—compared to the average 80 cents or 61 pence for every dollar a woman earns in other industries. 
Much cited was a 2017 statistic showing the average weekly earnings for women in construction was $841 or £640 compared to $873 or £665 for men.
However, in 2021, women in construction earned just 79.3% of their male counterparts—compared to 83% from all other occupations. Specifically, male construction managers earned on average $1,548 weekly compared to $1,165 weekly for female construction managers in 2021.
This is also the case in Australia, where women working full-time in construction earned $1,575 a week while male workers earned $1,837 weekly, according to the federal government's Workplace Gender Equality Agency in 2021.
---
Tech Roles in High Demand
No doubt, women encounter many obstacles breaking into the construction industry as it is traditionally a male-dominated field. But hiring more women may just be the key to helping the construction industry resolve both its productivity and profitability.
For example, a McKinsey study showed that companies that ranked in the top quartile of executive-board diversity were 35% more likely to financially outperform their competition.
One area of construction that holds great promise for women is technology, where gender is much less of an issue.
New roles related to innovation and virtual design like chief technology officer, chief innovation officer, and construction technologist, are shattering gender stereotypes. With more and more niche technology-focused roles in the construction industry, more opportunities will become available for women.
Want to learn more about how tech is transforming the construction industry? Discover more here.
Asite Insights in your inbox.
Sign up for product news and our latest insights published monthly. It's a newsletter so hot, even global warming can't keep up.