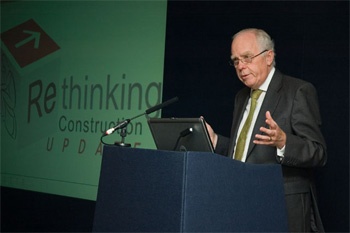 Asite hosted a successful Rethinking Construction Update event at the Great Eastern Hotel, London on the 4th of October. The event was held to show senior executives how Asite can help them to save time and money in managing their supply chains and to announce two new products: Asite Workspace and Asite Building Information Model (BIM).
Workspace is an entry level collaboration tool, addressing the feedback of the industry highlighted by the 2006 NCCTP research, (see Asite News and Events 20 July 2006). This product removes the barriers to collaboration by providing a cost effective entry point. Project teams and supply chains can now start to collaborate right at the start of a project, when the advanced features of sister product Asite Project Workflow are not yet required. Smaller projects can also have access to affordable collaborative technology. Workspace will be available from December 2006.
Chief Technology Officer, Nathan Doughty, wowed the audience with a demonstration of Asite BIM. More than just a 3D model which only stores graphical information, BIM incorporates "Smart Objects"; For example an air conditioning unit within a BIM would also contain data about its supplier, lead in times, operation and maintenance procedures, flow rates and clearance requirements. Asite BIM recognises that different organisations within a project team will be responsible for different elements of a building. Within Asite's Collaboration platform, users can interact with the overall BIM model containing the models uploaded by each party. By linking "Smart Objects" to catalogues stored within Asite's procurement systems, real-time pricing, availability and even purchasing of the components required to build the asset can be managed. With the forthcoming release of BIM, Asite is taking collaboration to the Nth dimension.
The event was rounded off with an update from Sir John Egan, the author of the 1998 Re-Thinking Construction report. Sir John talked about the challenges that the industry faced in 1998 and how it has responded to them. He concluded the morning off by stating that the BIM matched his vision - a tool that enables clients to work collaboratively with their supply chains and that shows Asite continue to drive innovation in the construction software marketplace. Sir John was excited by the steps that Asite has made and was delighted that his vision has been turned into reality.
The expectations of the audience were exceeded by the BIM. The message was well received and the conference a success. Tony Ryan, Chief Executive of Asite, commented "We have been listening to the construction industry for a long time; our aim has been to understand what the industry really needs and to deliver solutions that will enable them to build smarter. Judging by the reaction of the crowd today, we have done just that."
For more information on Workspace and BIM please call on +44 (0)207 749 7880.