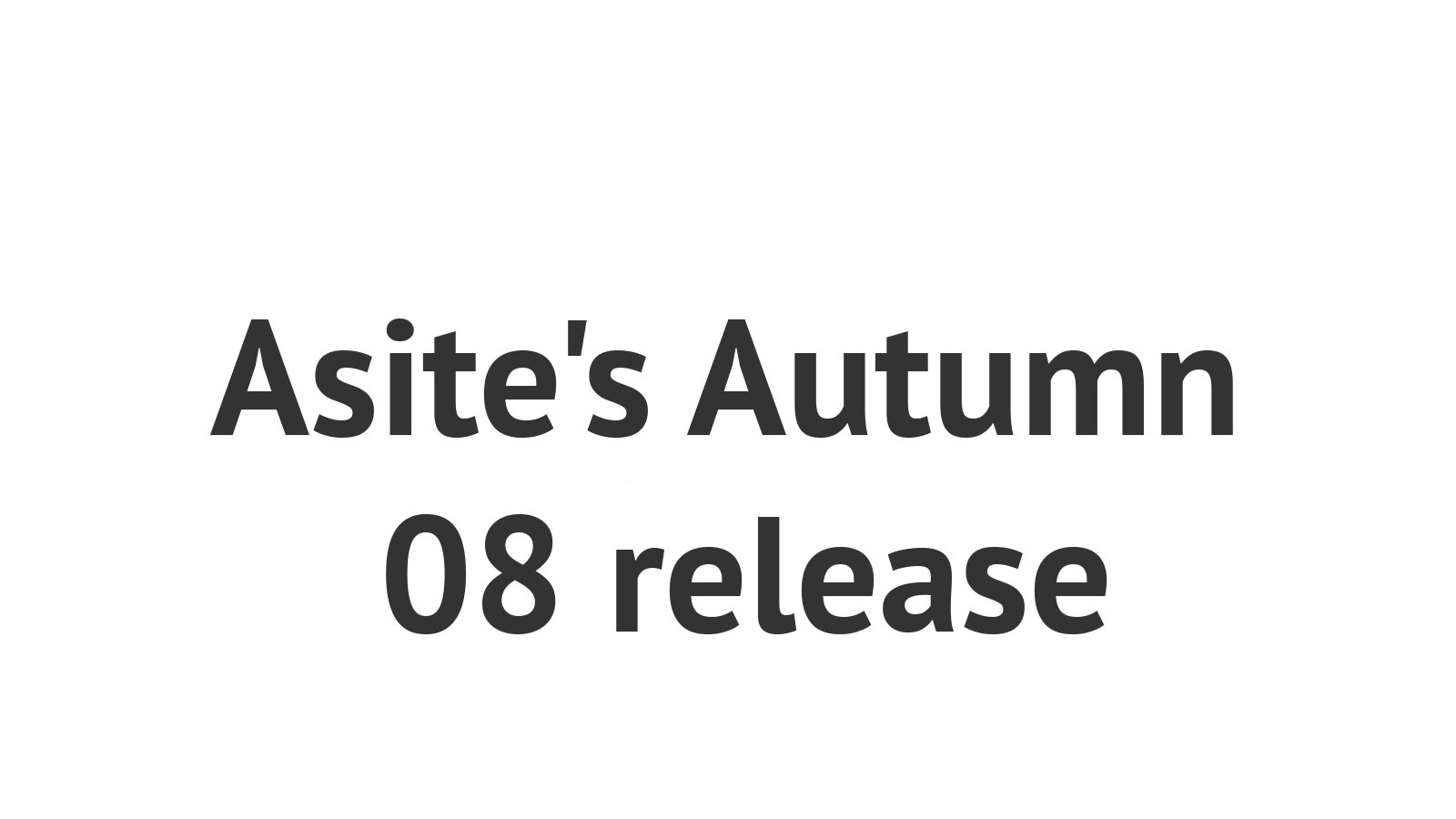 Upgraded platform provides eLearning facility, full-text Content Search across the platform, and fully configurable document reference capabilities
The Asite SaaS Platform has been successfully upgraded to incorporate the Autumn 08 release.
Nathan Doughty, Asite COO, said, "The Autumn 08 Release showcases eLearning. This is a development driven directly by our users and the result is not just the ability to receive online training in Asite – on-demand - but a platform for our customers to develop and host eLearning modules and deliver upon the eLearning requirements of their own businesses. At the same time we have continued to raise the bar for SaaS document management by delivering yet more functionality traditionally available only in expensive enterprise solutions."
Key features of the Asite Autumn 08 Release include:
E-Learning Module:

Asite eLearning allows you to take advantage of our new electronic training facility - available to you any time in any place! You'll learn how to use Asite technology and be shown how to apply it to your projects via 'walk through' training delivered at a pace that suits you.
'Self Service' Creation of Collaboration Projects:

If you are a subscribed user you can now create your own project sites in Asite and start sharing documents on ALL your projects.
Access Control Layers for Distribution Groups, Document Statuses, and Purposes of Issue:

This means you can limit usage of specific document meta-data elements to certain users or groups of users within a project, and implement rules ensuring that documents are sent to the right people at all times.
Full-Text Content Search:

The time spent searching for documents is reduced as the Autumn upgrade introduces the ability to search across your project on all content contained in your documents and your custom forms.
Advanced Boolean Searching:

Customise your advanced searches with "AND", "OR", "BUT NOT", and other logical searches to further improve search results on your projects.
Document Reference Checker:

If your project uses a document numbering or naming convention, then compliance can now be automatically checked when a document is uploaded by the Document Reference Checker. Define multiple document reference rules at Project or Folder Levels. Rules can contain multiple labels (e.g. "Project, "Discipline", "Doc Type" etc), allowing complete flexibility. Users are notified if their Document Reference does not adhere to the rules, and can amend the reference to match the rule.
Update link Metadata when the metadata of parent is edited

You can now select whether or not the metadata of a link is updated in line with the metadata of the parent document.
Multiple IFC file upload at a time

You can now upload multiple information model files from Asite Collaboration and Navigator applications in a fraction of the time previously required.
Viewing Support for Office 2007 files

Microsoft Word, Power Point and Excel 2007 are all supported and can be viewed via the online viewer.
'Check Out' functionality within Web Application

Documents can now be checked out from the web application when downloaded.
Mandatory lock prompt as a Project Preference

Once you've finished creating or editing documents, your document will no longer be locked and users will be prompted to check for the revised version of the document - to which they will now all have access.
Access to External Users to view documents

Administrators can allow specified documents to be accessed by external users or used on public websites. The user will not require a log-in and will receive a link that they can fully access. This can be used for website development powered by selected content held in the Asite Platform and is a key requirement for many of our local authority customers.
Basic / Advanced / and Full Content Search in Navigator:

As well as browsing through folder structures, users can now also search for documents across a project using Basic / Advance search facility in Asite Navigator. The search allows you to search against specific Document Information criteria (e.g. Document Status, Recipient, etc) as well as the content of the documents
Synchronise files across subfolders or across an entire project:

A new "Get Latest Version Incl. Subfolders" option is also available at a Project and Folder Level allowing users to Synchronise all of the documents within a Project, or a Folder and all its subfolders via a Single click. This will copy the latest version of all files for the Project from Asite to a user defined "Working Folder" on your computer or Network Drive.
"Refresh..." option to update the metadata at different levels from Navigator:

Users can now refresh the Project list, Folder list and the Documents Listing on from the Right-Click menu in the Project/Folder Tree.
Download Resumability:

An advanced download management system that helps protect you if your internet connection is lost during download or during synchronisation of files with Asite. If the internet connection is broken during download, the Navigator will automatically reconnect, validate the downloaded portion of the files and then resume the download where it left off.
Keep an eye on Asite's website for news about forthcoming releases which continue to build greater innovative functionality within the Asite Platform. More information about the Autumn 08 Release can be found by visiting the website: www.asite.comor by sending an email to info@asite.com
Asite Insights in your inbox.
Sign up for product news and our latest insights published monthly. It's a newsletter so hot, even global warming can't keep up.