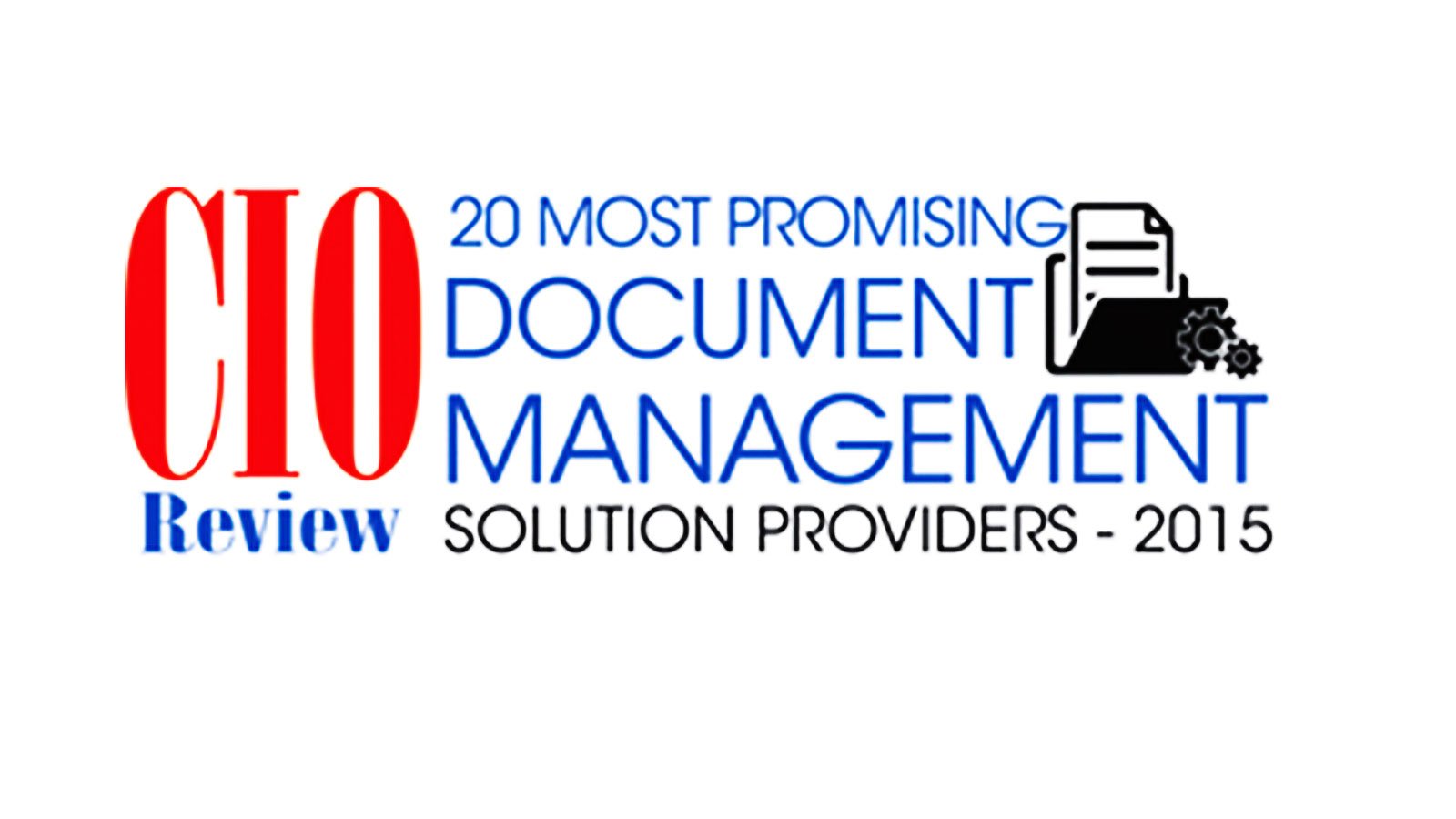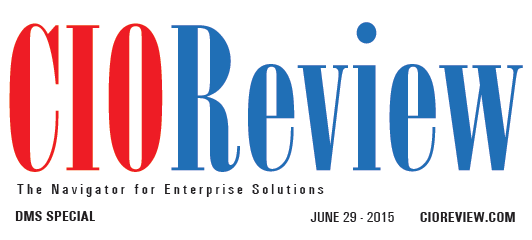 20 Most Promising Document Management Solution Providers 2015
Surging difficulty in managing paper documents owing to risk, perishability and the hindrances it infuses for acting on the available data, have paved way for paperless organizations. Many businesses today actively harness
Document Management Solutions (DMS) to efficiently facilitate their workflows. With DMS, it has become extremely fast to store, retrieve, and share documents, thereby making data actionable for manufacturers, high-tech electronic creators, medical device manufacturers, technology companies, law firms and more. Along with facilitating team collaboration through easy sharing of documents, DMS also ensures data backup and security. Further, to fulfill the compliance requirement of regulated industries, DMS enforces document-retention policy, audit tracking, and reporting and user-access controls.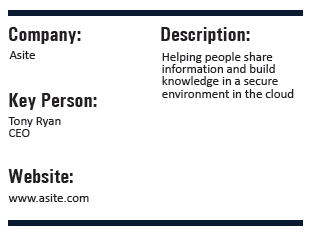 Riding the momentum of technological advancement, DMS is incorporating emerging trends to manage not just official documents but also photos, videos, audios and text data. It has also opened doors for storage, transfer and editing of documents through mobile devices, making uninterrupted business communications. In this diverse ecosystem, companies are looking for solution providers with right expertise in DMS arena to help them with successful outcomes. In the last few months, we have looked at scores of DMS vendors and shortlisted the ones that are at the forefront of tackling challenges. In our selection, we look at the solution provider's capability to fulfill the burning needs for cost-effective and secure DMS solutions that leverage the promising trends in the industry. We present you CIO Review's 20 Most Promising DMS Solution providers 2015.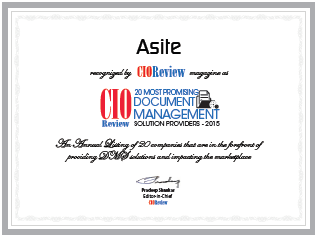 Asite Information Sharing In a Secure and Flexible Cloud Environment
There was a time when vendors developed software systems to manage paper based documents. Later, technology evolved and developers created a system which could manage electronic documents—to track, manage and store digital documents. The world is moving towards a paperless society. Alongside there has also been an increase in the amount of data that is handled; and also a huge betterment in available technology. "This has resulted in a secure and efficient system to store and retrieve documents," elucidates Tony Ryan, CEO, Asite.

The company provides a unique business operating system that supports a wide range of business-to-business processes with a focus on file sharing, information management, procurement & project management. It automates processes that promotes more efficient interaction and better communication between businesses.
All of these factors together, have contributed towards making document management system one of the fastest developing management systems in the current century. But the problem arises when the documents and data needed for the supply chain is being held in silos. "If a person leaves his/her laptop on a train and the data is stored locally and doesn't have a back up, the individual deals with several challenges—can that laptop be recovered? Can you easily replicate the data lost? Was it proprietary and what is the cost of that lost data if it gets into the wrong hands?" says Ryan. Companies need to streamline and standardize the way they store and share information. An increasing number of organizations are looking to get away from self-hosted solutions, and move towards the cloud. "The challenge with that is ensuring the safety of data, and making it accessible to them who require it when they need it. They also need to be able to share that information securely, often with an audittrail and workflows," says Ryan. Asite's Adoddle delivers a CDE(Common Data Environment) to satisfy the document information management needs of any organization easily in a secure, hosted platform that's configurable to meet the individualized needs of the world's most demanding organizations.
"Adoddle is not just about data management, it's about Big Data. The software handles everything from Concept to Completion & Beyond (C2C&B). It communicates to existing systems and reports across the board," explains Ryan. The platform hosts a powerful tool, called AppBuilder which creates expense systems in minutes or cost management systems in hours that are hosted in Adoddle. The tool offers endless operation opportunities which allow organizations to concentrate only on their business.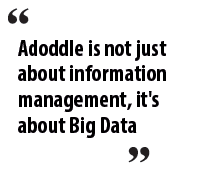 BAA, one of the British construction industries largest and most demanding clients, commissioned Asite to provide a collaboration solution that could be used throughout the company as well as providing a central repository for BAA information. A key part of the challenge was to monitor and quantify the real cost savings of using collaboration tools. To do this, Asite worked with BAA to develop benchmarking/KPI's. "We delivered significant time and cost benefits to BAA's projects, typically reducing out-turn costs by 2 percent,"says Ryan. "To stay ahead of the pack we provide the entire platform–C2C&B and will continue to look forward, keep listening and delivering the best solutions," concludes Ryan.
Asite Insights in your inbox.
Sign up for product news and our latest insights published monthly. It's a newsletter so hot, even global warming can't keep up.