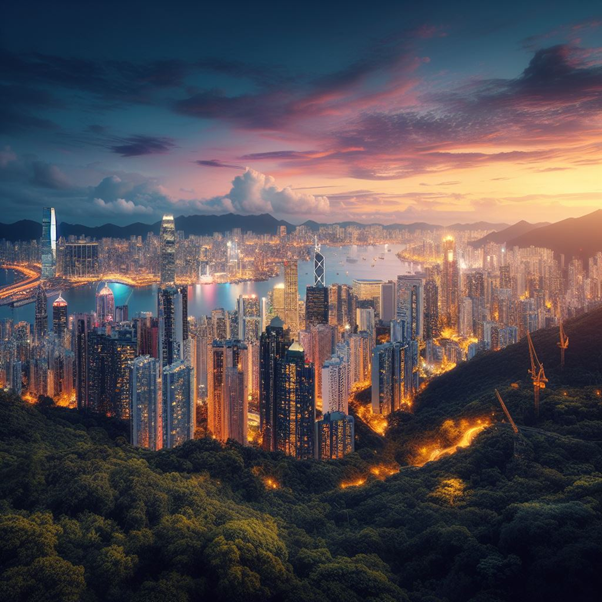 In Hong Kong, the Digital Works Supervision System (DWSS) has become front and centre for anyone trying to manage or digitise large construction projects. For those not in the know, a DWSS is a cloud-based centralized portal that facilitates digital submission and approval of various construction project information. This could include RISC, site diary, site safety, cleansing inspections, labour return records, and much more.
Most importantly though, having a DWSS in place is now mandatory for all construction projects in Hong Kong! Those that do not adapt and digitize risk falling far behind the curve. Fortunately, Asite offers a fully DWSS compliant platform with one of the broadest suites of integrations and functionalities on the market.
---
What is a DWSS?
The Technical Circular (Works) no.2/2023, issued by the Development Bureau of Hong Kong, outlines the 6 mandatory modules that must be integrated into a system to make it DWSS compliant. These are:
1) RISC: A record of risk assessments and method statements for high-risk activities.
2) Site Diary: A record of daily activities on the construction site.
3) Site Safety: A record of safety inspections and incidents on the construction site.
4) Cleansing Inspection Checklists: A record of cleaning inspections on the construction site.
5) Labor Return Records: A record of labor return records for all workers on the construction site.
6) Contract Management: Track the variance in Cost and Program in project.
In this post, we'll explore how the Asite platform is leading the way in DWSS compliance and has allowed some of the region's largest companies, including Hong Kong Land and China State, to dramatically streamline construction processes. Asite's commitment to integrating all five mandatory modules in its platform and providing a user-friendly interface has made it not just the solution of choice for those seeking DWSS compliance, but also the go-to construction platform in the region.
---
Benefits of using Asite in Hong Kong
1) Compliance with DWSS through Asite's CDE and Field App
The first and most crucial aspect of Asite's offering to the Hong Kong industry is its full compliance with the full set of DWSS regulations mandated by the Development Bureau of Hong Kong. This compliance ensures that construction projects adhere to the established standards and local regulations. As a result, Asite customers are able to bid and work on the region's largest public projects.
Asite's powerful and configurable Common Data Environment (CDE) plays a pivotal role in this DWSS compliance process. Our CDE allows users to access, report, and share data from various construction workflows seamlessly, in one interface. Asite's custom DWSS modules and configurable dashboards then offer a clear, at-a-glance view of project progress, making it easier for project stakeholders to demonstrate compliance. What's more, all of this functionality, power and reporting built into the core CDE is fully accessible through the Asite Field App. We bring project information literally to the fingertips of those who need it most.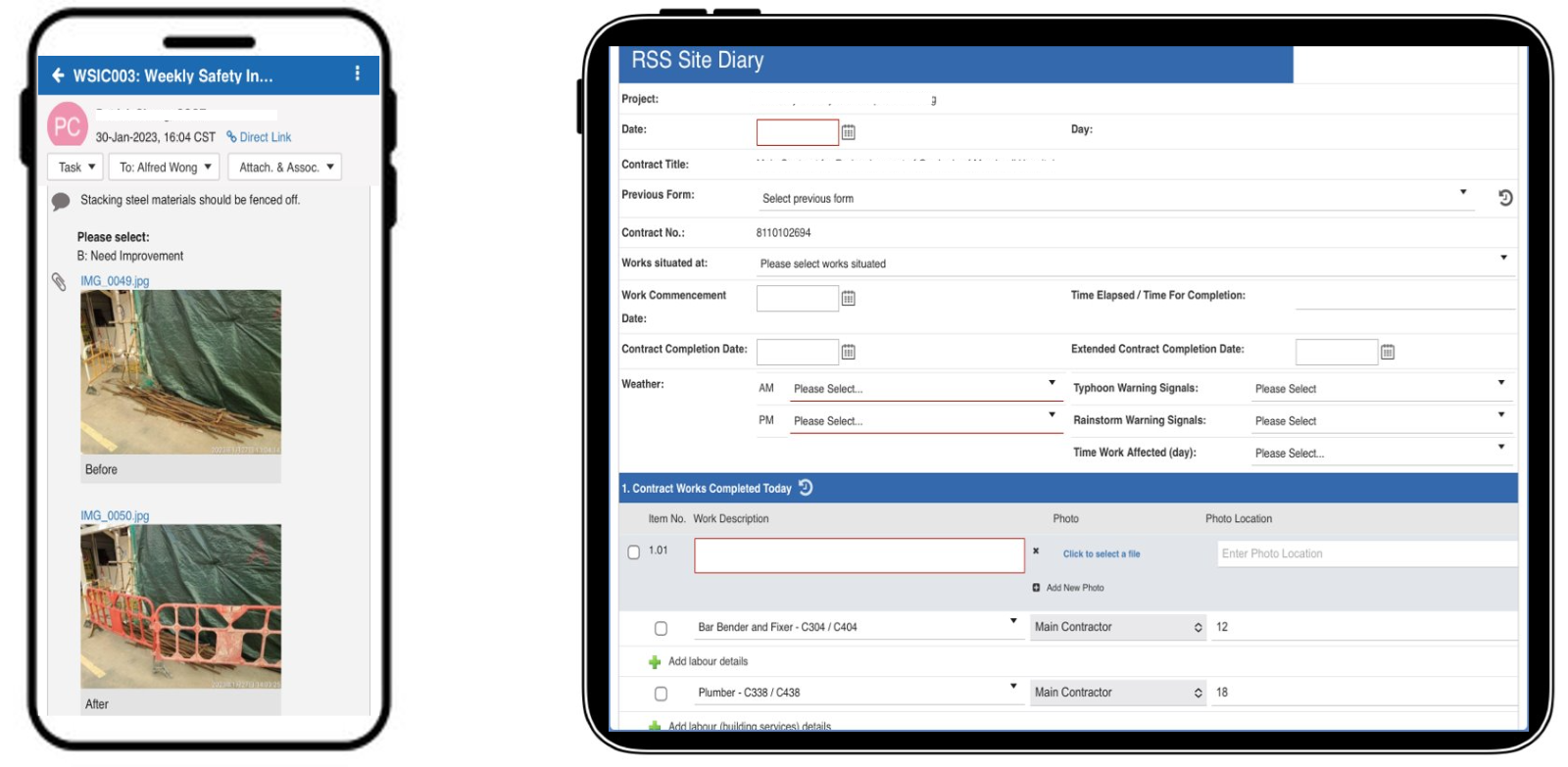 ---
2) Centralized Data
One of the primary motives behind the DWSS initiative is to encourage industry players to streamline construction processes within a central repository and avoid the otherwise common data siloes resulting from poor system integrations. Fortunately, the centralization and "data pipelines" that are core to Asite ensures that all construction data is managed in one place. This simplifies access and retrieval of information to senior project stakeholders when needed.
This is not limited to DWSS compliance. On top of the core Asite platform, we have built powerful modules that unlock Project Progress Reporting, Cost Reporting and Contract Management. With Asite's cloud-based platform, construction professionals can access this project data from anywhere, at anytime, ensuring stakeholders are always in the loop.
---
3) Completely Customizable Dashboards
The Asite dashboards allows customers to completely customize reports. Our Power Bi integration creates a seamless flow of information between any project-related activity and your dashboard. The platform uses smart meta-data to configure information, and show real-time progress across the entire asset lifecycle.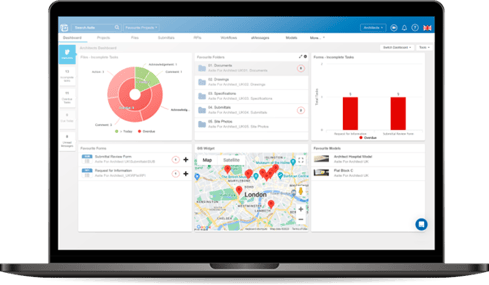 ---
4) Open Platform for Everyone & Everything
With an Open-Platform like Asite, you can connect data from an array of sources and various systems easily using our RESTful APIs. Integrations are countless, and include full ERP, IoT and Smart Site Safety Systems (SSSS). Asite is at the forefront of the drive to provide platform integrations in construction, which helps customers streamline and centralize all the information produced on project.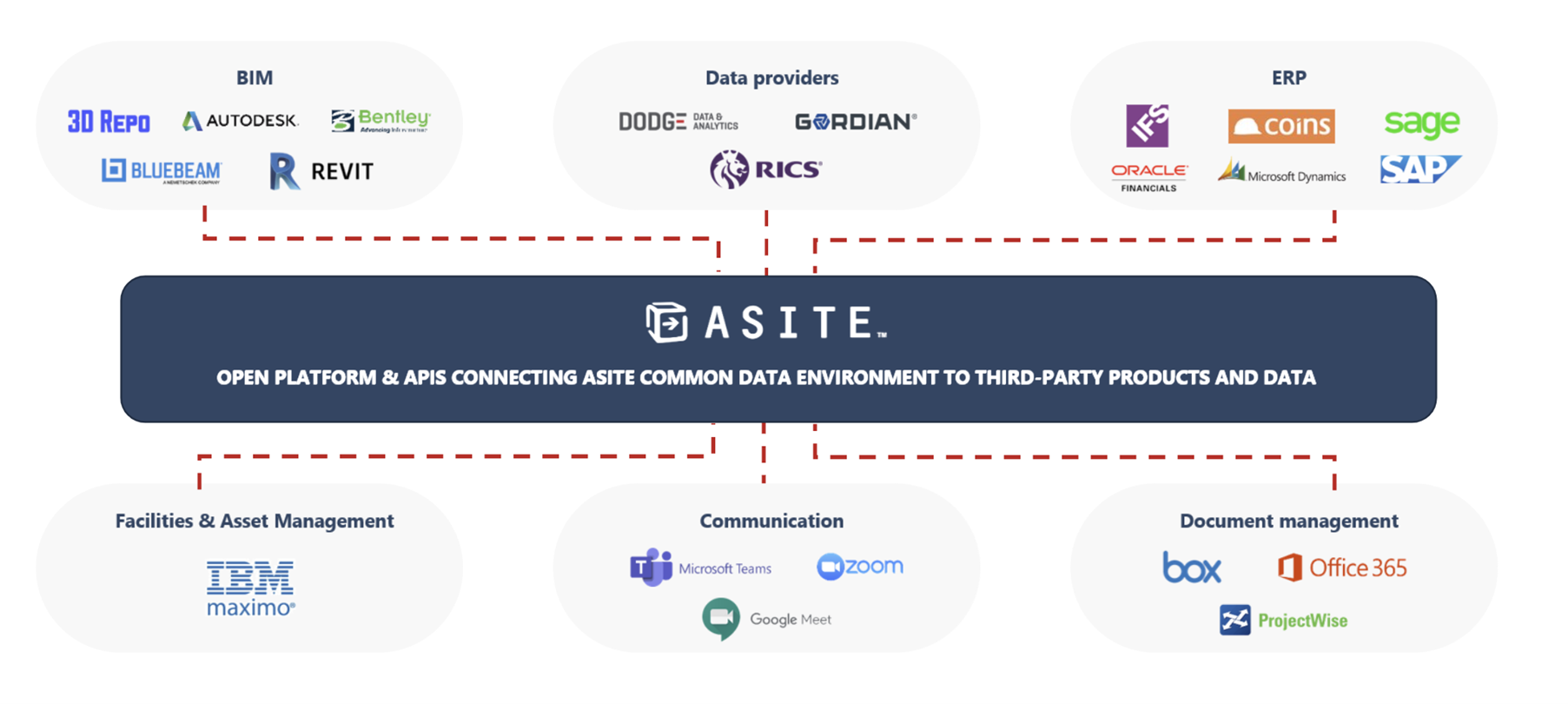 ---
5) Smart and Configurable Meta-Data
Asite takes data management to the next level with smart meta-data configuration. This feature allows users to customize how information is presented and tracked, providing real-time tailored insights into project progress. This level of detail and transparency is invaluable for project managers, helping them make timely decisions and mitigate potential issues.
Asite also allows users to attach geotagged images directly to any site inspection forms, and sign-off with our electronic signature function to ensure quality assurance between each stage in the asset lifecycle. All this information is instantly uploaded to the cloud-based Common Data Environment, including any revisions, mark-ups or comments attached to these forms or files.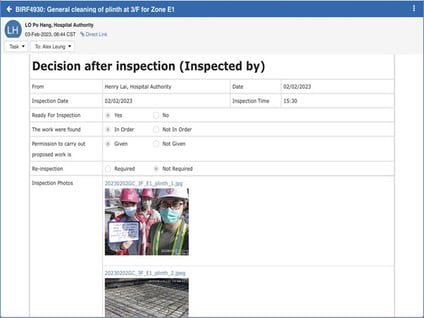 ---
6) Custom Forms with App-Builder
One of the many features that sets Asite apart is its AppBuilder. This module is the engine that drives our DWSS modules and unlocks platform configuration. Through AppBuilder, users can create custom forms for various purposes, including requests for information (RFI), RISC, site diaries, safety reports, labour return records, and inspection checklists. The easy-to-use drag-and drop interface or template selection makes it simple to create the necessary forms for different project phases. These forms can be easily routed to the right individuals, tracked for progress, and securely stored in the CDE central repository. You're welcome.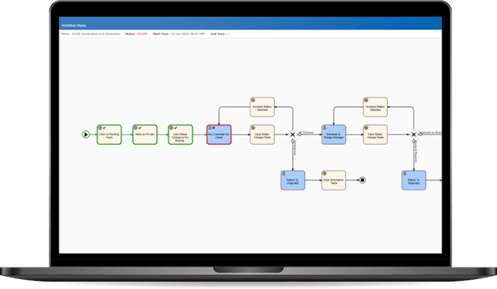 ---
Get in touch to learn more!
Asite is at the forefront of DWSS compliance, offering construction professionals in Hong Kong a comprehensive, powerful and user-friendly solution. If you are working in the construction industry in Hong Kong, and want to learn more about DWSS compliance or the broader Asite platform, do not hesitate to reach out to the local team and book a demo.
Jon Hale
Regional Manager for MEA and APAC
Asite Insights in your inbox.
Sign up for product news and our latest insights published monthly. It's a newsletter so hot, even global warming can't keep up.