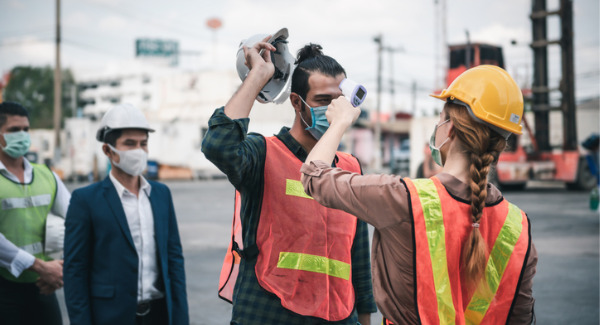 While vaccine status remains a personal choice, vaccine mandates are becoming commonplace in countries and industries worldwide.
Many governments have applied vaccine mandates to those working in senior care and in healthcare. Some demand all federal employees get vaccinated. In the U.S., this mandate has also been introduced for the construction industry.
The mandate—the Emergency Temporary Standard (ETS—applies to all companies with at least 100 employees. This is in addition to the federal contractor mandate issued by President Joe Biden in September 2021, which required all construction companies with federal contracts to ensure all their employees are vaccinated.
Construction Industry Resists Vaccine Mandates
The Federal Contractor Mandate appears to have little support by the construction industry. According to a poll conducted by Engineering News Record (ENR), only 40% of respondents approved of it, while 60% approved of mandatory vaccination of federal employees, according to a Gallup survey.
Although approximately 79% of U.S. citizens who are 12 and older are fully vaccinated, according to data from the Center for Construction Research and Training (CPWR), only 53% of Americans working in construction are fully vaccinated.
There is a lot more hesitancy in the construction industry regarding the COVID-19 vaccine. Many feel a government-issued mandate could cause a lot of havoc to construction companies if large numbers of people leave their jobs because they prefer not to get vaccinated.
While there is a general belief in the U.S. that the top barrier to vaccination is distrust of the government, Morning Consult notes that vaccine hesitancy has dropped from 39% of the adult population to 27%.
In the previously mentioned ENR poll, 63% of respondents stated they would stay in their job if required to get a COVID-19 vaccine and 78% said they anticipated their company would lose workers if a mandate was implemented.
According to a Construction Dive survey, about half of unvaccinated construction workers plan to remain unvaccinated.
Construction companies who have just over 100 employees may decide to lose a few employees. This would allow a company to fall below the employee number threshold and not lose key personnel who prefer to not get vaccinated.
There are also pending legal challenges and political hurdles to implementing the Federal Contractor Mandate and the ETS. It is possible that the January 4, 2022 deadline may not come to pass or get delayed to a later date until legal challenges are settled—or there is always the possibility of a less stringent compromise.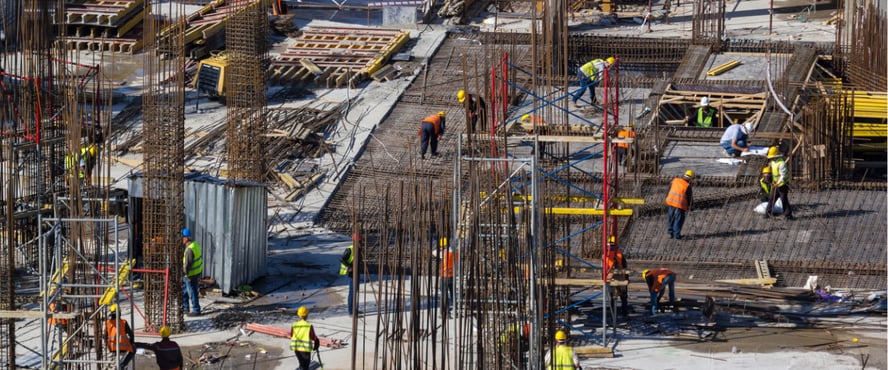 Asset Owners Require Vaccinations
Regardless of the federal mandates, asset owners are frequently mandating that all personnel on the jobsite be fully vaccinated. This includes the general contractor and all subcontractors and sometimes, even suppliers, especially ones who need to make on-site deliveries.
This trend had started with the healthcare sector, but other sectors are joining in as well.
And, it is not specific to the U.S. This scenario is also playing out in Canada and the UK. Numerous contractors in all countries are noticing vaccine mandates set by the customer.
This is especially true for projects that have a lot of indoor work, especially high-rise construction. Projects that require little to no indoor work, such as paving and landscaping, are less affected.
Although vaccine hesitancy isn't as strong in the UK or Canada compared to the U.S., construction companies in all countries are struggling between retaining key staff and getting new contracts.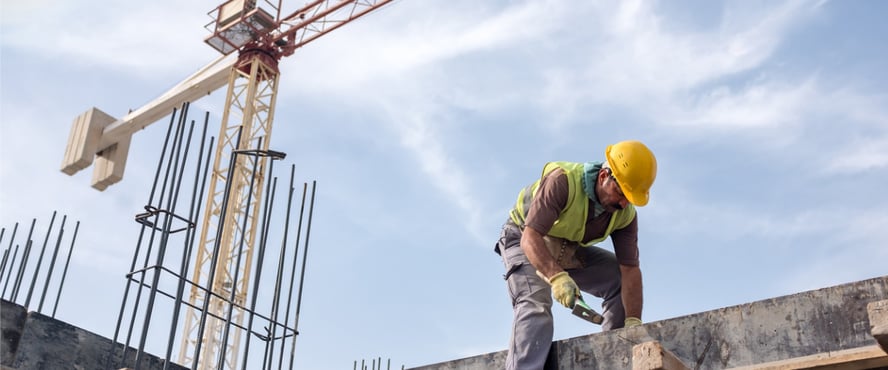 Mandates Put Strain on Labor
The Associated General Contractors of America and Associated Builders and Contractors say a mandate could put a strain on the industry, as well as the country's infrastructure needs.
The construction industry, which has been experiencing a protracted mild worker shortage for years, is now experiencing an acute severe shortage due to the pandemic.
For decades, the construction industry in the U.S., UK, and Canada have failed to attract new workers to the industry. Meanwhile, a lack of skilled workers continues to drive up construction costs and delay project completion.
No doubt, the pandemic has made it more difficult to attract workers. Most construction processes are still being completed on-site, so most workers cannot work remotely like other industries.
According to AGC, construction employment levels remain below their pre-pandemic peak in 36 states.
In the UK, labor shortages are driven by a higher number of European Union citizens leaving the UK post-Brexit, the retirement of half of a million construction workers over the next few years, and a slight increase in unemployment. Unemployment is up for some occupations because construction companies are not able to get the building materials on time due to supply issues, so projects are stalling.
According to the Recruitment and Employment Confederation, the shortage in permanent and temporary workers in the UK is the worst the country has experienced in more than three decades.
The lack of labor will drive up construction costs and private or government vaccine mandates could make securing skilled labor more challenging and costlier.
---
Rising Costs Mean Tighter Profit Margins
If significant numbers of construction workers walk away from their jobs, this will exacerbate the labor shortages experienced by the construction industry. Construction companies will need to increase wages for new hires, which will have inflationary pressure on current employee costs.
Coupled with rising costs for building materials, companies will struggle to attract the necessary skilled workers. In turn, this will drive up overall construction costs, eat up profit margins, and make it more difficult to accurately bid a project, complete it in a timely manner, and turn a profit.
How can firms offset the rising costs of attracting and retaining talent? They can always choose to adopt certain technologies to decrease costs and help keep projects on schedule.
Using Software to Track Compliance
Being able to automate, streamline, and simplify certain processes, can be a game-changer. Project management software, especially, is crucial for staying on time and on budget. With it, companies can gain the ability to:
- Collect data for real-time or near real-time analyzation
- Determine what processes are working or struggling
- Streamline processes, such as communication or data gathering
- Automate processes, such as communication or GPS-enable machine control
- Allow for remote work
- Decrease the number of personnel needed
- Minimize risk and safety issues
- Minimize rework by having one official plan
- Track employee information
Another bonus: some software is designed specifically to track COVID-19 vaccinations and some are part of a larger employee health and safety (EHS) program. If your EHS software and project management software are compatible, you can create greater efficiencies when it comes to working projects that require all personnel to be vaccinated.
For many in construction, mandatory vaccine requirements may be just one more reason to move to a digital platform for staff and project management.
Want to learn more about the impact project management software can have on your business? Find out more here.
Nathan Medcalf
Nathan Medcalf writes about technology, heavy equipment, and construction for numerous clients and has been published in more than 30 trade publications since 2006.
Asite Insights in your inbox.
Sign up for product news and our latest insights published monthly. It's a newsletter so hot, even global warming can't keep up.