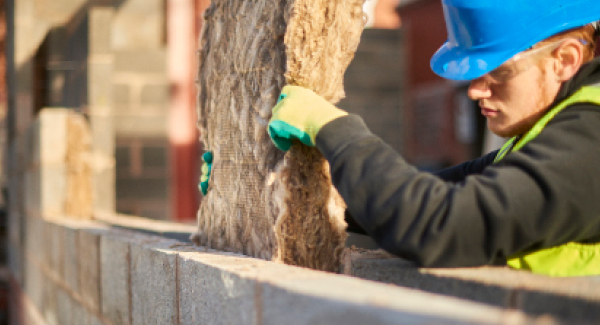 The Constructing Excellence Awards show how the UK construction industry can excel at collaboration, innovation and sustainability.
Every year, the Constructing Excellence Awards shine a spotlight on UK companies that exemplify excellence in the built environment. Most demonstrate how innovation, collaboration and industry-leading sustainability goals can result in better outcomes for clients, contractors and other stakeholders involved in a project.
With the winners of the 2020 awards recently announced, there's no better time to explore the achievements of three such firms and how they deliver on the vision of the Egan Report.

Wellingborough Prison
The Ministry of Justice (MoJ) Wellingborough Prison project, which won Client of the Year, aims to create spaces that reduce reoffending, resulting in safer communities. It's made up of 13 main buildings that will provide 1,680 prisoner places when it opens in 2022.
Kier, the firm behind the project, is using off-site construction and advanced digital technologies to complete the build. In fact, the Wellingborough Prison project is a prime example of lean construction, maximising value and minimising waste at all stages of its life cycle through the use of pre-cast materials and Modern Methods of Construction (MMC).
As I mentioned in my second post in this series, lean construction was one of the major themes of the 1998 Egan Report. It suggested that it "presents a powerful and coherent synthesis of the most effective techniques for eliminating waste and delivering significant sustained improvements in efficiency and quality", and recommended its widespread adoption throughout the construction industry. The Wellingborough Prison project shows exactly what this looks like in practice.
The Egan Report also proposed that "leading public sector bodies should become best-practice clients". Wellingborough Prison delivers on this too, with the MoJ viewing it as a flagship project that will influence and optimise future ones.
The MoJ has encouraged Kier to use Wellingborough as a platform to educate, train and inspire, so both future and present industry professionals fully appreciate all aspects of digital and MMC. Furthermore, Kier has striven to create a high-performing, collaborative environment, using Building Information Modelling and a digital-first approach to monitor, manage and communicate across the wider project team; yet another example of why it's such a worthy winner.

The Catalyst
Winner of the Sustainability category, The Catalyst is a £50-million building that aims to put Newcastle upon Tyne at the forefront of ageing and data innovation. It is designed to create a vibrant ecosystem around data science, encouraging academics, citizens, students, children, and both the private and public sectors, to come together to learn more about the possibilities better use of data could unlock.
By taking a holistic approach to the fabric, services and management of this 100,000-sq-ft building, the team behind it managed to achieve an impressive 87.2% score from BREEAM, or Building Research Establishment Environmental Assessment Method, passing the 85% threshold for the Outstanding rating, which is reserved for the top 1% of new UK non-domestic buildings. This was achieved at no additional cost to the client or stakeholder group.
Working collaboratively, the project team was able to embed waste elimination in the design of the building. For example, lightweight, sustainable structural steel was used for the frame due to its durability, strength and ability to be reused and recycled, while also allowing for a more efficient internal layout.
That's very much in line with the vision of the Egan Report, which stated: "Sustained improvement should… be delivered through use of techniques for eliminating waste and increasing value for the customer". What's more, the regional significance of this project also corresponds with the commitment to people aspect of the report.
The Catalyst involved development of excellent working relationships that maximised the project's benefit to the local economy, local community and employment opportunities within the region. That the locally based consultants and contractors had well-established working relationships with the local planning authority also enhanced the design, planning and construction process.

Gateshead Innovation Village
All across the UK, there is a huge demand for quality new homes. The Gateshead Innovation Village (GIV), which won in the category of Innovation, is a live research and construction project that aims to test and review new ways of quickly constructing them. This village development is comprised of a mix of traditional and modular homes, with renewable energy and smart technologies at its heart. The hope is it will boost the construction sector's confidence in using MMC at scale, while also inspiring change in the UK housing sector.
The high level of collaboration between client, contractor, professional team and other key partners has played a big role in the success of the project. The mixture of MMC and traditionally built homes will also enable Home Group and their partners, Building Research Establishment and Northumbria University, to compare the energy and smart technology performance of each house type.
The results of this study will be shared across the world to drive change in construction methods and support the needs of a changing world and environment. At the end of this research, Home Group will better understand the investment required for these technologies compared to their potential life-cycle costs, emission performance and impact on their customers, all of which will inform their design and planning for future housing developments.
Housebuilding was a specific area of focus in the Egan Report, which stated: "We believe the main initial opportunities for improvements in housebuilding performance exist in the social housing sector for the simple reason that most social housing is commissioned by a few major clients. Corporate clients – housing associations and local authorities – can work with the housebuilding industry to improve processes and technologies and develop quality products." In short, greater collaboration on innovative new approaches to house building is a key part of providing better quality homes, something the GIV demonstrates.
Ultimately, three qualities unite the award winners featured in this blog: innovation, collaboration and sustainability. Furthermore, all have embraced digital engineering and demonstrated exactly why the construction industry needs to adopt more digital processes. If other projects follow their lead, we should hopefully achieve the overarching goal of the Egan Report: a modern, efficient and more collaborative construction sector that delivers better results for everyone.

,.
Asite Insights in your inbox.
Sign up for product news and our latest insights published monthly. It's a newsletter so hot, even global warming can't keep up.