EXPANSION OF LONDON CITY AIRPORT
(London, United Kingdom)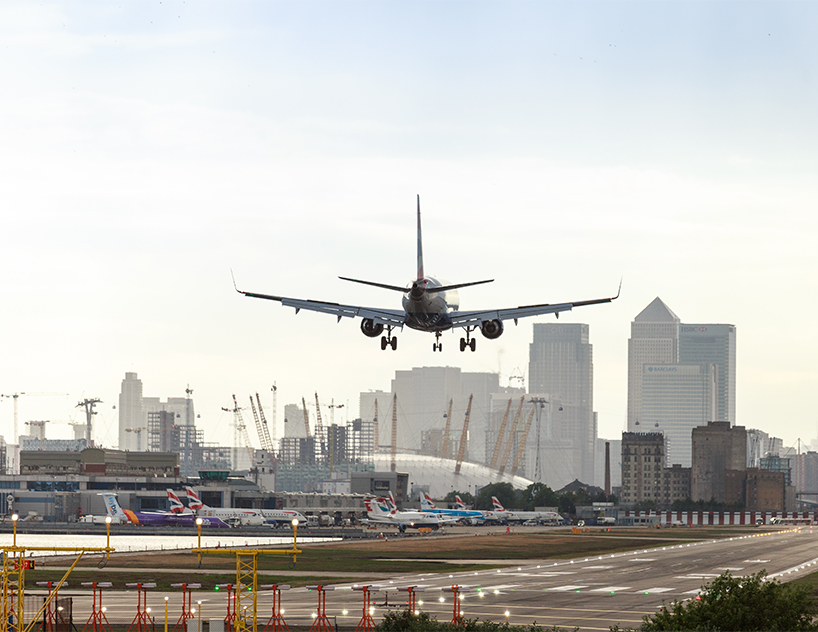 London City Airport (LCY) is an international airport located in the London Borough of Newham. Opened in 1987, the airport is strategically placed between the twin centers of London's financial industry – it is just three miles away from Canary Wharf, seven miles from the City of London and ten miles from Westminster.
LCY is undergoing an expansion that will see an estimated additional two million passengers a year able to use the airport from 2022, with 30,000 more flight annually. The £500 million project will include a terminal expansion and renovation, eight new aircraft stands, a parallel taxiway next to the runway, and extended retail services.

£500 million
expansion

11 million
passenger demand by 2035

20 minutes
check-in from door to gate
According to Business Traveller, passenger numbers have grown by 40%, hitting 4.8 million in 2019. The airport expects that demand will rise to 11 million by 2035, but is currently limited to carrying 6.5 million passengers per year by the local borough.
The expansion will increase the annual flight movement to 111,000 a year from the current capacity of 70,000, and will provide LCY with additional short-haul aviation capacity, while doubling its economic impact to £1.5 billion per annum. It will also generate 1,600 new jobs and 500 construction jobs while delivering a world-class international gateway to London.
The development plan is focused on maximizing the use of existing infrastructure, including passenger facilities and upgrading the baggage handling systems, customs, and security areas. The proposed changes promise passengers a 20 minute check-in from door to gate and a ten-minute arrival from tarmac to train.
Asite was selected as the procurement and contract service provider for LCY. As such, the platforms procurement portal and NEC suite of forms were deployed to support agility and promote greater visibility across the tendering process. This usually resource-intensive process was significantly simplified and ensured that submissions were in a format that was easy to assess and manage.
The new developments have been described as "reflecting 21st century London". Although the airport has traditionally been seen as a business airport due to its location and range of destinations, it now seeing an equal split between business and leisure passengers; the expansion project looks well positioned to reflect this.
Over 54,000 companies use Asite to help them build better.
The COP26 summit cast a harsh light on the immediate threat of climate breakdown.
While vaccine status remains a personal choice, vaccine mandates are becoming commonplace in countries and industries worldwide. Many governments have applied vaccine mandates to those working in...
When it comes to managing construction project information, keeping data safe can be a struggle. Are you Team PC with everything saved on your personal computer or Team Cloud using shared files and...
Marketplace

Marketplace

Build your network with project owners, contractors, and subcontractors. Marketplace enables project owners to build project teams, allows contractors to qualify new partners, and helps subcontractors to discover new opportunities.

Discover More

Ecosystem

Ecosystem

Improve performance with solutions and third-party applications that integrate with the Asite Platform. Connect to your existing systems through software plugins to work the way you want.

Discover More