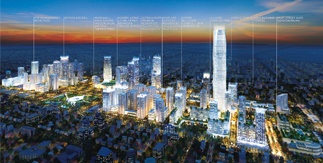 Noida, September 27, 2016 - Asite Solutions Private Limited (ASPL), is proud to announce an Enterprise engagement with Wave Infratech, a real estate arm of the diversified business conglomerate Wave Group. Wave Infratech is one of the largest real estate developers in the country. Wave Infratech will adopt Asite ADODDLE platform for project-wide collaboration across the organization under this Five-year agreement.
"We're very excited to begin working with ASITE (Adoddle)" said Mr. Dinesh Kumar, CIO, Wave Infratech. "The Residential & Commercial space in India is expanding rapidly and for Wave Infratech to continue to exceed its customer expectations, we must be able to quickly and accurately manage and share information. Solutions like Asite (Adoddle) will enable our growing team of experts to consolidate their workflow for increased productivity."
"Asite is a key component of our strategic initiative to standardize project delivery worldwide," Mr. Kumar added.
"Asite Adoddle provides an easy-to-use project environment that helps us proactively manage project data and communications with minimal effort – leaving valuable time for more creative pursuits and accountability for our project partners. Asite has wide and rich experience in meeting the needs of global EPCs for large, complex developments. To add to it, its customer service and support are exceptional," he said.
The agreement provides Wave Infratech with unlimited use of the Asite collaboration platform for project information and process management. In addition to document control, workflow management, tendering, procurement and reporting, the agreement includes cBIM for Building Information Modeling (BIM) collaboration and Asite Mobile app.
"This enterprise agreement highlights our constant efforts to support such big projects as well as our traction and focus in Indian AEC market." said Saurabh Aggarwal, Vice President of Sales at Asite for India. "We are excited and look forward in helping Wave Infratech continue to deliver innovative projects in an efficient manner, while delivering exceptional client service throughout the various industry sectors that they serve. We appreciate the opportunity to partner with them in supporting their project's success."
About WAVE Infratech
A decade ago, Wave Infratech was established as the real estate vertical of the Wave Group. It is one of the largest real estate developers in the country and is recognized for its ground breaking commercial projects like Wave One, Wave 1st Silver Tower and the outstanding integrated townships like Wave City Center, Wave City and Wave Estate. Innovation is the core reason for Wave Infratech's exponential growth and that sets it apart from others. For Wave Infratech, a company that dreams of redefining the skyline of Noida, it was imperative that each project or development that we make should be developed according to new technologies, which can help people and the city. The company has always given importance to environment sustainability. Wave Infratech takes relevant steps to recycle and re-use waste, water and energy. It ensures eco-friendly practices are in place in every project site that in turn contributes to creating a healthier environment and a better lifestyle for its citizens.
About Asite
Asite, founded in 2001, is a UK based Global Software as a Service (SaaS) Platform for Construction/Supply Chain Collaboration with a subsidiary in Ahmedabad. We help businesses share information, collaborate and build knowledge in a secure environment on Cloud ☁.Asite platform contains a suite of integrated modules which allow the system to meet the requirements of the world's toughest projects and scales to your requirements. Our system enables full control of the Building Lifecycle from conception through to occupation and beyond - delivering powerful applications over the internet via Software-as-a-Service (SaaS). This removes the requirement for investment in IT infrastructure and allows your project teams to work seamlessly from anywhere on the planet with an internet connection.
Asite Insights in your inbox.
Sign up for product news and our latest insights published monthly. It's a newsletter so hot, even global warming can't keep up.