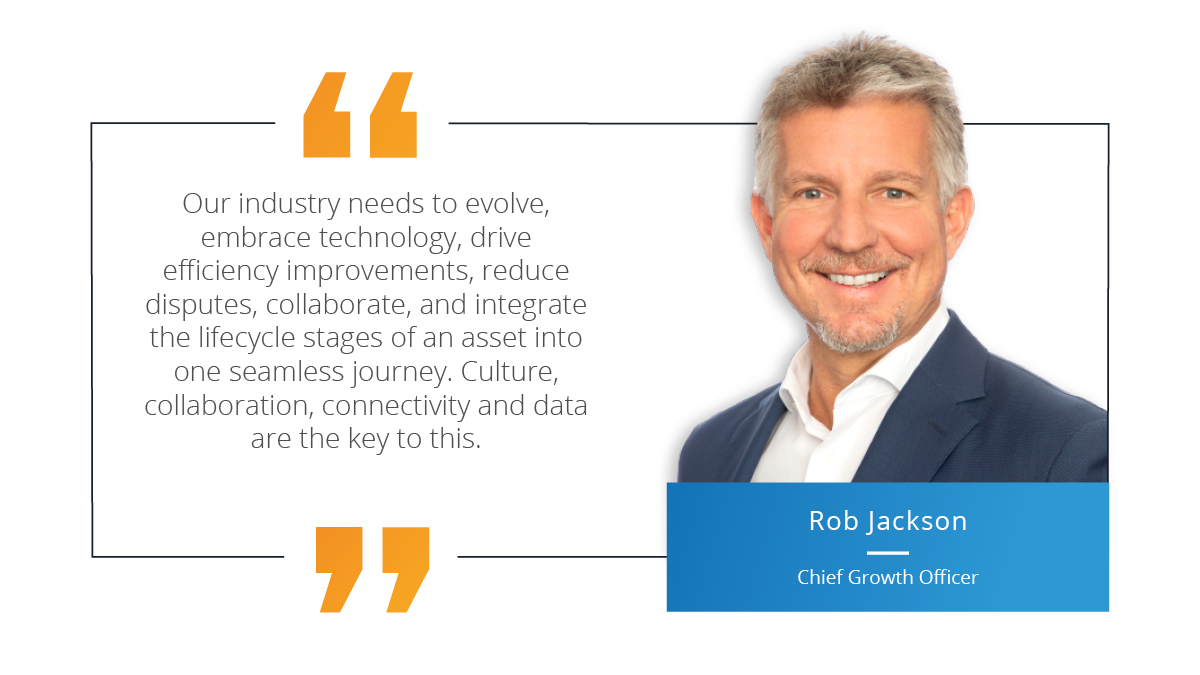 New Chief Growth Officer will lead sales in EMEA and APAC and Global Corporate Development for growing SaaS company, Asite
London, UK and Dubai, UAE (July 2021) – Asite is pleased to announce the appointment of Rob Jackson as Chief Growth Officer.
Based in Asite's UAE office, Rob will lead EMEA and APAC sales for the group as well as corporate development initiatives globally, bringing with him over 30 years of experience in building businesses and driving operational excellence and revenue for leading multi-national organizations.
Prior to joining Asite, Rob spent eight years at the Royal Institution of Chartered Surveyors (RICS) - the largest professional body in the built environment – in various roles, including Market Director for the Americas/Europe/Middle East & Africa where he was responsible for the RICS market strategy and its delivery across the globe across a number of sectors relating to land, property, construction and the general built environment.
During his time with RICS, Rob had a significant focus on advisory work with AEMEA governments and global influencers such as United Nations, EU Commission, World Bank, World Economic Forum, and held extensive public-facing roles and worked with government task forces to drive trade and investment. Rob was named in Top 20 Most Powerful and Influential Leaders in the MENA Construction Sector in 2020.
Speaking to his appointment, Rob said:
"As my industry colleagues know, for many years I have been passionate about transforming the way that built assets are designed, delivered and managed. Our industry needs to evolve, embrace technology, drive efficiency improvements, reduce disputes, collaborate, and integrate the lifecycle stages of an asset into one seamless journey. Culture, collaboration, connectivity and data are the key to this.

Asite has for many years been connecting people and removing the data chaos from the construction and real estate asset management sectors. With constant technology and product development and inclusion of the latest international built environment standards, Asite is the leading cloud-based digital transformation platform, connecting the physical, digital, and human aspects at all stages of a built asset lifecycle with seamless information sharing.

I look forward to helping take Asite to the next stage of its global growth journey."
In addition, Rob has been involved as a Non-Executive Director for several organizations in the UK and Middle East, including the retail and engineering sectors, along with strategic and growth roles at the multinational construction firm Carillion in the early stages of its inception, and Executive Team role with Testing, Certification and Inspection firm, Exova.
Reporting directly into Asite CEO, Nathan Doughty, Rob will be responsible for accelerating the growth of Asite into both new and existing markets.
Nathan Doughty, Asite CEO said:
"I'm proud to welcome Rob to the Asite leadership team. Rob's appointment is a key step in our sales and marketing investment globally. Together we will see the Asite Platform connect the physical, digital, and human for the built environment, and build the team to get the Asite Platform into the hands of people everywhere looking to build better."
---
About
Asite
Asite's vision is to connect people and help the world build better.
Asite's open construction platform enables organizations working on capital projects to come together, plan, design, and build with seamless information sharing across the entire supply chain.
Asite's comprehensive range of solutions connect dispersed teams across the lifecycle of capital assets, enabling them to build better and build resilience. With Asite, capital project owners stay at the forefront of innovation, maintaining a golden thread of information throughout a project to facilitate the creation of digital twins.
Asite is headquartered in London's Tech City with regional offices in New York, Houston, Dubai, Riyadh, Sydney, Hong Kong, and Ahmedabad.
For more information about Asite, please contact sales@asite.com.
Asite Insights in your inbox.
Sign up for product news and our latest insights published monthly. It's a newsletter so hot, even global warming can't keep up.