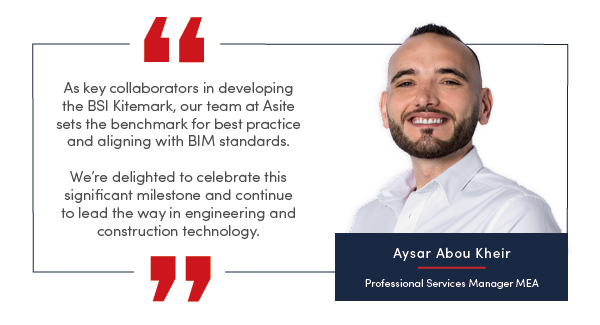 Asite was one of the first 3 software companies globally to achieve the Kitemark in 2021
London, UK (March, 2022) – Today, Asite celebrates the one-year anniversary of achieving the BSI Kitemark for BIM software.
Asite has spent many years working closely with experts in the field to help develop the industry BIM ISO standards and as such has developed its platform in alignment with these and industry best practices. This coveted position allowed Asite to bring its expert knowledge and play an instrumental role in the creation of the Kitemark, a process that began over 18 months ago, and at the same time achieved certification for its platform.
Speaking about this landmark achievement, Aysar Abou Kheir, Professional Services Manager MEA, said:
"Achieving the BSI Kitemark for BIM software, a year ago was a significant milestone for Asite and one we are delighted to celebrate today. Since becoming one of the first three software companies globally to achieve the landmark certification, we have continued in our mission to boost our customers' BIM journeys.

Across our global regions—UK, Europe, the Middle East, India, Asia-Pacific, and North America—we are helping our customers define, develop, and deploy the perfect combination of technologies to optimize their processes and better evaluate their solutions.

As key collaborators in developing the BSI Kitemark, our team at Asite sets the benchmark for best practice and aligning with BIM standards. We're delighted to celebrate this significant milestone and continue to lead the way in engineering and construction technology."
Rob Hine, Head of Commercial Partnerships at BSI, said:
"Working with progressive organizations like Asite to help develop our Kitemark schemes is vital to their success. We rely on their experience and first-hand knowledge to ensure our certification products are fit for purpose and add real value up and down the supply chain."
The BIM Software Kitemark was developed to provide clarity of functionality within prescribed categories and to ensure that these functions were aligned to the international standards for BIM, the ISO 19650 suite. As with all Kitemark schemes, there are elements of measurement to ensure ongoing compliance which also covers, development, after sales support, and information security.
To find out how your project or organization could benefit from using one of the construction industry's most secure cloud platforms for building and maintaining assets, please contact sales-ukeu@asite.com or call +44 20 4579 0736.
---
About
Asite
Asite's vision is to connect people and help the world build better.
Asite's open construction platform enables organizations working on capital projects to come together, plan, design, and build with seamless information sharing across the entire supply chain.
Asite's comprehensive range of solutions connect dispersed teams across the lifecycle of capital assets, enabling them to build better and build resilience. With Asite, capital project owners stay at the forefront of innovation, maintaining a golden thread of information throughout a project to facilitate the creation of digital twins.
Asite is headquartered in London's Tech City with regional offices in New York, Houston, Dubai, Riyadh, Sydney, Hong Kong, and Ahmedabad.
For more information about Asite, please contact sales-ukeu@asite.com.
About BSI
BSI is the business standards company that enables organizations to turn standards of best practice into habits of excellence, 'inspiring trust for a more resilient world'. For over a century BSI has driven best practice in organizations around the world. Working with 84,000 clients across 195 countries, it is a truly global business with skills and experience across all sectors including automotive, aerospace, built environment, food and retail and healthcare. Through its expertise in Standards and Knowledge Solutions, Assurance Services, Regulatory Services and Consulting Services, BSI helps clients to improve their performance, grow sustainably, manage risk and ultimately become more resilient.
To learn more, please visit: www.bsigroup.com
Asite Insights in your inbox.
Sign up for product news and our latest insights published monthly. It's a newsletter so hot, even global warming can't keep up.