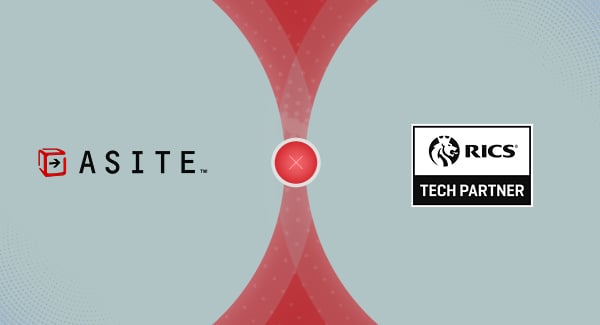 The RICS Tech Affiliate Partner Programme is intended to increase awareness and adoption of technology in the Real Estate and Built Environment sectors
London, UK (June 2021) – Asite is delighted to announce it has joined the Royal Institution of Chartered Surveyors (RICS) Tech Partner Programme.
Part of RICS's global professional network, the Tech Partner Programme is a collaboration platform for innovative data and technology across the globe. Working together, partners will produce thought leadership, content, and market insight for the profession.
Nathan Doughty, Asite CEO, said:
"We are delighted to join RICS Tech Partner Programme and to extend the umbrella of the Asite Ecosystem to include RICS.

As we at Asite continue our rich history of digital innovation for the built environment into our third decade, we look forward to working ever more closely with RICS and ensuring our platforms and services are incorporating the latest global industry standards.

Through this work we will bring a focus on data and open data platforms for our customers so they can remain at the forefront of change in the built environment for years to come."
Andrew Knight, RICS, said:
"It's tremendous to have Asite on the Programme and we look forward to working with them on joint thought leadership and supporting their work to integrate the RICS Data Standard (RDS) that supports our international standards in the digital world."
The RICS managed Programme ensures global providers of technology and data in the built environment are following appropriate international standards whilst proving professional assurance to their customers.
It provides an opportunity for organizations across the built environment sector to come together and collaborate on these operating standards. Combining the complementary skill sets of professionals in the property and technology spaces allows participants to take their discussions about technology and data as a golden thread of information further.
Organizations from across the whole property lifecycle, including those who address all the different asset types, will join together to create an innovative global team that will provide digital content to help the profession understand and adopt solutions that deliver real value and complement their professional activities.
The Tech Partner Programme also seeks to encourage the continued collaboration and mutually beneficial learning between innovators from outside the property sector and the profession itself.
As part of this partnership, Asite will develop and rollout support for the RICS Data Standards (RDS) into the Asite Platform. Asite's implementation of the RDS references will support a range of RICS and international standards covering property measurement, construction cost measurement, life-cycle costing, embodied carbon and key performance metrics for construction and building operations.
For years Asite has been at the forefront of digital innovation and has a strong reputation for providing collaborative digital solutions across the built environment.
Our world-leading cloud-based Asite Platform has been built in-house since 2001 and is also ever-growing, constantly developing new integrations and products to help our clients excel and adding to the Asite Ecosystem. Our software helps thousands of organizations in traditional industries automate their collaborative business processes and focus their attention on delivering innovative projects.
---
About
Asite
Asite's vision is to connect people and help the world build better.
Asite's open construction platform enables organizations working on capital projects to come together, plan, design, and build with seamless information sharing across the entire supply chain.
Asite's comprehensive range of solutions connect dispersed teams across the lifecycle of capital assets, enabling them to build better and build resilience. With Asite, capital project owners stay at the forefront of innovation, maintaining a golden thread of information throughout a project to facilitate the creation of digital twins.
Asite is headquartered in London's Tech City with regional offices in New York, Houston, Dubai, Riyadh, Sydney, Hong Kong, and Ahmedabad.
For more information about Asite, please contact sales@asite.com.
As a globally recognized professional body, everything RICS does is designed to effect positive change in the built and natural environments.
Through their respected global standards, leading professional progression and their trusted data and insight, they promote and enforce the highest professional standards in the development and management of land, real estate, construction and infrastructure. Their work with others provides a foundation for confident markets, pioneers better places to live and work and is a force for positive social impact.
With over 134,000 highly qualified trainees and professionals, and offices in every significant financial market, they are ideally placed to influence policy and embed standards within local marketplaces in order to protect consumers and businesses.
In doing so, they can innovate and progress the development of spaces and places so they are fit for future generations, in addition to the challenges faced in the present.
Asite Insights in your inbox.
Sign up for product news and our latest insights published monthly. It's a newsletter so hot, even global warming can't keep up.