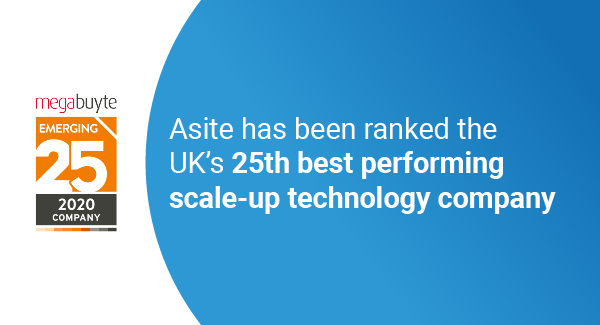 Asite has been recognized as an emerging star at the Megabuyte Awards 2020 which took place in London last month
---
London, United Kingdom (January 2020) – Asite, the world leading digital engineering SaaS platform, has been named as one of the best-performing scale-up technology companies in the UK by Megabuyte, the leading source of independent data and insights on UK technology and tech-enabled businesses.
The independent awards rank companies' performance against specific growth-related financial KPIs.
The annual Emerging Stars Awards recognizes the UK's best performing, exciting and scaling technology companies with revenues between £3 million and £10 million in the last reported year. These companies are all ranked according to their Megabuyte Scorecard rating.
Nathan Doughty, Asite CEO said:

"Everyone at Asite is delighted to be recognized as one of the best-performing scale-up technology companies in the UK. We are proud of the work we have done over the last number of years which has allowed us to reach new heights and achieve accolades such as the Megabuyte Emerging Star recognition.

This award comes at an exciting time in Asite's development as we continue to grow and continue to deliver on our vision of connecting people and helping the world build better.
Asite has been ranked in the top 25 companies in the Emerging Stars awards program. Asite is a new entry into the rankings joining companies including Kantox, CIPHR and CloudCall Group.
This award follows another successful year of client acquisition and financial growth for Asite, which saw its revenue grow by 20% and the strengthening of its global footprint with regional offices in New York, Houston, Sydney, Hong Kong, Ahmedabad, Dubai and Johannesburg.
Asite has recently published its 2019 annual report which provides extensive information on the company and its businesses, its strategy and sustainability approach, its achievements, financial performance and governance. The report can be accessed on the following link: Asite 2019 Annual Report.
---
Asite's vision is to connect people and help the world build better.
Asite's open construction platform enables organizations working on capital projects to come together, plan, design, and build with seamless information sharing across the entire supply chain.
Asite's comprehensive range of solutions connect dispersed teams across the lifecycle of capital assets, enabling them to build better and build resilience. With Asite, capital project owners stay at the forefront of innovation, maintaining a golden thread of information throughout a project to facilitate the creation of digital twins.
Asite is headquartered in London's Tech City with regional offices in New York, Houston, Dubai, Riyadh, Sydney, Hong Kong, and Ahmedabad.
For more information about Asite, please contact sales@asite.com
About Megabuyte Awards
The Emerging Stars Awards are one of three awards series run by Megabuyte, under the umbrella of the Megabuyte100 Awards, alongside the Megabuyte50 private company awards and the Quoted25 quoted company awards. Together, they identify the 100 best-performing companies within the UK ICT Services and Software sectors.
The awards are differentiated by the rigour of the methodology they use to assess companies' performance. Termed the Megabuyte Scorecard, their proprietary benchmarking methodology is widely recognised as the sector's most independent measure of comparative peer performance and is an influential reference among corporate, advisory and finance communities.
Asite Insights in your inbox.
Sign up for product news and our latest insights published monthly. It's a newsletter so hot, even global warming can't keep up.