Asite are delighted to have won a prestigious Hammer for the Construction Computing Awards 2012 for the best Document and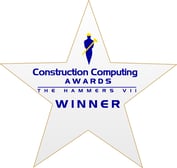 Content Management Product of the year 2012. Asite were also runners up for the following categories - E-Commerce Product of the Year and IT Project of the Year over 100 Employees for the adoption of Asite's eProcurement solution at Skanska UK.
Asite CEO Tony Ryan says, "We're delighted to win the award for the Document and Content Management category as this is yet another testament to our leading solution and to the long-term partnerships we have been able to build with our customers in the architecture, engineering and construction (AEC) industry."
Asite has been helping AEC supply chains achieve their collaborative working objectives with the easy-to-use and secure Adoddle cloud platform for more than 10 years. Our clients have used Asite on some of the world's most prestigious construction projects including Heathrow Terminal 5 and Dubai International Airport amongst thousands of others. Adoddle manages content from drawings and NEC Contract change workflows to supplier product catalogues and BIM product libraries and makes it available on-demand across the supply chain when and where it is needed to support the building process. Adoddle connects building designs to information within the supply chain and to procurement processes so that AEC professionals can make more informed decisions during the entire product life-cycle process.
Asite would like to thank everyone that voted for Adoddle and to the Construction Computing Awards team for putting on a great awards ceremony event.
For more information about the Construction Computing Awards 2012, please visit: http://www.constructioncomputingawards.co.uk/