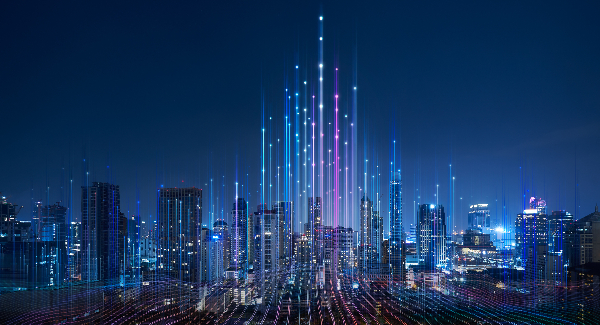 Digital twins aren't just for shiny new builds—plush high-rise office towers or sleek modern buildings. No, digital twins can be used for structures of all shapes and sizes, from buildings and bridges to motorways, even entire cities can have a digital twin.
In fact, existing structures can create their own digital twins.
To build a digital twin retrospectively, a calibrated model is created through the interrogation of real-time data from built assets. Smart technology, such as smart sensors, are installed in an asset and monitored over time. This is then used to determine the appropriate inputs for a simulation model. The simulation model is then compared to measured sensor and meter data. This calibrated model then becomes a digital asset.
---
Digital Twins
Support Sustainability
Digital twins are on the rise. According to research, the global digital twin market was valued at US$3.1 billion in 2020 and is projected to reach US$48.2 billion by 2026—more than 15 times its size in 2020.
Different regions worldwide are at different stages of their digital twin adoption. In the Middle East, a region famed for its digital prowess, digital twins are starting to take off after initial slowness to adopt the tech.
In many place the tech is already in place.
In the UAE, Dubai Municipality's Geographic Information Systems (GIS) Centre has launched 'Dubai Here,' an electronic system that provides access to geospatial data and maps. The mapping is the first step towards the GIS Center providing a complete digital twin for Dubai.
While in Saudi Arabia, one of the country's biggest construction projects, NEOM has digital at its heart. The $500 billion high-tech city is set to complete in 2030 and will include a digital twin in the "metaverse". This digital twin will allow people to experience both living and working in the city before it is even built.
Worldwide, digital twin technology is being used across industries to streamline processes, improve decision-making, reduce risk, and transform processes. According to a Gartner survey, 75% of organizations implementing IoT already use digital twins or plan to within a year. In fact, Gartner predicts by 2022, over two-thirds of companies that have implemented IoT will have deployed at least one digital twin in production.
Digital twins also promote sustainability for both new builds and existing structures. As Integrated Environmental Solutions notes, digital twins can integrate data from a number of sources and understand real-world conditions, such as energy flows, environmental conditions, and the makeup of materials.
With the technology argued to offer a complete resource for retrofitting at scale, we've taken a look at five reasons why digital twins could be the future of retrofitting.
---
1. Real-Time Data Can Help Identify Inefficiencies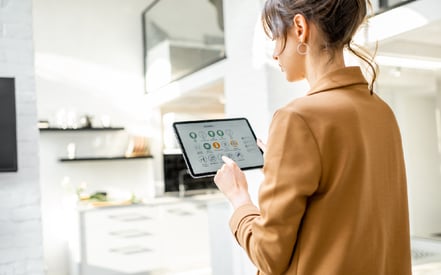 In the UK, the Institution of Civil Engineers is touting digital twins as key to achieving net zero emissions by 2050.
This is due to their ability to enhance our understanding of a physical asset and help us identify inefficiencies within a building. The virtual replica can identify areas where energy is being wasted by interrogating real-time data and information received from sensors.
For example, digital twins can tell us where energy is escaping or what rooms have lights on but are in use. This information is invaluable when it comes to retrofitting.
The widespread adoption of digital twins could transform global retrofitting programs. This actively contributes to achieving both the construction industry's decarbonization targets and the UN Sustainable Development Goals (SDGs).
---
2. Monitoring Means Proactive Maintenance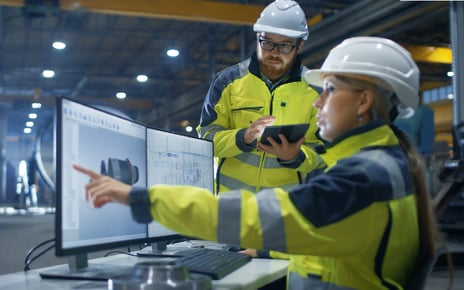 A digital twin tracks, stores, and monitors the data of components—their use, operation, and history—within a structure over its lifecycle, from conception to construction and beyond.
This allows asset owners and managers to make predictions regarding maintenance, both understanding how materials will operate under different conditions and predicting when asset components will need updating or replacing, avoiding wasteful downtime. Both of these practices help support asset resilience and sustainability.
According to a U.S. Department of Energy study, maintenance techniques targeting energy efficiency can result in up to 20% savings annually. Predictive maintenance enables building stakeholders to anticipate material failure and pre-emptively arrange for the component to be updated.
As discussed by the Buildings As Material Banks (BAMB) project—an EU Horizon 2020 research and innovation project enabling a shift to a circular building sector—in an existing asset, changes can be tracked to datasets within the building as they occur. This includes refurbishments, new installations, and change of ownership, all of which ensure data validity when renovating and updating a building.
---
3. Sensors and Trackers Improve Energy Usage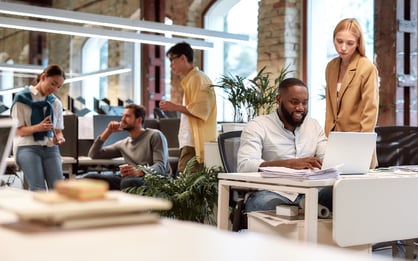 To optimize decision-making during the retrofitting process, you need to consider the activity of those using the building. Although a lack of standards attributes to energy inefficiency and waste during construction, people also play their part.
A digital twin can monitor real-time human interaction within an asset using an integrated mix of IoT technologies, including sensors and trackers.
Building owners and managers can then use this data to make intelligent decisions. For example, a digital twin can identify and resolves if a building's heating system overheats some rooms and insufficiently heats others. This information can then inform the retrofitting process and determine how the building can operate more sustainably.
---
4. Material Tracking Helps with
Long-Term
Sustainability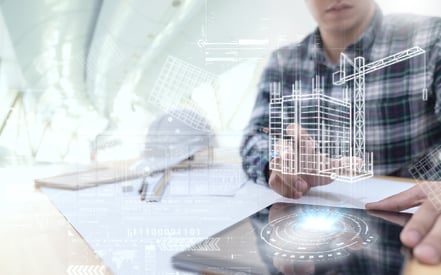 A digital twin offers long-term purpose and value to the sustainability of the built environment, even beyond our global 2050 goals.
As noted by the Institution of Engineering and Technology, the tracking of materials and their properties enables a more sustainable and circular approach to construction—materials to be re-claimed at demolition and improving certainty regarding their repurpose. Instead of building components going to landfills after a building is demolished, they can be carefully removed and reused elsewhere.
Additionally, digital twins could help introduce meaningful collaborations. Connecting virtual replicas to create an ecosystem of digital twins allows the industry to communicate across boundaries, share data, and learn from each other. As Arup, the multinational professional services firm, notes, this could improve collaboration and help solve global challenges.
We need a global effort to capture and extract valuable insights from the built environment to achieve this. By doing this, we can begin to reduce our climate impact.
---
5.
Future-Proofing Can Predict Resilience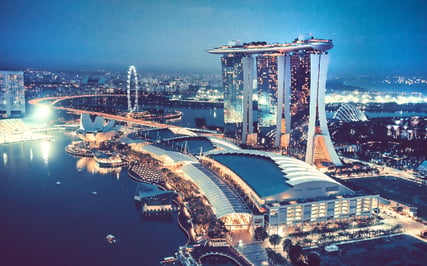 Alongside enhancing the decision-making, digital twins allow us to "future-proof" buildings and integrate resilience into the retrofits.
The virtual replica can simulate conditions quickly, allowing building stakeholders to understand what-if scenarios, predict results more accurately, and prepare their buildings for such events. For example, a digital twin can test how a building would respond to flooding; it could show where water may get in and allow asset owners to plug the gaps.
Singapore provides a great example of this. The virtual representation of the city is utilized as a simulation model. Here, it allows designers and planners to test real scenarios in a digital space. These results can help plan and develop an action plan to combat such challenges should they arise.
---
Visualize the Invisible
Optimization is a key driver of sustainability and resource efficiency, and this is where digital twins excel. By helping to visualize the invisible, digital twins ensure that past projects meet future goals.
Asite's mission is to ensure that, as an industry, we can send and receive, capture, share, and collaborate on all the data we are collecting to derive actionable insights to solve global issues.
With the right tools and software, we can deliver on digital twins and enact a global strategy based on extensive data analytics to support global energy transformation and drive the decarbonization of the built environment.
Want to learn more about digital twins powerful potential in the retrofitting space? Download our free 'Smart Retrofitting' report here.
Asite Insights in your inbox.
Sign up for product news and our latest insights published monthly. It's a newsletter so hot, even global warming can't keep up.