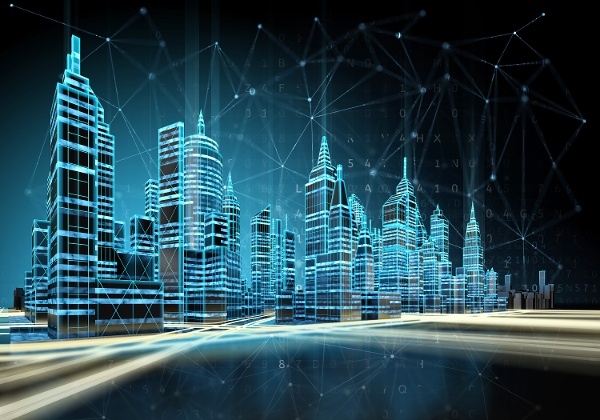 Sustainability isn't just about what we build next, but also what we have already built.
There is one tech solution that holds great promise in this area—digital twins. If you're just now embracing BIM, get ready. Digital twins are already scoring big in terms of optimizing decision-making and improving project outcomes around the globe.
According to research, the global digital twin market has been valued at $3.1 billion in 2020 and is projected to reach $48.2 billion by 2026. This fast-growing demand is fueled by the vast amounts of knowledge the technology can provide, as more and more projects recognize its extraordinary potential.
Sustainability is one area where digital twins hold the most promise. During COP26 summit, there were calls for the tech to be pushed to the top of the agenda to mitigate the crisis.
One of digital twins' most notable areas of promise can be found in the area of retrofitting, where you are adding something new to the original structure with the goal of improving its functionality.

What is a Digital Twin?
Simply put, a digital twin takes the information of an asset or set of assets one step further, working as an exact digital replica.
It is created either during the asset lifecycle—from design to build to operation—or retrospectively—by monitoring real-time data from built assets to develop a calibrated model. As such, a digital twin allows its users to monitor operation, evaluate conditions, and alert to deteriorations. This improves decision-making, tracks progress, reduces risk, and provides enhanced insights.
As long as the right tech is in place, structures of all shapes and sizes can implement a digital twin, from buildings and bridges to motorways and even entire cities.
So, what exactly does a digital twin do? It combines physical assets and digital technologies—smart sensors, the Internet of Things (IoT), data collection tools, advanced analytics, and machine learning. All supported by cloud computing, they come together to "talk" to one another. This constant stream of real-time operational data allows digital twins to predict outcomes in the operation of a physical asset across its lifecycle and in varying simulated conditions.
This process opens digital twins up to a world of possibility.
---
Supporting

Sustainability
When it comes to sustainability and resource efficiency, optimization is a key driver. This is where digital twins excel. So much so that in the UK, the Institution of Civil Engineers is touting digital twins as key to achieving net zero emissions by 2050.  
Digital twins integrate data from several sources, allowing them to understand real-world conditions, such as energy flows, environmental conditions, and the makeup of materials, as noted by Integrated Environmental Solutions, the leading global innovator of sustainable analysis technology.
Here, digital twins can identify what upgrades a building requires, allows operation managers to put together valuable and actionable insights to help transform existing structure. These insights can include:
- Identifying inefficiencies
Digital twins can identify waste within a structure. In cases such as single glazed windows or uninsulated roofs where heat is escaping, digital twins examine real-time data and alert asset owners or operators to where an asset is losing energy. Here, owners or operators can use these insights to rectify these issues and reduce inefficiencies.
- Proactive Maintenance
According to a U.S. Department of Energy study, maintenance techniques targeting energy efficiency can result in up to 20% savings annually. As a digital twin tracks, stores, and monitors the data of components—internal systems such as piping and electrics, boilers, and insulation panels—asset owners and managers can make predictions regarding maintenance. Pre-empting when maintenance or upgrading is required avoids wasteful downtime, which saves money and reduces energy emissions.
- Scenarios Simulation
Virtual replicas can also be used as simulation models. For example, if you live near the Atlantic Coast or the Gulf of Mexico, you are more susceptible to hurricanes. Or you live in the Middle East states of the Kingdom of Saudi Arabia, United Arab Emirates, Qatar, or Oman where temperatures can reach upwards of 50°C (122°F). Here, a digital twin can test how your asset may respond to such an event. This allows owners or operators to resolve areas of concern before disaster strikes.
Ultimately, digital twins help visualize the invisible. They provide asset owners and operators with invaluable information to help improve the operation and output of both new and existing structures.

Retrofitting is on the Radar
When it comes to retrofitting buildings, digital twins could play a significant role in helping with sustainability goals.
In their construction and operation, buildings currently account for 38%—the largest share—of global energy-related carbon emissions. According to C40, the global leadership organization, 75% of today's buildings are expected to be in use by 2050. This stat demonstrates the importance of not only building more sustainably but also upgrading existing structures.
As the U.S. Department of Energy states: "Renovation, retrofit, and refurbishment of existing buildings represent an opportunity to upgrade the energy performance of commercial building assets for their ongoing life…Energy-efficiency retrofits can reduce the operational costs, particularly in older buildings, as well as help to attract tenants and gain a market edge."
In the U.S., this is an issue already on the radar. President Joe Biden's Infrastructure Bill ranks as one of the most significant federal efforts ever to reduce greenhouse gas emissions (GHG) and is a key component of the president's goal of net-zero carbon emissions by 2050. The legislation recognizes retrofitting as a vital element of this commitment, prioritizing the retrofit of millions of homes to increase energy efficiency.
With residential energy use accounts for roughly 20% of GHG emissions in the U.S., according to research, this weatherization of homes—the practice of protecting a building and its interior from the elements—would save each household $283 in annual energy costs, according to The Brookings Institution, the independent research, and analysis company.
It's not just the U.S. that is placing emphasis on retrofitting. In the Middle East, retrofitting existing assets is a key priority for both KSA and the UAE.
In the UAE, over 30 government buildings in Abu Dhabi are set to undergo retrofitting to reduce their water and energy consumption by 20% to 30%, as part of UAE Energy Strategy 2050. The buildings, many of which are over 50 years old, will be retrofitted with energy-efficient technology to align with the UAE's target of increasing the percentage of clean energy in the total energy mix from 25% to 50% and reducing the carbon footprint of power generation by 70%.
Meanwhile, in KSA, retrofitting plans have been announced for all government assets. Smart tech is set to be brought to the forefront as a way to improve assets, with smart meters projected to be used to manage asset outputs. These efforts are being planned in conjunction with Vision 2030, which seeks to place sustainability at the heart of everything.
The question remains, how do you achieve these results?
A digital twin offers long-term purpose and value to the sustainability of the built environment, even beyond the global 2050 goals. Focusing on current structures needs to be a priority to truly achieve a resilient and sustainable built environment. This is where digital twins can make their mark.
Want to learn more about how digital twins can support the delivery of retrofits at scale and help the construction industry meet its decarbonization goals? Don't miss Asite's free report, "Smart Retrofitting: The Key to Decarbonizing the Built Environment."
Asite Insights in your inbox.
Sign up for product news and our latest insights published monthly. It's a newsletter so hot, even global warming can't keep up.