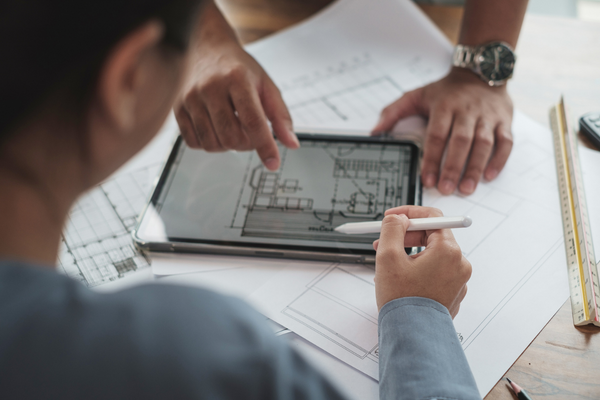 First, there were pencils, paper, and protractors.
Then came CAD—Computer Aided Design.
Next up, BIM—Building Information Modeling.
For the construction industry, BIM has changed the game. A foundation for a more collaborative and digital-enabled industry, BIM has been the catalyst for real change.
So much so, the global BIM market will reach an estimated $9 billion by 2025, according to Lucintel, the management consulting and market research firm. This is due to rapid urbanization, infrastructure project growth, and increased BIM benefits recognition.
So, for Asite, where did it all begin?
Let's look back at Asite's BIM journey: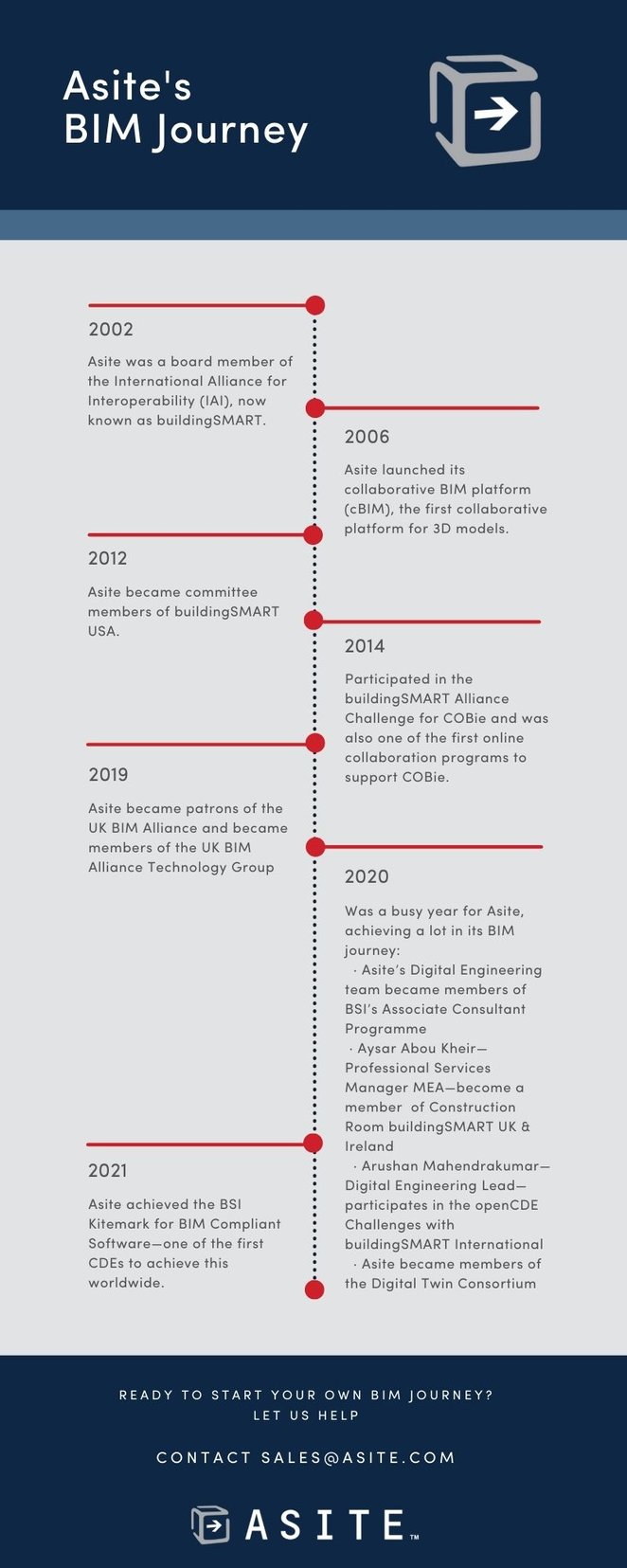 Asite

a

t the Forefront of BIM
Within the construction industry worldwide, Asite has been at the forefront of advancements and works closely with experts in the field to help develop the industry BIM ISO standards.
This coveted position allowed Asite to bring its expert knowledge and play an instrumental role in creating the BSI Kitemark for BIM Software.
The BSI Kitemark is one of the most globally recognized quality marks. Why is this important? The BSI Kitemark for BIM Software assures your information is managed according to the process requirements of the ISO 19650 framework.
The Asite Digital Engineering team—which includes Aysar Abou Kheir and Arushan Mahendrakumar—is also one of only a few organizations worldwide with a British Standards Institution's Associate Consultant Programme (BSI ACP) certificate of membership. It consults on the BS EN ISO 19650 standards and supports clients in their journey to achieve BSI BIM Kitemarks. 
Also, due to its ACP membership, Asite is now part of a select group worldwide consulting on the BS EN ISO 19650 standards and supporting clients to achieve BSI BIM Kitemarks. This includes the BSI Kitemark for BIM Design and Construction, BSI Kitemark for BIM Asset Management, BSI Kitemark for BIM Objects, and BSI Kitemark for BIM Asset Life Cycle.
---
Helping in Your BIM Journey
Asite's mission is to provide construction organizations with the insights and agility to reach new levels of excellence and resilience in their BIM adoption journeys.
The cloud-based Asite Platform gives projects and their teams visibility, security, and control across the collaborative BIM process with Asite cBIM.
The Asite collaborative Building Information Model (cBIM) solution facilitates secure communication between those working on a project.
Teams can view, search, and coordinate issues around objects within individual and federated models, enhancing collaboration and visibility throughout the project lifecycle. Additionally, while managing models, users can reference documents and electronic forms stored within the Common Data Environment (CDE) to enrich communications further.
So, how does it work?
Asite cBIM offers a whole host of benefits to project teams, including:
- Creating a Single Source of Truth—All model versions and their associated data are stored and updated in the Asite CDE, creating a single reference point
- Supporting Open and Native Formats—The federation of IFC files is supported, as well as over 50 native formats, including Revit, Rhino, Solidworks, Sketchup, and Point Cloud. COBie data can also be exported to facilitate the management of assets.
- Ensuring Auditability and Version Tracking—A clear audit trail is created as all revisions are timestamped and stored in the CDE
- Easy Storage of As-Built Information—As-built information, which can be associated with model objects, is stored in the cloud to make project handovers easier and faster at any stage in the project lifecycle or after
Ready to start or accelerate your BIM journey? Discover how Asite and our experts can help. Learn more here.
Asite Insights in your inbox.
Sign up for product news and our latest insights published monthly. It's a newsletter so hot, even global warming can't keep up.