Building Information Modeling (BIM) is a "digital representation of a physical building or infrastructure asset."
BIM takes digital markings and combines them with software engineering concepts to create objects with meaning or data associated with them.
Underpinned by digital technologies, BIM facilitates design, construction, and operation processes and helps get your entire team on the same page—or model.
In the Middle East, the BIM market is growing.
Home to some of the world's most complex and innovative building projects, the Middle East AECO industry stands to benefit hugely from what BIM introduces.
This realization is nothing new. A 2017 Dodge Data & Analytics report found that 80% of Middle East architects and contractors believe they are experiencing a positive return on investment (ROI) from BIM implementation in their organization.
And of all those surveyed, 100% believed BIM would be important to the industry in five years.
As we hit that five-year mark, join us as we take a deep dive into BIM in the Middle East, understanding its background, benefits, and where the future of BIM might take us.
---
BIM is More Than Just a Model
What began as a 2D application, BIM has added capabilities for 3D, 4D, and now 5D. Here's how it works:
- 3D refers to the three spatial dimensions
- 4D—the fourth dimension—is time, so you can see how much of the project is complete on specific dates
- 5D—the fifth dimension (in the BIM world)—is money. BIM allows you to move along the project's timeline and see your project's cash flow at any point in time during the project
While it does involve creating a visual representation of an asset, BIM is much more than models. Instead, BIM is about working collaboratively with teams across the project to develop a digital dataset.
Effective collaboration processes are at the heart of BIM. Based on defined standards, open workflows, and model-centered communication, its success relies on collaboration between project teams.
With BIM, the digital representation can be shared with all parties to outline the work planned. Here, project teams understand the project's scope and what is required.
Then, during the project, stakeholders can feed information and data into the digital representation and pull information when required. They can also review the process, mark up and comment on models, and share these edits securely across the project team to further collaborate.
BIM ensures that all stakeholders are consulted at all stages throughout the project. Also, BIM stores all project information in one central location—the Common Data Environment (CDE).
The Benefits of BIM Collaboration
BIM brings together a whole host of project information—graphical data, structured non-graphical data, and documentation—to gain valuable insights, make better decisions, and reduce risk on a project.
What the region is recognizing is that the benefits of BIM are manifold:
- Reduced Project Errors—With all project information and data stored in a single, secure environment, your ability to problem-solving is improved. Plus, the chance for errors to crop up is reduced. According to a Dodge Data and Analytics survey, 61% of those surveyed report BIM processes reduced project error
- Better Decision-Making—With regular data exchanges in the digital representation, all information is accurate and up to date. This means your entire team is working from the same page and decisions are made on the latest information, and ambiguity is eliminated
- Easier Communication—All models are held in one cloud-based location, allowing all stakeholders to access and share real-time information, improving communication project-wide. Dodge Data and Analytics report 55% surveyed stated BIM processes reduced the time required for communications
- Supports Sustainability—In the BIM model, you can accurately predict how much material is needed for the project. This helps reduce waste and the overall environmental impact of the project
- Improved Project Handover and Operation—Models can be passed onto the owner of an asset after construction is complete. Rich with information, the model will be useful to the owner when it comes to maintenance and repair of the asset, as well as any future construction on the property
---
Understanding the Standards Behind BIM
The UK has been at the forefront of creating international standards for decades.
As stated by BSI—UK national standards body—the ISO 19650 standard is "an international standard for managing information over the whole lifecycle of a built asset using building information modeling (BIM)."
The ISO 19650 standards framework was developed to outline the recommended collaborative processes for effectively managing information for all types of assets in the Built Environment—building, infrastructure, and the systems and components throughout the asset lifecycle.
The framework sets out guidelines for ensuring the right information is shared with the right people at the right time. It also outlines the responsibilities and ownership of project information.
Ultimately, it is the gold standard when working with BIM.
Due to this, many organizations and projects throughout the Middle East look to the UK for guidance regarding industry best practices.
For example, in 2019, Dubai's Roads and Transport Authority (RTA) announced it had obtained the ISO 19650 certificate in building information modeling (BIM) under the BIM Asset Lifecycle ISO 19650 Framework. The first government entity to achieve the feat.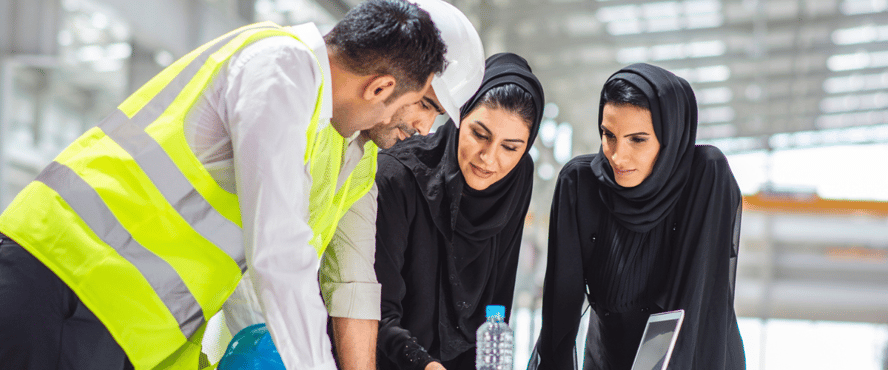 The Future of BIM in the Middle East
BIM in the Middle East is clearly on an upward trajectory. So, what does the future look like?
As the Middle East grows in its BIM maturity, it will begin to advance how it utilizes BIM.
4D BIM Opens New Opportunities
For instance, according to MEP Magazine, 4D BIM is set to open new regional opportunities. With experts expecting a surge in new construction activity in the coming months, competition for suppliers throughout the supply chain will be rampant.
As mentioned, 4D BIM enhances scheduling capabilities. Here the tech can be used to predict when materials and contractors will be needed on-site accurately—no more material piling up unused or contractors waiting around to complete their work.
Start Digital Twinning with BIM
Digital twins are another area that can benefit from BIM in the future.
In the Middle East, digital twins are a huge draw. The innovative tech is being used across various projects in the region—NEOM, the city of Dubai, and Hamad International Airport in Doha.
While BIM and digital twins are two separate technologies, as stated by Building Smart International, they are built on a number of common principles—improving process visibility, aligning stakeholders, supporting planning, and seeing assets as combined ongoing projects.
The worldwide industry body also explains how a digital twin can be an output of a BIM process, stating a digital twin is "essentially a 'living' version of the project or asset view that BIM processes exist to create—able to evolve and transform using real-time data once the asset is in use."
Here, BIM acts as a steppingstone to a digital twin. This is shared by Sean Kearney, principal consultant at Mott MacDonald—global engineering, management, and development consultants. They believe BIM can help bridge the gap for companies starting their digital twin journeys. Instead of leaping straight into digital twins, "mastering BIM's data management will prove a valuable stepping stone towards the ultimate goal of digital twinning."
As the Middle East embraces moves to create more digital doppelgangers, BIM can be used to get projects started on their digital twin journey and ensure they have the foundations required to succeed.
The future of BIM in the Middle East is bright. Organizations need to adopt the right solution to get on board with BIM and reap the rewards the tech has to offer.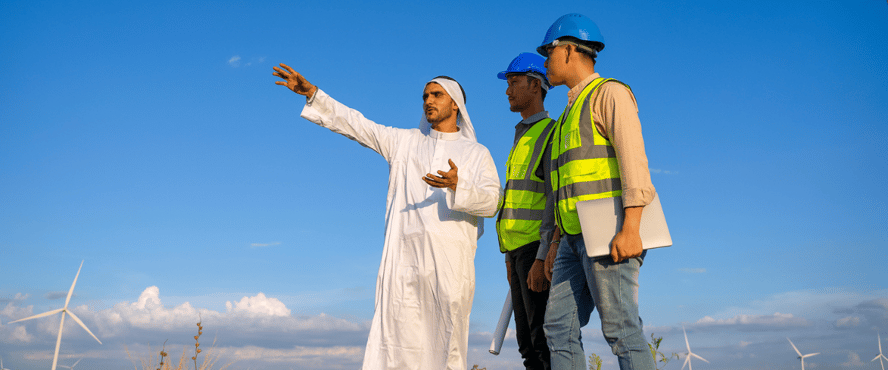 The Asite cBIM Solution
When it comes to BIM, Asite provides the collaborative solution.
The cloud-based Asite Platform gives projects and their team visibility, security, and control across the collaborative BIM process with Asite cBIM.
The Asite collaborative Building Information Model (cBIM) solution facilitates secure communication between those working on a project.
Teams can view, search, and coordinate issues around objects within individual and federated models, enhancing collaboration and visibility throughout the project lifecycle. Additionally, while managing models, users can reference documents and electronic forms stored within the Common Data Environment (CDE) to enrich communications further.
So, how does it work?
Asite cBIM offers a whole host of benefits to project teams, including:
- Creating a Single Source of Truth—All model versions and their associated data are stored and updated in the Asite CDE, creating a single reference point
- Supporting Open and Native Formats—The federation of IFC files is supported, as well as over 50 native formats, including Revit, Rhino, Solidworks, Sketchup, and Point Cloud. COBie data can also be exported to facilitate the management of assets.
- Ensuring Auditability and Version Tracking—A clear audit trail is created as all revisions are timestamped and stored in the CDE
- Easy Storage of As-Built Information—As-built information, which can be associated with model objects, is stored in the cloud to make project handovers easier and faster at any stage in the project lifecycle or after
BIM improves how we work today and has provided a strong foundation for construction's digital future. According to Dodge Data and Analytics, 82% of BIM users report a positive return on investment. Is it time to get on board?
Want to discover more about how BIM can improve your projects? Take the next step and talk to one of our experts or download our BIM Booster Guide.
Asite Insights in your inbox.
Sign up for product news and our latest insights published monthly. It's a newsletter so hot, even global warming can't keep up.