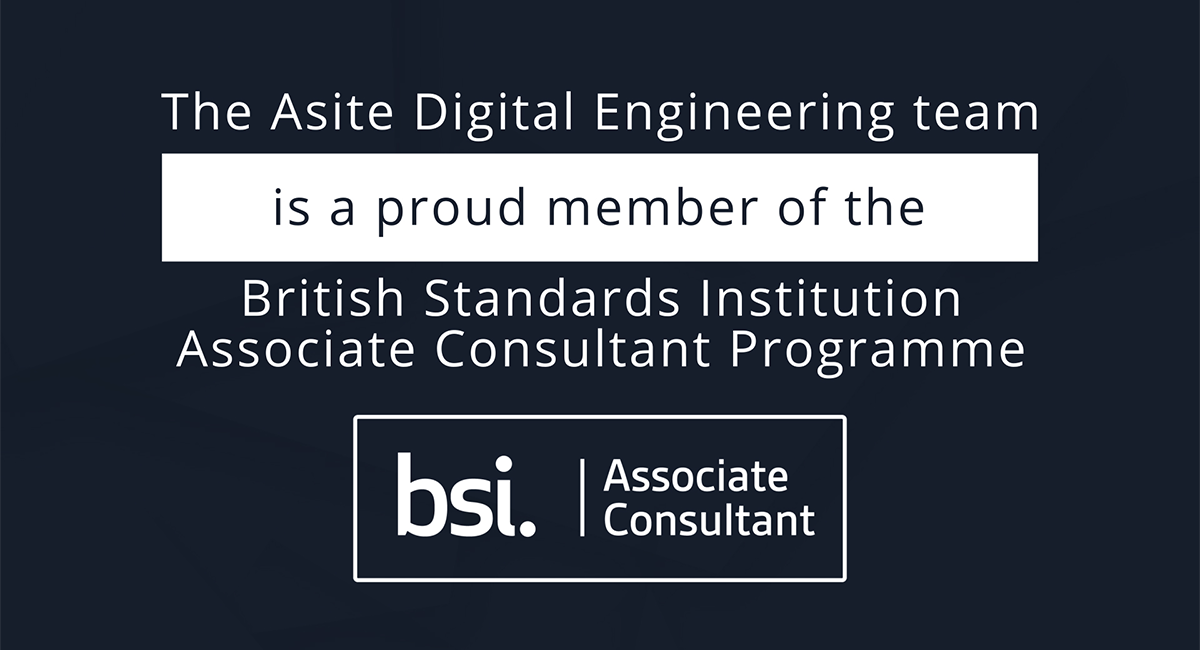 Cementing their place at the forefront of construction innovation, the Asite Digital Engineering team is one of the first twelve BSI BIM Associate Consultancies worldwide
London, United Kingdom (February 2021) –Asite has announced that its Digital Engineering team is now a member of the British Standards Institution's Associate Consultant Programme (BSI ACP) as it works towards establishing itself as a key global player in the digital construction industry.
The achievement makes Asite one of only a few organizations worldwide with a BSI ACP certificate of membership, denoting its extensive experience consulting on the implementation of construction projects in compliance with the ISO 19650 suite of standards.
Rob Clifton, Asite SVP for the UK and Europe, said:
"In such a dynamic industry, we are incredibly proud to have a Digital Engineering team that is consistently at the forefront of change. Continuous learning, upskilling, and innovation have allowed Asite to compete in the global marketplace against larger organizations and deliver world-class digital transformation consulting.

We are committed to providing broad insights and technical resources designed to help clients build their digital capacity. This independent assessment and certificate from the BSI only add to the credibility of Asite and our extensive digital engineering services."

On behalf of the Digital Engineering team, Aysar Abou Kheir and Arushan Mahendrakumar expressed their anticipation for the key role Asite is set to play in the construction industry's digital future.
Aysar Abou Kheir, Professional Services Manager MENA, said:
"With our industry expertise and strategic consultancy, our team is eager to continue to boost our customers' digital transformation journeys, by helping them define, develop and deploy the perfect combination of technologies and best practices, in order to achieve BSI's Kitemark for BIM.

This accomplishment builds on our team's mission to provide construction companies with the insights and agility they need to reach new levels of excellence and resilience."
Arushan Mahendrakumar, Digital Engineering Lead, said:
"This is a major step forward in the team's quest to become global leaders in digital built-environment consultancy. This not only reaffirms our work up until now with existing clients but also bolsters our capabilities in driving best practice and continuously striving to build better."
Owing to its ACP membership, Asite is now part of a select group of members worldwide consulting on the BS EN ISO 19650 standards and supporting clients to achieve BSI BIM Kitemarks, including the BSI Kitemark for BIM Design and Construction, BSI Kitemark for BIM Asset Management, BSI Kitemark for BIM Objects, and BSI Kitemark for BIM Asset Life Cycle. All of which are benchmarks in best practice in the adoption of BIM processes across the built asset lifecycle.
Accordingly, this BSI ACP certificate has allowed the Digital Engineering team at Asite to widen the scope of the services offered by the Professional Services team. Clients can now supplement standard project implementation with the new Digital Engineering Service Package. Available to all new and existing clients, the package includes the configuration of workspaces to be compliant with the BIM standards (BS/PAS 1192 or ISO 19650) as well as Asite's Digital Engineering products, including the Asite collaborative BIM (cBIM) and Information Delivery Plan (IDP) solutions.
As Asite continues its mission to become the world's leading digital transformation platform, this achievement further establishes its reputation in the engineering and construction sector.
To find out how your project or organization could benefit from using one of the construction industry's most secure cloud platforms for building and maintaining assets, please contact sales-ukeu@asite.com or call +44 20 4579 0736.
---
About Asite
Asite's vision is to connect people and help the world build better.
Asite's open construction platform enables organizations working on capital projects to come together, plan, design, and build with seamless information sharing across the entire supply chain.
Asite's comprehensive range of solutions connect dispersed teams across the lifecycle of capital assets, enabling them to build better and build resilience. With Asite, capital project owners stay at the forefront of innovation, maintaining a golden thread of information throughout a project to facilitate the creation of digital twins.
Asite is headquartered in London's Tech City with regional offices in New York, Houston, Dubai, Riyadh, Sydney, Hong Kong, and Ahmedabad.
For more information about Asite, please contact sales-ukeu@asite.com
About BSI
The British Standards Institution (BSI) is the UK's national standards body (NSB), producing technical standards and supplying certifications on a wide range of products and services.
BSI publishes over 3,100 standards annually in 193 countries, engaging with industry experts, government bodies, trade associations, businesses of all sizes, and consumers to develop standards that reflect good business practice and support the United Nations Sustainable Development Goals.
BSI represents UK economic and social interests across all European and international standards organizations and in the development of business information solutions for British organizations of all sizes and sectors.
To learn more about BSI, click here.
Asite Insights in your inbox.
Sign up for product news and our latest insights published monthly. It's a newsletter so hot, even global warming can't keep up.