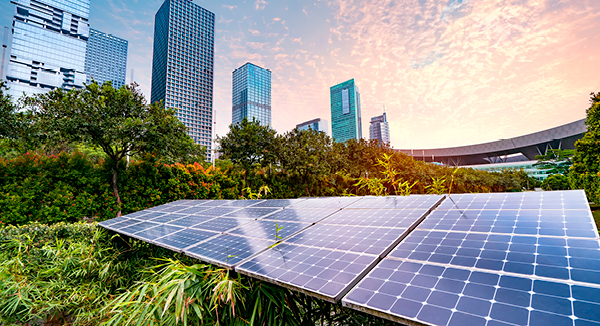 Construction and sustainability have long been at odds. The former is an energy-intensive industry that consumes incredible amounts of natural resources, while the latter is very much focused on using less energy and preserving resources.
However, as we become more environmentally conscious as a society, there is increasing pressure on the construction industry to change. The pressure is both external and internal, driven by several innovative leaders who are pursuing the vision of a new kind of construction industry.
---
RECYCLING PLASTIC
Plastic pollution is currently at the forefront of the conversation, in large part, thanks to the Blue Planet II effect. Proposed initiatives to reduce plastic waste in construction are both topical and welcome.
One example is from construction company Balfour Beatty, which is literally paving the way by turning more than one million plastic bags into a cycle lane. As well as saving plastic from piling up in landfills, they're also using a more flexible and adaptable material that reduces the risk of potholes. It's this kind of proactive thinking that will benefit the longer-term sustainability of the construction sector.
In many ways, recycling plastic is only the beginning of the move towards sustainability in the industry. Initiatives like embodied energy, Passivhaus buildings, adaptive reuse, and solar paneling are gaining more mainstream traction. However, these can only be delivered effectively with the protection of the local ecosystems in mind.
Ultimately, it's about examining the existing materials and processes from start to finish through an environmental lens. And, the industry needs to act quickly and collectively if we are to see any substantial change.

ACTIVE OFFICE
Wernick Buildings' award-winning Active Office is a great example of a green building in action. Their modular office building is energy-positive and low-carbon as it generates, stores, and releases solar energy. The Active Office concept comes from the SPECIFIC Innovation & Knowledge Centre, led by Swansea University.
The office was conceived and built in partnership with Akzo Nobel, NSG Pilkington, Tata Steel and Cardiff University. It produces its own supply of clean energy with excess energy supplying power to a neighboring building as well as three electric cars. The technology is both cutting edge and readily available, demonstrating that schools and offices could implement the same concepts with ease.
Integral to the project was reducing energy and waste. For this reason, the building was manufactured offsite, significantly reducing the build time. Building the 16 modules took just three weeks, with a further two days for delivery and installation. From inception to completion, the project took eight months.

ECO-HOMES
Homeowners have also been able to reap the benefits of sustainable innovations in construction. For example, Mi-space (part of the Midas Group) developed 72 award-winning eco-homes for Plymouth Community Homes (PCH). These innovative and affordable homes benefit from solar gains and are fully-ventilated to provide fresh and filtered air 24/7.
The Mi-Space worksite was eco-friendly, with features such as crib-lock retaining walls, recycled concrete blocks, and storm-water attenuation to prevent site run-off. Most significantly, 100% of the site waste was recycled; nothing went to landfill.

ADAPTIVE

REUSE
Adapting existing buildings can achieve wonders for their sustainability credentials. Sympathetic adaptive reuse requires considerable architectural vision, but it presents an opportunity to focus on the refurbishment of existing buildings and infrastructure. This approach conserves land and reduces the use of resources and energy while protecting local ecosystems.
Phoenix, Arizona is a leading the charge in adaptive reuse with new businesses encouraged to adapt older buildings for use. These adapted warehouses, factories, and mills create some of the most stunning and sustainable commercial properties.

BIODIVERSITY NET GAIN
The ramifications of the resource-intensive activities of the construction industry on biodiversity is a huge issue that many organizations and government are working towards addressing. One prominent solution is biodiversity net gain, which is an approach to development that aims to leave biodiversity in a better state than before.
While many developers have already incorporated this approach into their projects, the UK government is working towards mandating biodiversity net gain in development as part of the forthcoming Environmental Bill. This policy will require that developers assess the type of habitat and its condition before submitting plans, and then demonstrate how they are improving biodiversity.
By considering the potential impact on biodiversity as early as possible in the lifecycle of the project, specifically the planning and design phase, we can generate long-term benefits for nature as well as wider benefits for society and the economy.

FINAL

THOUGHTS
Sustainable construction projects are essential for the progression of the industry. They can be extremely benficial in terms of attracting eco-conscious individuals into construction. By giving them the opportunity to help build sustainable infrastructure, construction offers an exciting and prosperous career path for the younger generation, as they can contribute to building the greener world that they want to see.
Asite Insights in your inbox.
Sign up for product news and our latest insights published monthly. It's a newsletter so hot, even global warming can't keep up.