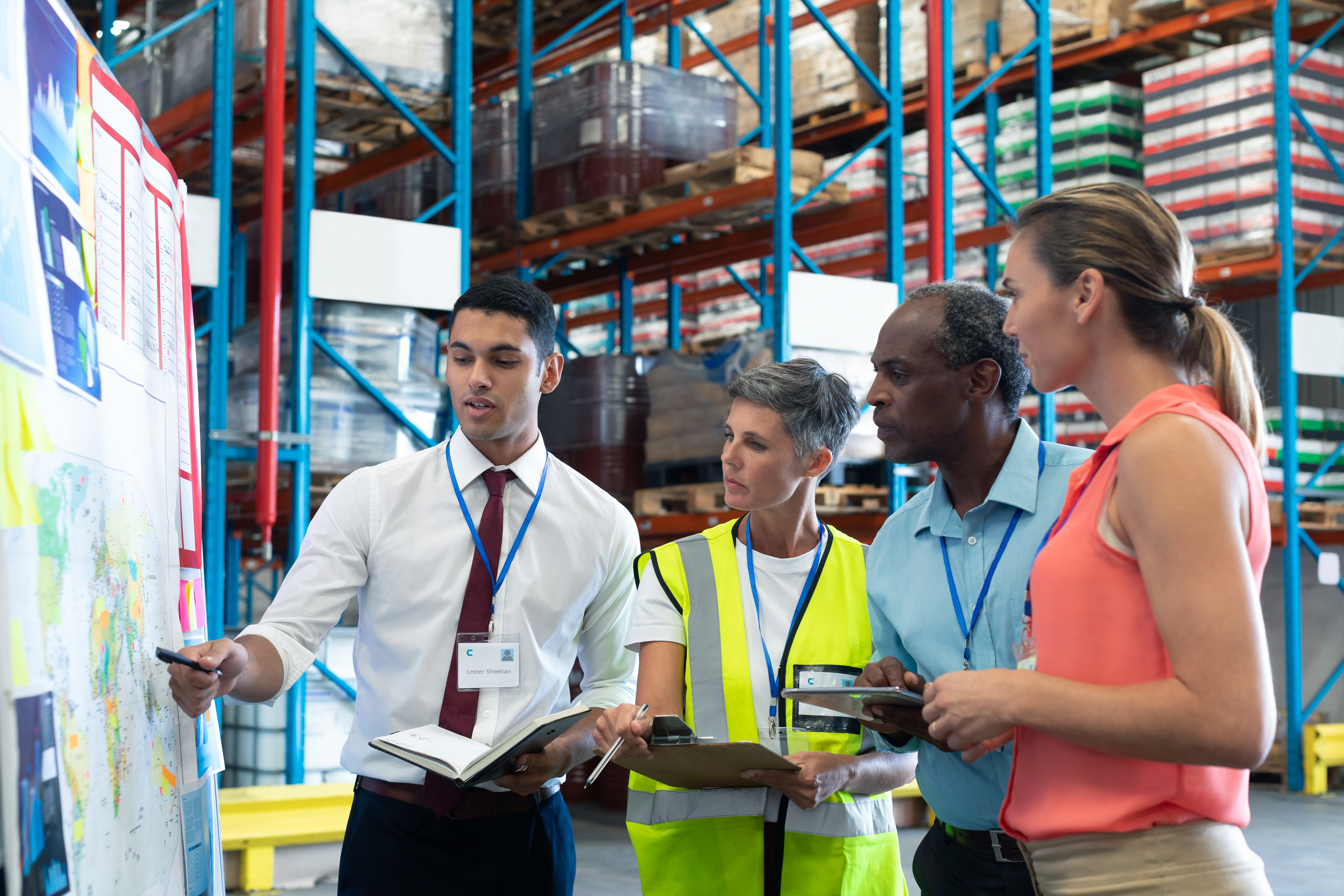 In its most basic sense, supply chain management (SCM) is a broad range of activities involved in the centralized control and management of the entire production process. This means the transformation of raw materials and components into the final product that is delivered to the consumer.
The concept of supply chains, are of course, not new, but the concerted effort to generate value through efficiencies is a more recent phenomenon. The ultimate goal of supply chain management is the efficient and economic flow of goods and services. This includes materials, money, and information to maximize customer value and create competitive advantage in the market.



Why is Supply Chain Management Important?
The AEC sector is complex, and this is reflected in its supply chains. In simple terms, a supply chain is a distributed but connected network of individuals, organizations, resources and suppliers, all involved in the manufacture or sale of a product. Supply chain management seeks to manage these complexities and improve the performance of the supply chain.
By creating a robust network of supply chain professionals supply chain management seeks to increase collaboration, manage demand and promptly deal with disruptions. It is the role of the supply chain professionals to move products along and connect the sourcing, production and logistical stages. Successful supply chain management is cognizant of the many junctures along the supply chain where value can be added or lost, and the effect this has on a company's bottom line.
A key example of the impact of efficient supply chain management can be seen in the bidding process. Like much of the production process, bidding is complex and resource-heavy. It involves a large number of participants and vast amounts of information that needs to be readily accessible.
A comprehensive supply chain management solution, with effective bid planning and management, facilitates the bi-directional flow of information between the company issuing the bid and suppliers. It greatly reduces the time, resources, and money devoted to the process. Additionally, the storage of submissions and other bid data in a secure centralized system supports a clear audit trail and best practices for future bids.

Big Data and Analytics in Supply Chain Management
As noted by Perkins and Wailgum in their piece for CIO, "as collaboration has increased, additional data from supply chain partners has allowed companies to use advanced analytic tools to further improve results." They provide the following three examples where big data and information systems can support effective supply chain management:
Identifying problems before they occur
Optimizing price dynamically
Improving the allocation of 'available to promise' inventory
Most businesses collect large volumes of data from a variety sources; the challenge is managing and effectively utilizing this information to generate value. In the context of supply chain management, big data and advanced analytic tools support the planning and execution of the supply chain. They do this by letting companies know where their goods are and where they should be.
Data analysis informs the allocation of resources by helping companies predict what customers want and where. This outside-in approach to supply chain management means that organizations better understand their customers and are creating products for a market that actually exists.
The timeliness and usefulness of information is invaluable to companies. Supply chains that take advantage of the huge volumes of data generated by the production process and the insights produced by analytical tools are able to improve product and service quality, delivery, costs, customer experience and, ultimately, profitability. This helps create a finished product or service that succeeds in meeting customer demand.

Sustainability and Supply Chain Management
To borrow from IBM, the better and more effective a company's supply chain management is, the better it protects its business reputation and long-term sustainability.
While this can be understood in terms of the company's interests, supply chain sustainability can be seen as an extension of corporate responsibility. Corporate responsibility is a business practice which helps companies be socially accountable and integrate civic-mindedness into their business operations. In regards to supply chain management, it covers environmental, social and legal issues as well as sustainable procurement.
As stated by the United Nations Global Compact, a company's entire supply chain can make a significant impact in promoting human rights, fair labor practices, environmental progress and anti-corruption policies. UN Global Compact challenges companies to improve their sustainability performance and see the supply chain as an extension of their workforce and communities.

The Future of Supply Chain Management
In 'The Thinking Supply Chain', Simon Ellis of the International Data Corporation (IDC) lays out the five "Cs" of effective supply chain management of the future. These are connected, collaborative, cyber-aware, cognitively-enabled, and comprehensive.
Essentially, supply chains must have access to a variety of data sets and leverage cloud-based solutions to enable multi-enterprise collaboration. They must be protected against hacks and cyber-intrusions. They must also be mostly automated and self-learning, and its analytics capabilities must be scaled with data in real time.
While many supply chains are still plagued by inefficiencies, we are definitely witnessing the evolution of supply chain management and the move towards Ellis' vision. Data-driven technological advances have seen focus shift to connectivity and collaboration within the supply network. This has created an expectation of visibility and increased automation at all stages.

So, with the industry now in a position to be anticipatory rather than reactionary, where do you see the future of supply chain management?
---
Asite Insights in your inbox.
Sign up for product news and our latest insights published monthly. It's a newsletter so hot, even global warming can't keep up.