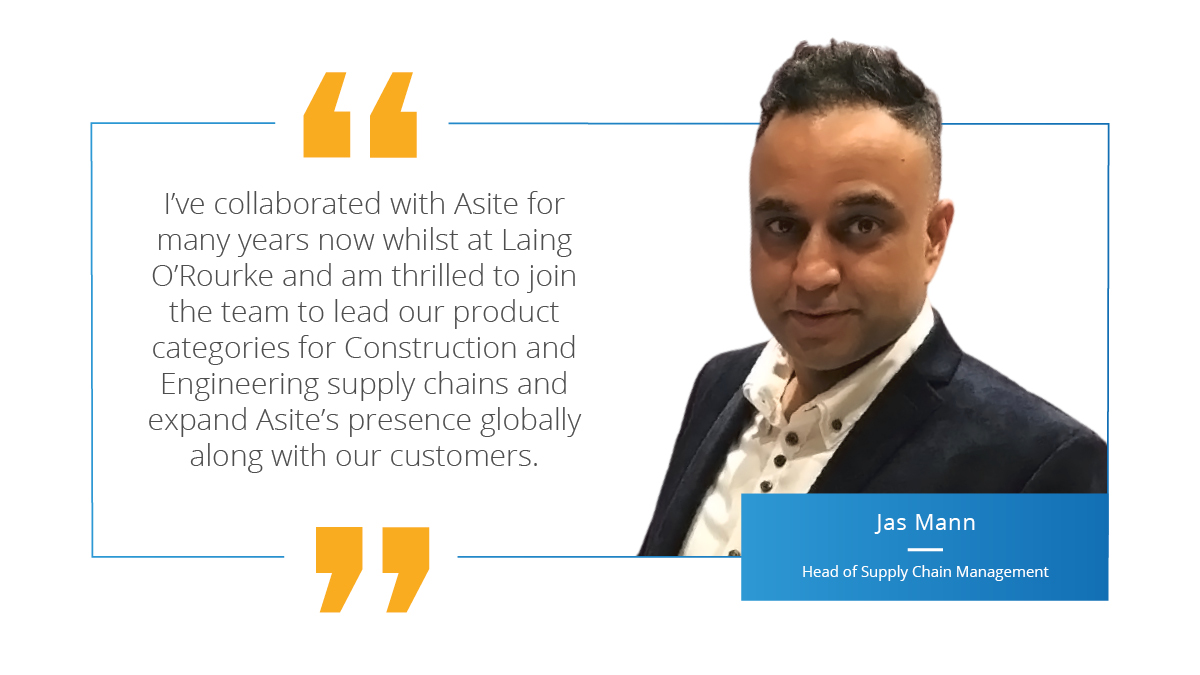 New Head of SCM will see Asite increase focus on delivering their supply chain platform for the built environment
London, UK (May 2021) – Asite is pleased to announce the appointment of Jas Mann as Head of Supply Chain Management (SCM).
Prior to joining Asite in February 2021, Jas has over 20 years' experience in the built environment industry, previously working at Laing O'Rourke, an international engineering enterprise. Jas' latest role saw him collaborate with Laing O'Rourke's vast supply chain to continuously enhance the management and development of their enterprise applications.
Jas will lead the development and growth of the Asite SCM solution which enables organizations to interact and manage supply chain data in a more efficient way through one single secure repository. The integrated suite of products - including Asite Marketplace, Supplier Relationship Management, and Bid Winner allow organizations to deliver and manage the whole procurement lifecycle from initial sourcing to benefits realization.
Speaking to his appointment, Jas said:
"I've collaborated with Asite for many years now whilst at Laing O'Rourke and am thrilled to join the team to lead our product categories for Construction and Engineering supply chains and expand Asite's presence globally along with our customers."

The work Asite has done over the past two decades has been inspiring, connecting thousands of organizations, and people, worldwide. Delivering supply chain solutions has always been a passion of mine. We're building the SCM line of business on the most well-established supply chain management platform in the construction space and I can't think of anything more exciting than that!"
The companies that come together for building projects and the design and construction data they generate are part and parcel of getting anything built. The Asite Platform brings that all together in one secure, cohesive platform built around collaborative working. Master data is shared between systems using seamless integration services through our long-standing and proven Asite Exchange integration hub.
Asite SCM is a true Source to Pay platform able to provide full control over both procurement (Source to Contract) and purchasing (Order to Invoice) activities.
Nathan Doughty, Asite CEO said:
"Jas joining Asite marks a truly exciting time for the business.

When Asite was first founded in 2001, our focus was building a supply chain platform for the built environment. We proved the technology at the landmark Heathrow Terminal 5 project, and have evolved over the years since to become a complete solution provider for the asset lifecycle. We've built and delivered our market-leading Common Data Environment by working with our customers and seen it adopted on landmark capital projects around the world. In 2021 I have challenged the business to bring our original DNA - supply chain management – back to the fore alongside our award-winning CDE.

Jas is the perfect leader for this push. His experience with Laing O'Rourke, a world leader for innovation and excellence in the global construction industry, gives him invaluable insight and experience rolling out supply chain solutions across the most advanced and multifaceted supply chains."
Included in the Asite SCM solution is an integrated suite of products designed for the whole procurement lifecycle.
Asite Marketplace provides a directory enabling organizations with the ability to source companies and build a network of trading partners. Subcontractors and suppliers can join the Asite Marketplace for free, creating a company profile to promote your organizations products and/or services. In addition to facilitating the connection to new suppliers, Asite Marketplace streamlines current supply chain networks through an automated permit application process – Asite Permits.
The Asite Supplier Relationship Management (SRM) solution ensures contractors can manage their entire PQQ process in a cloud-based environment. Asite SRM includes both Bid Management and etrading solutions which work together to integrate and connect supply chains. Bid Management enables approved supply chain or client nominated partners to be invited into centralized bid inventories. etrading improves compliance and minimizes leakage through seamless system integration functionality, ensuring daily commodities are procured from the right suppliers at the right time.
Asite Bid Winner is the take-off and estimating tool for subcontractors to save time, increase accuracy, and win more work. On-screen take-offs can be created quickly using simple drag and drop functionality to measure plans to scale, resulting in bill of quantities and estimates to be generated with ease and accuracy.
To learn more about Asite SCM, book a discovery call with the team here.
---
About
Asite
Asite's vision is to connect people and help the world build better.
Asite's open construction platform enables organizations working on capital projects to come together, plan, design, and build with seamless information sharing across the entire supply chain.
Asite's comprehensive range of solutions connect dispersed teams across the lifecycle of capital assets, enabling them to build better and build resilience. With Asite, capital project owners stay at the forefront of innovation, maintaining a golden thread of information throughout a project to facilitate the creation of digital twins.
Asite is headquartered in London's Tech City with regional offices in New York, Houston, Dubai, Riyadh, Sydney, Hong Kong, and Ahmedabad.
For more information about Asite, please contact sales@asite.com.
Asite Insights in your inbox.
Sign up for product news and our latest insights published monthly. It's a newsletter so hot, even global warming can't keep up.