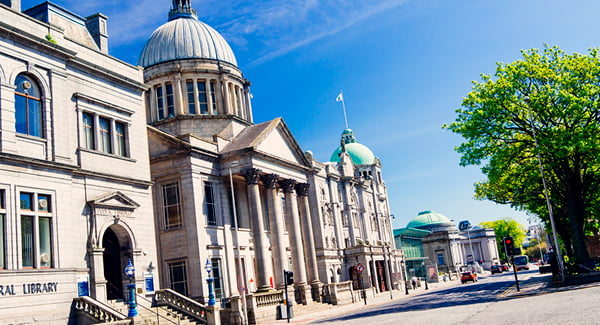 The Asite Common Data Environment will be used on all current and upcoming projects in the Ogilvie Construction Ltd portfolio
---
Stirling, United Kingdom (September 2020) – Ogilvie Construction has appointed the Asite Common Data Environment (CDE) on all their upcoming projects, including various initiatives across Scotland.
Part of the family owned Ogilvie Group, Ogilvie Construction will utilize Asite's cloud-based platform to streamline their document management and increase collaboration across their projects.
Rob Clifton, Asite SVP for UK & Europe said:

"The work Ogilvie Construction is undertaking across Scotland is improving the quality of life for many different communities, from helping to deliver affordable housing to transforming derelict buildings into new hubs for both the public and private sectors.

Asite is excited to be able to support their exciting portfolio of projects and work with such a renowned family owned business."
Spanning a range of different sectors, Ogilvie Construction work across education, health, industrial, hotels, residential, retail and industrial projects in the UK. Ogilvie Construction provide services spanning the contractor and construction processes, with their diverse skilled teams providing their knowledge and expertise throughout the lifecycle of a project.
One project in Ogilvie Construction wide-ranging portfolio which will implement the Asite CDE is the construction of the 245-bed Marriott hotel in Glasgow which is part of a £100 million mixed use development to transform the north east corner of the city's George Square.
The development will fill an 80 year old gap site in the city, bringing style, elegance and all the associated amenities to create a first class experience for business and leisure guests.
The CDE will store and manage all project data in one central and secure repository to provide a single source of truth, streamlining communications at all levels. Ogilvie Construction will also be able to build and schedule automated workflows, including status reports and document review reminders, and create tailored forms to transform their paper-based processes into secure web-based forms.
The Asite Supply Chain Management solution will also be utilized to facilitate the bi-directional flow of information when issuing tenders. A secure, collaborative and auditable flow of communication will be possible between Ogilvie Construction and their suppliers through this functionality. This greatly reduces the time, resources, and money devoted to the bidding and procurement process.
---
Asite's vision is to connect people and help the world build better.
Asite's open construction platform enables organizations working on capital projects to come together, plan, design, and build with seamless information sharing across the entire supply chain.
Asite's comprehensive range of solutions connect dispersed teams across the lifecycle of capital assets, enabling them to build better and build resilience. With Asite, capital project owners stay at the forefront of innovation, maintaining a golden thread of information throughout a project to facilitate the creation of digital twins.
Asite is headquartered in London's Tech City with regional offices in New York, Houston, Dubai, Riyadh, Sydney, Hong Kong, and Ahmedabad.
For more information about Asite, please contact sales@asite.com
About Ogilvie Construction
Ogilvie Construction is part of the Ogilvie Group, one of Scotland's most consistently successful family owned businesses. The company is over 65 years old and employs more than 600 people across its various business operations.
Asite Insights in your inbox.
Sign up for product news and our latest insights published monthly. It's a newsletter so hot, even global warming can't keep up.