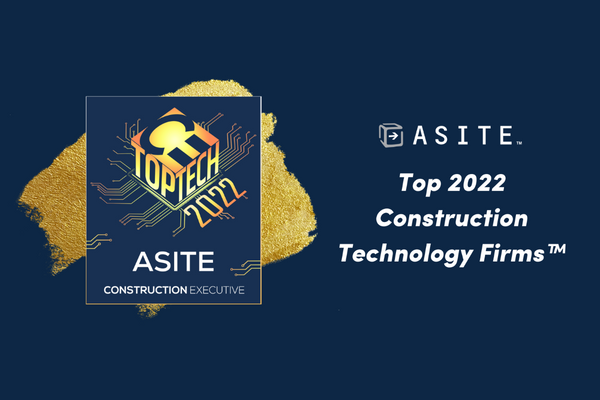 Construction Executive Recognizes Asite for the Second Consecutive Year

Washington D.C., United States (October, 2022) – Asite, the world's leading data platform for the built environment, is delighted to announce Construction Executive (CE) has recognized it as one of "The Top Construction Technology Firms™" in 2022.
For this year's review, Asite is recognized in the area of interoperability and integration, highlighting its critical importance for the construction industry.
This is the second consecutive year Asite has been recognized by Construction Executive, a leading trade magazine in North America.
Following its inaugural list in 2021, the annual "The Top Construction Technology Firms™" list highlights the most influential firms in construction technology today. It is compiled by construction technology firms throughout the United States.
Speaking about the accolade, Kyle Hamer, Chief Marketing Officer at Asite, said:
"Asite is thrilled to be recognized by Construction Executive for our work in the world of construction technology. We are honored to participate in and be recognized for the second year in a row, in this highly competitive and crowded space.

Technology is quickly becoming an essential tool for efficient construction projects. The Asite Platform makes managing all your project documents, data, and assets easier so all stakeholders can collaborate in a single, secure environment."
CE revealed The Top Construction Technology Firms™ list in their September and October 2022 issue to an audience of more than 150,000 construction business owners, executives, and top decision-makers, including all 21,000 member companies of Associated Builders and Contractors nationwide.
To read the full article, click here.
To find out how your project or organization could benefit from using one of the construction industry's most secure cloud platforms for building and maintaining assets, please contact sales@asite.com or call (212) 201-0730.
---
Asite is the world's leading data platform for the built environment, helping organizations come together, plan, design, and build with seamless information sharing across the entire supply chain. 
Founded in 2001, the Asite Platform has been used widely across the globe as the go-to- project management platform for complex, capital projects, including Dubai International Airport, Thames Tideway, and Australia's Bushfire Recovery Program. 
Today, more than 62,000 organizations, including Laing O'Rourke, Goldman Sachs, Transport for London (TfL), Aldar Properties, and the New York City Metropolitan Transportation Authority (MTA), utilize Asite's cloud-based Data Platform with their 127,000 projects and over 53 million files.   
Asite is headquartered in London with regional offices in New York, Houston, Amsterdam, Riyadh, Dubai, Sydney, Hong Kong, and Ahmedabad.  
For more information about Asite, please contact sales@asite.com or visit www.asite.com.
Now in its 20th year of publication, Construction Executive is the leading trade magazine about the business of construction. In its September/October 2022 issue, CE published a comprehensive list of The Top Construction Technology Firms™. CE developed The Top Construction Technology Firms™ list by asking hundreds of firms that provide technology and software solutions for the construction industry to complete a nomination form.
The information collected included: 1) the firm's product offerings specific to the AEC industry; 2) the user profile (type and size of firm for which each product is recommended); 3) how each product is sold (by seat, user, license and/or project, etc.); and 4) the number of active users within the past 12 months (by individual users and/or companies). There was no fee to participate and not every firm that completed the nomination form made this curated list. After carefully scrutinizing the data collected, CE developed its 2022 Top Construction Technology Firms list. For more information, contact surveys@magazinexperts.com. Note: Some technology firms that did not submit the nomination form by the deadline were included for the sake of completeness.
Asite Insights in your inbox.
Sign up for product news and our latest insights published monthly. It's a newsletter so hot, even global warming can't keep up.