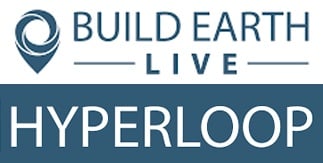 This sponsorship underscores the extraordinary level of interest from the Architecture Engineering and Construction (AEC) sector in this global infrastructure innovation and raises the profile of the competition. BIM (Building Information Modelling) is the cutting edge of architectural and engineering collaborative technology for world-class project teams. Now in its eighth series, Build Earth Live engages the worldwide BIM community to develop and share their skills within competing teams.
Hyperloop Tech will join the competition's Headline Sponsor, Vectorworks, in sponsoring the global 48hr BIM competition.
"Nathan Doughty, Asite COO, said, "BEL Hyperloop will focus on the infrastructure challenges around one of the most exciting innovations of our time in transportation technology - the Hyperloop concept. Hyperloop is a disruptive innovation that could radically alter the world we live in - for the better - and we are excited to see what concepts the teams create in May!"
About Hyperloop Tech
Hyperloop Tech are developing the technology and hardware to make Hyperloop a reality. They design, build and test every aspect of the world's next transportation system Hyperloop. They will move people and cargo at speeds never thought possible. In turn Hyperloop tech aims to make the world smaller, cleaner and more efficient.
"Hyperloop Technologies is excited to sponsor the Build Earth Live Collaborative, which will bring together some of the best and brightest architectural and engineering minds in the world to design a Hyperloop station for the United Arab Emirates," said Rob Lloyd, CEO of Hyperloop Technologies. "As the leader in developing the next mode of transportation, Hyperloop Technologies is committed to making Hyperloop a commercial reality for freight and passenger transportation in the near future, and the BIM Competition is a great first start."
What is Hyperloop?
Hyperloop is the fifth mode of transportation. It will allow the world to transport people and goods inexpensively, safely, and at speeds never thought possible inexpensively, safely, and at speeds never thought possible.
About Asite
Asite's cloud technology gives everyone involved in construction projects access to key information online. It allows for increased collaboration, fewer mistakes, reduced rework, and time and cost savings. Asite's Adoddle platform allows firms to store and manage all project data in one central and secure repository. It also enables customers to fully customize the structure of their content with highly controlled access and rich configurable workflows to allow project controls. The Adoddle platform is used by leading architecture, engineering and construction firms, as well as property owners world-wide to manage their largest and most demanding capital investment programs.
Adoddle helps people manage their projects and supply chains collaboratively; accessing the information they need, when and where they need it. It enables AEC companies to measure and track capital projects and asset operations.
Asite was founded in 2001 and is headquartered in London's Tech City in the UK, with North American operations based in New York, and regional offices in Australia, India and South Africa. For more in-formation, please visit http://www.asite.com or https://www.youtube.com/watch?v=5_uYAJvb2rk.
This is the 8th "Build Earth Live" event in the series founded to promote collaborative BIM awareness in the AEC community. So we are calling out to all you collaborative BIM gurus! Whether you are a BIM novice, BIM expert, or simply an observer sign up and take part in our Global Build Earth Live events here: http://www.buildearthlive.com/hyperloop
Asite Insights in your inbox.
Sign up for product news and our latest insights published monthly. It's a newsletter so hot, even global warming can't keep up.