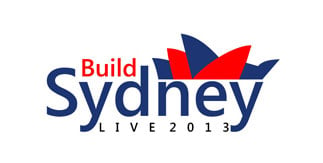 Sydney, Australia –Build Sydney Live 2013 was a fast-paced 48 hour architectural design competition to design a new Sydney convention centre using Collaborative BIM design technologies. The event organisers, Asite, commented that this was the most closely and fiercely fought competition to date.

The event was run virtually via mobile technology from a sailboat in Darling Harbour Oct. 28-30. The location of the design brief for the competition was in Darling Harbour, Sydney, on the site of the existing Sydney Convention Centre. The brief required the demolition and replacement of the Convention Centre on a site sandwiched between a major road and the harbour. To make it even more interesting the design brief was a complex list of interrelated spaces, presenting a real challenge in terms of architecture, structure and servicing. All the teams worked 24/7 across the globe battling time zone differences and exhaustion over the 48 hours. Teams presented great design and cutting edge creativity, which included green and sustainability ideas. Judges for the competition had to extend the judging time to be able to come to a decision on the winners for the 4 categories.

In total 19 teams from over 40 different countries registered to participate. The categories and winners are listed below:

Best use of BIM for Design, Drama and Excitement - Team Rice Daubney & Obayashi from Australia & Japan

Best Multi-disciplinary BIM & Use of Interoperability - Team ZIBSNIS from Latvia

Best use of BIM for sustainability Or Constructability - Team Niven Architects from UK & Australia

The openBIM BUILD SYDNEY LIVE 2013 Award - Team BIM Academy from UK & Australia

Following on from the successful and highly popular previous Build Live events hosted by Asite, such as Build Qatar Live in 2012 and Build London Live in 2008, 2009, and 2012, this years' event met and exceeded both the organisers and the audience's expectations. Build Sydney Live 2013 was the 5th edition of Build Live global collaborative OpenBIM events.

Below are some of the statistics for the interaction on this virtual online competition:
17,644 total logins on Asite by participants and observers
673 logins on Asite by competitors on teams
16,886 logins on Asite by observers
1,604 files published on Asite as part of collaborative BIM
19 teams registered, 10 actively competed
40+ countries represented
48 hours to Build Sydney Live
78,474

www.buildsydneylive.com

homepage views

Asite would like to take this opportunity to thank all the participants and observers for their efforts and interest in the event, not forgetting the valued sponsors; Headline Sponsors: Nemetschek Vectworks, Silver Sponsors: Laing O'Rourke Australia and Prize Award Sponsors: GRAPHISOFT Australia for their support of this event which hopes to promote openBIM interoperability and the IFC and COBie standards globally.

About Adoddle
Adoddle is Asite's SaaS based corporate collaboration platform incorporating many applications that are accessible 24/7 from anywhere in the world from any smart device. From Document Management & Project Collaboration to E-commerce and Collaborative BIM, Adoddle has every tool available for organisations to be able to work in the cloud seamlessly and effortlessly.

Asite
Asite helps people share information and build knowledge in a secure environment in the cloud. Every day, people all over the world use Asite to manage their projects and supply chains collaboratively to get the information they need – when and where they need it. Organizations join Asite to go paperless, reduce their carbon footprint and reduce IT emissions. Asite also helps companies to measure and track their projects, sustainability initiatives and to share and learn best practices. Asite have their EMEA Head Office based in London's tech-city, as well as regional offices in North America, Australia, India and South Africa.
Asite Insights in your inbox.
Sign up for product news and our latest insights published monthly. It's a newsletter so hot, even global warming can't keep up.