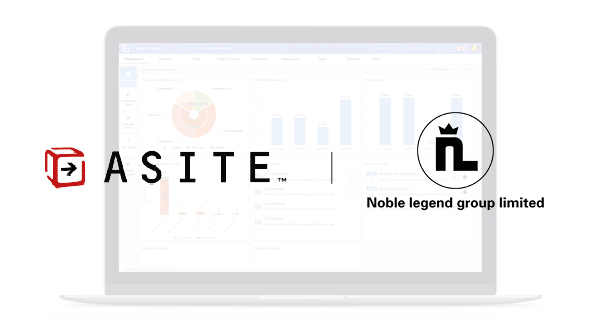 Following Asite's rapid expansion into the Hong Kong market, Noble Legend will assist Asite in increasing their global footprint with a focus on China, Hong Kong and Macao
---
Hong Kong (December 2020) – Asite is delighted to announce that Noble Legend, an online integrated solutions provider based in China, has joined the Asite Ecosystem to advance the growth of the Asite platform in East Asia.
Noble Legend will act as a Value-Added Reseller for the Chinese, Hong Kong and Macao markets, helping a magnitude of organizations across the construction industry to streamline their complex projects in order to help them build better.
Atit Patel, Asite SVP for APAC said:
"I'm excited to announce Asite's new partnership with Noble Legend.

Over the past few years, we've seen accelerated growth in the uptake of digital technologies in the construction industry across the world. It's safe to say that East Asia are true pioneers of innovation and have been at the forefront of these technologies for quite a while.

Asite has already been deployed successfully on several major transformation projects in Hong Kong and the market is buoyant and in need of the digital engineering support which Asite can deliver. Noble Legend joining the Asite Partner Ecosystem opens a new front for Asite in East Asia and I'm very much looking forward to being a part of it."
Joseph Tan, Director of Noble Legend said:
"We had been waiting for this moment since the beginning of 2020. We are proud to be the first Asite Partner within East Asia and we believe it is a perfect moment for us to start the new era for Digital Transformation for the Construction Industry with Asite's leading technology platform. We are also extremely excited to bring this extraordinary technology into both the China and Hong Kong markets."
Noble Legend was set up by Joseph Tan, a strategic leader with over 30 years of experience within business and IT. Joseph's prior experience centered around delivering business solutions to multinational industry leaders such as Arup, Leighton, Savills, Chanel, Citibank Group, Aon Risk Services, Standard Chartered, and UFJ across the US, UK and Asia Pacific. In addition to his vast technical knowledge, he obtains extensive experience in financial, insurance, construction and retail industries.
Through partnering with Asite, Noble Legend will elevate the Asite platform and provide organizations in the construction industry with the comprehensive project management solutions they need to enhance collaboration across the asset lifecycle.
The Asite Project Portfolio Management (PPM) solution, the Asite Supply Chain Management (SCM) solution, and the Asite Asset Performance Management solution (APM) will be offered throughout the region.
Asite Project Portfolio Management (PPM) will connect dispersed project teams and systems, streamlining communication at all levels of a project. As part of the PPM family, the Asite Common Data Environment (CDE) will provide advanced document, BIM, field, and reporting management solutions, all from one central location.
As part of the SCM family, the Asite Supplier Relationship Management (SRM) solution facilitates the bi-directional flow of information between project stakeholders, enabling the digital management of supply chains. Digital Twins are also supported through the APM solution which enables teams to maintain their golden thread of information and host BIM models in a cloud OpenBIM model server.
Following rapid growth of the Asite platform in Hong Kong, Asite is involved in some of the largest, most transformative projects to take place this century. One program in question is the 10-year Hospital Development Plan.
The HK$200K billion (approx. £20.5 billion) plan was announced by the government of Hong Kong and is due to be completed in 2026 which will see the construction of an Acute Hospital, three Community Health Centers, a Supporting Services Center, and the redevelopment of 11 existing hospitals. Asite is working with a number of the hospitals undergoing redevelopment including Grantham Hospital in the Wong Chuk Hang area in Aberdeen and Our Lady of Maryknoll Hospital in the Wong Tai Sin area in New Kowloon.
---
About Asite
Asite's vision is to connect people and help the world build better.
Asite's open construction platform enables organizations working on capital projects to come together, plan, design, and build with seamless information sharing across the entire supply chain.
Asite's comprehensive range of solutions connect dispersed teams across the lifecycle of capital assets, enabling them to build better and build resilience. With Asite, capital project owners stay at the forefront of innovation, maintaining a golden thread of information throughout a project to facilitate the creation of digital twins.
Asite is headquartered in London's Tech City with regional offices in New York, Houston, Dubai, Riyadh, Sydney, Hong Kong, and Ahmedabad.
For more information about Asite, please contact sales@asite.com
About Noble Legend
Their vision is to "Create an Interactive Community through Innovative Technology".
Noble Legend is a subsidiary of Obizsoft Technology and focusing in Project Management and Digital Consulting services for both the Hong Kong and China market. In the last ten years, they have targeted delivery of mobility solutions to their enterprise customers while bring additional value to their Digital Transformation Strategy.
Noble Legend had been managing several mega projects across the Asia region in the last ten years and some of them are more than US$100 Million. Their team specialises in Construction, Engineering, Banking & Finance, and Retail industries and located in both Hong Kong and China with headquarter in Shanghai.
For more information, please visit their website www.obizsoft.com.
Asite Insights in your inbox.
Sign up for product news and our latest insights published monthly. It's a newsletter so hot, even global warming can't keep up.