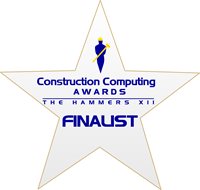 http://www.constructioncomputingawards.co.uk/
SUMMARY
Affectionately known as "The Hammers" and now in their 10th year, the Construction Computing Awards
showcase and reward the technology, tools and solutions for the effective design, construction, maintenance and modification of commercial buildings,
residential and social housing and civil engineering projects of all sizes. The Construction Computing Awards have also becoming the event where the industry gets together to network, exchange thoughts and ideas, and dare we say it, have a little bit of fun as well!
This year we have introduced some new categories to reflect the changes in the industry over the past 12 months. Building on the success of previous years, we again invited project applications to be considered by a panel of Judges. Of course, many categories will still be decided by the most important people of all, you, the readers of Construction Computing Magazine and the clients of the companies competing for the top honours. Featuring over 20 categories the Construction Computing Awards allow companies from every sector of the industry to seek recognition for their efforts over the past 12 months.
Asite have made the finals of the Construction Computing Awards for 2015 in the following categories:
Cloud Based Technology of 2015
BIM Product of the Year
Mobile Product of the year
Project Lifecycle Management Software of the Year
Collaboration Project of the Year
Collaboration Product of the Year
Doc and Content Management Software of the Year
Product of the Year
Company of the Year
Judging and Voting is now underway with the winners announced on November 19th at the Hotel Russell, London. To vote for the number one team in collaboration simply follow this link: www.constructioncomputingawards.co.uk.