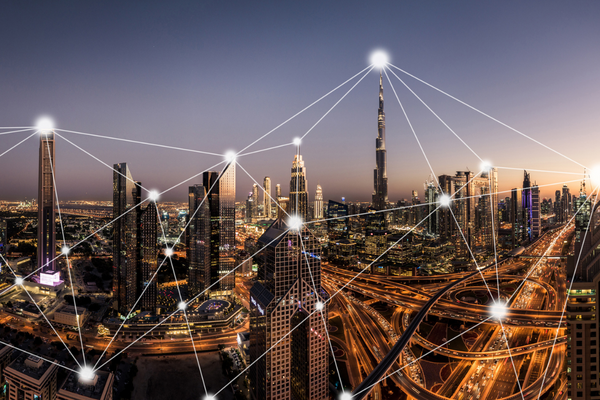 What if there was a technology that allowed you to anticipate problems, simulate scenarios, visualize the invisible, and make decisions with remarkable foresight?
Say hello to digital twins.
Digital twins integrate data from several sources—sensors and IoT data collection tools—and apply advanced analytics and machine learning. The result? Valuable real-time insights into a physical asset's performance and operation.
Created over the lifecycle of an asset or retrospectively, digital twins can give stakeholders a deeper understanding of their asset in real-world conditions. This includes energy flows, environmental conditions, and the makeup of its materials.
The tech is so remarkable it's touted as the key to driving energy efficiency, optimizing processes, and enabling smart decision-making.
Digital Twins in the Middle East
In the Middle East—a hub of technological advancement and innovation—digital twins are a huge draw.
The innovative technology was recently used during the Expo 2020 Dubai to create a digital twin of the Expo site. The Expo twin covered over 200 buildings across the huge 4.38km2 location. The tech allowed the Expo to enter the metaverse, with a social and interactive digital twin creating a living world enriched with content and experiences.
With the success of the Dubai Expo twin, it's not surprising that projects throughout the region are creating their own digital doppelgangers. Here are just five mega-projects from across the Middle East adopting digital twins:
---
1. NEOM, Kingdom of Saudi Arabia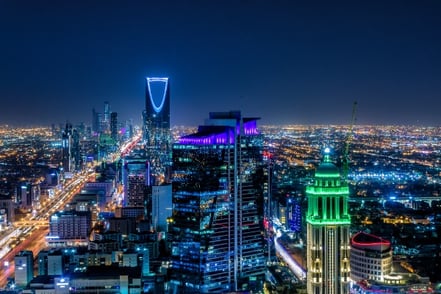 NEOM is a planned $500 billion high-tech city on the Kingdom of Saudi Arabia's northwest coast and the flagship project of the KSA's Vision 2030.
Included in their ambitious plans for "The Line"—a 170km belt of hyper-connected future communities without cars and roads and built around nature spanning the length of NEOM—is a metaverse.
Digital twins will be used to create this new space—combining physical architecture, hyper-connected technologies, and AI. The project states one of the core features includes a "dynamic digital twin," which will be a mixed-reality twin with "live cognitive virtual twins."
---
2. Dubai, United Arab Emirates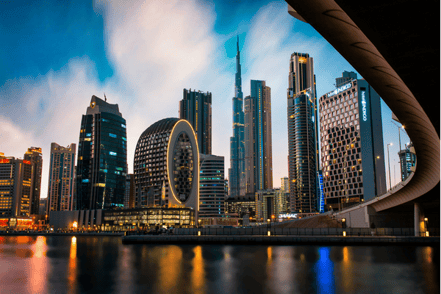 Dubai joins an increasing number of cities seeking to build digital twins to analyze their data better and put them into the metaverse to improve services and operations and increase revenue.
Dubai Municipality has revealed plans to work with private sector companies and investors to create a digital twin of the city in the metaverse. Dubbed 'One Human Reality,' it will be a futuristic, human-centered version of the city.
Announced at the World Government Summit 2022, city officials state this new endeavor will "offer huge opportunities for industry and provide residents with an alternative reality to meet people and share ideas."
---
3.

Lamina Tower, Jeddah, KSA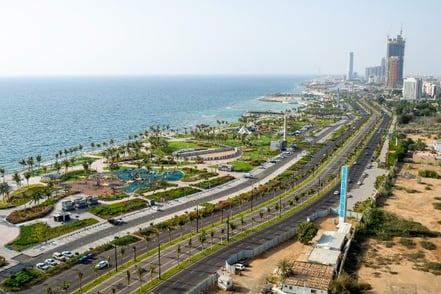 Set to be one of the most luxurious residential properties in KSA, Lamina Tower is now under construction at the Jeddah Corniche resort on the Red Sea.
In March 2021, Cityzenith—a U.S. advanced digital twin software services provider—announced it had been awarded a contract to build a multi-purpose digital twin for the project.
In what is being dubbed the "first-of-its-kind in the Middle East," the digital twin will comprise the tower itself and the surrounding area. It will be used to optimize and enhance daily operations, marketing, sales, and the overall tenant experience.
---
4.

Hamad International Airport, Doha, Qatar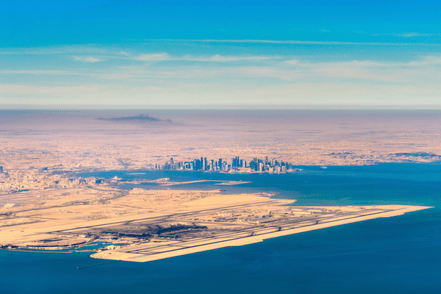 In July 2022, Qatar's principal airport, Hamad International Airport (HIA) in Doha, officially launched its digital twin initiative as part of its smart airport program.
This program uses digital transformation to bolster HIA's stance as one of the most advanced airports in the world and become an "airport of the future," with its users at the heart of this approach.
The technology will radically change how operation teams across the airport consume information and make decisions in real-time—managing aircraft stand conflicts, enabling effective responses to alerts, and monitoring the health of critical airport assets
The twin was developed through 3D modelling techniques, data analytics, and Artificial Intelligence.
---
5.

Ghasha Mega-Project, Abu Dhabi, UAE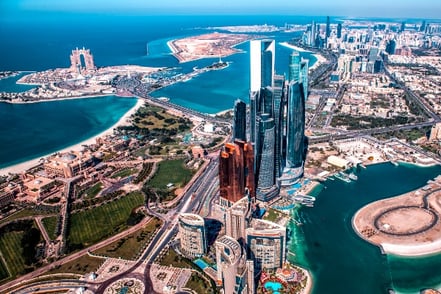 The Ghasha mega-project is the world's largest offshore sour gas development.
As part of the multi-billion-dollar project, digital twin technology is used to enhance onshore and offshore operational efficiency. The project will play a vital role in meeting the UAE's gas self-sufficiency objective, in line with Abu Dhabi National Oil Company's (ADNOC) integrated gas strategy.
Here, the tech captures, aggregates, and analyzes operational data working to improve production system efficiency and monitor and report assets performance.
The project has already reaped the rewards of embracing digital twin technology. During the Covid-19 pandemic, they used the tech to model the impact of various pandemic scenarios and plan accordingly.
---
Creating a World Where Digital Twins Can Thrive
The potential for digital twins is immense.
But, to allow digital twins to realize their potential, the AECO sector needs to adopt a globally interoperable, integrated, and inclusive approach to construction. This requires an open, integrated global platform that software and users across regions can easily interpret. Here, this information can be easily shared while ensuring it remains secure.
The Asite Platform supports connectivity, interoperability, and integration in multiple ways. Through the Asite Common Data Environment (CDE), the Asite Asset Performance Management (APM), and the Asite Ecosystem, information and data can be shared seamlessly across solutions—breaking down traditional barriers—stored, maintained, and updated.
How?
The Asite CDE—an Information Management Platform—facilitates the implementation of a golden thread, providing a single source of truth throughout the asset lifecycle.
Following project completion, the Asite CDE not only serves as an invaluable auditable archive but exists as a dynamic "as-maintained" record that is continually updated with asset information.
The Asite APM solution connects the physical and the digital, capturing dynamic data from the physical asset and representing it digitally, enabling object-orientated information management.
By facilitating the consolidation of associated objects, documents, and forms—a fundamental component in creating a digital twin—Asite becomes a hub or a central manager of information.
The next step to successful digital twins is to work together openly and transparently. The Asite Ecosystem—a space to connect solutions—supported by the Asite API and CDE is our contribution to this cause and a truly open platform for everyone in the built environment.
Ready to discover how digital twins can revolutionize your projects? Learn more here.
Asite Insights in your inbox.
Sign up for product news and our latest insights published monthly. It's a newsletter so hot, even global warming can't keep up.