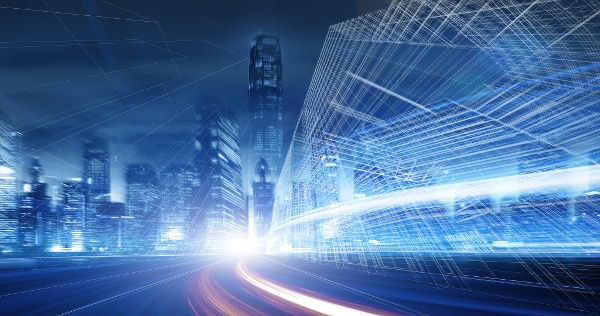 Digital twins have the potential to transform the world around us. In fact, many industries are already beginning to take note of their promise:
- In manufacturing, digital twins impact how products are designed, manufactured, and maintained. As the technology replicates what is taking place in real-time, they provide essential data on an item's design, use, and the system that built it. Digital twins also aid predictive maintenance—a technique to monitor and record the performance of an asset over time to predict its future and resolve issues before they arise. 
- In the logistics space, a supply chain digital twin allows for real-time digital awareness. Here, they can minimize disruptions of future operations, allow users can predict the performance of packaging materials, enhance shipment protection, and optimize warehouse design and performance.
So, what about the built environment?
In Boston, after years of planning, a digital twin of the entire city was finally realized. Here, the digital twin has mapped the current landscape of buildings, transit, trees, sunlight patterns, and points of interest. But it's not just the current city included in the twin; it also includes proposed and under construction buildings helping to provide insight into city planning decisions before they become a reality.
Boston is not the only U.S. city to create a digital doppelganger, Las Vegas and Phoenix, Arizona, have also adopted the tech.
And who is next? Galveston, Texas, is also now considering implementing a digital twin. Here, city officials want to understand better how planning and infrastructure alterations and additions can positively or negatively affect a community's natural hazard resilience.
In the UAE, Dubai Municipality's Geographic Information Systems (GIS) Centre has launched 'Dubai Here,' an electronic system that provides access to geospatial data and maps. The mapping is the first step towards the GIS Center providing a complete digital twin for Dubai.
While in the UK, Newcastle was one of the first cities to recreate an entire city digitally. The virtual counterpart tests how the city would respond to various challenges, such as climate change and population growth.
It is clearly a growing market for the construction industry. A survey by market research company Markets and Markets predicted that the global digital twin market will increase to $48.2 billion by 2026—more than 15 times its size in 2020.

How Do Digital Twins Work?
Digital twins can enhance the way construction projects are delivered by building a bridge between the physical and virtual worlds. It occurs when digital twins transform a physical object into a virtual one by creating an exact digital replica.
Using real-time and real-world data and technology, including sensors, the Internet of Things (IoT), and cloud computing, digital twins provide an evolving digital profile of the historical and current behavior of a physical object or process.
In simple terms, they monitor and model how people and objects interact with their current or predicted environments—digital twins are often used as simulation models to gain enhanced insights.
---
Benefits of Digital Twins for Project Delivery
While their usage is currently more common at the later stages, digital twins can provide insights to support better outcomes at all stages of the asset lifecycle.
- Provides a Single Source of Truth
Projects produce a massive amount of data. Without a proper way to collect and store this valuable data, it can easily go missing.
A digital twin helps maintain a single source of truth for the project, bringing all project data into one location.
Working across the supply chain and throughout the asset lifecycle, the digital twin gathers project data, from project designs to the materials used during construction. This data is also continuously updated, meaning project managers and owners always have access to the most up-to-date project information.
Here, a digital twin provides a unique understanding of their project, providing a 'shortcut' to answer questions. For example, if you don't want to spend hours sifting through the O&M manual to find out what make of window was used in the construction, the digital twin will have the answer.
- Improves Knowledge Transfer
The construction industry is notoriously fragmented. It is based on one-off projects and temporary relationships. Stakeholders focus on individual projects leading to insufficient knowledge transfer from project to project. This, in turn, means insights are routinely lost, and deployed solutions are not optimized.
Learnings can be brought from one project to the next with digital twins. Take design, for example. With digital twins, data from occupied buildings can be communicated to architects during the concept design phase. This data feedback can help better inform the design processes, improve how buildings and structures are created, and ultimately reimagine our built environment.
Here, digital twins can come "full circle" and put an end to losing valuable information.
- Visualizing Data and Improving Outcomes
Ultimately, a digital twin allows construction projects to visualize the invisible.
Digital twins transform data into something you can see through models, VR visualization, and dashboards, improving decision-making, reducing risk, and enhancing performance.
During construction, the innovative technology allows project teams to work together seamlessly. They can show real-time project status, track key project deliverables, take them to the project team, monitor progress, visualize issues, respond to unexpected events, and hand usable models over to clients.
By incorporating all project data and visualizing it, engagement with clients is also improved.
With models, 3D and 4D simulations, and dashboards, clients can become part of the project delivery process, seeing how the project progresses in real-time.

What's Next for Digital Twins?
Improvements in simulation and modeling technologies—cloud computing, IoT technologies, and advanced analytics—is making digital twins more accessible. Regardless of size or industry, companies can now benefit from the tech.
But as one of the least digitized sectors, is the construction industry ready to reap digital twins' rewards?
To extract the most value from the tech, we need to improve how the industry operates. There needs to be a change in project management and communication. Interaction and information sharing must be encouraged.
Project owners and managers on all types of infrastructure projects can start making progress by adopting an interoperable, integrated, and inclusive approach to construction—taking learning from one project to the next, creating common data sharing standards, and creating mutually beneficial contracts.
The projects will truly begin to make the most of digital twins by overcoming these barriers.
Want to learn more about how to implement digital twins and improve project delivery? Don't miss Asite's free report, "Digital Twins: Weaving the Golden thread."
Asite Insights in your inbox.
Sign up for product news and our latest insights published monthly. It's a newsletter so hot, even global warming can't keep up.