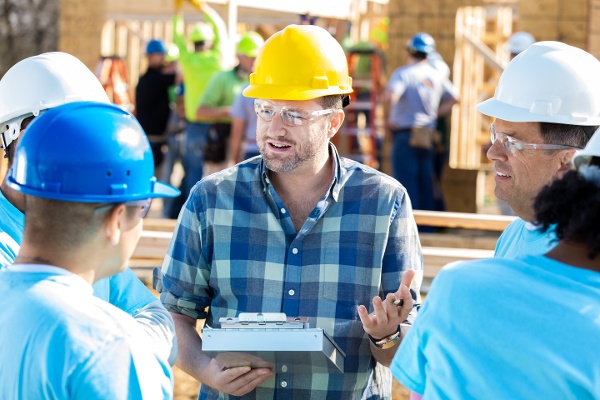 Rework may be a regular part of many construction projects—especially larger ones.
But that doesn't mean every project manager shouldn't pay close attention to why rework happens and how avoiding it can significantly add to your company's bottom line.
Consider the findings of Navigant Consulting. After reviewing more than a dozen studies on rework in the construction industry, they calculated rework had a direct impact cost between 4% and 6% of total project costs. Rework was also the cause of 52.1% of the overall cost growth on construction projects.
The company defines rework as "activities in the field that have to be done more than once in the field, or activities which remove work previously installed as part of the project regardless of source, where no change order has been issued and no change of scope has been identified by the owner."

Rework Adds Days & Dollars
According to one of the studies by Navigant Consulting (and published by the University of Alberta), for every dollar of direct costs incurred due to rework, a company incurs $0.72 in indirect costs.
Using the above indirect costs figure and 5% as the average for direct costs, we can determine contractors spend on average nearly $90,000 on rework for every $1,000,000 of project cost.
Another study published by Peter E.D. Love and Heng Li determined rework also results in approximately 9.8% schedule growth on the average project. The same study also determined that 84% of projects were completed late, 52% of project delays are due to rework, and the average length of project delays is 17% of the planned project schedule.
On a 12-month construction project, project delays add two full months to the schedule, and rework accounts for more than half of those days.
Not to mention, schedule and cost overruns can have other negative impacts, such as frustrated clients, demoralized employees, and upset investors. Your company could be viewed less favorably when bidding on future construction projects.
Ready to do battle with rework? Here are seven steps for decreasing rework on construction projects:
---
1.

Train and

E

ducate

Your

E

mployees
It may seem obvious. But inferior or incorrect work is one of the biggest reasons for rework. You can mitigate this by mentoring employees who produce good work and follow instructions. Teach employees not only how to do things but why things need to be done in a certain way. Otherwise, they will try to achieve an end using a different means, resulting in—you guessed it—rework.
Of course, this step assumes your company is already committed to meeting and exceeding specifications and expectations. If you don't have a formal quality control (QC) process, you will inevitably face rework. Communicate quality standards not only to the people performing the work, but also to their supervisors who need to understand standards and the QC process to direct workers to meet standards.

2. Ensure Data is Accurate
The best way to ensure rework? You probably know the answer to this if you've ever used incorrect or incomplete data in the very earliest stages of a project. Remember, job site data is the "before" picture and the customer's wishes are the "after" picture.
The transformation process is up to the designer and contractor. If you gather incorrect or incomplete job site data, or if you don't fully understand the wishes of the customer, your chances of needing to perform rework will greatly increase.
In fact, up to 70% of total rework experienced in construction and engineering is a result of design-induced rework, according to Quality.
Tip: Use scanners, drones, and soil samples to gather data and a centralized digital solution to review it.
---
3. Only Use Digital, Connected Solutions
All the decisions you make are based on data and information, so it's important that all decision-makers have the data they need at their fingertips.
Paper documentation has a lot of limits, including:
- Paper can only be in one place at one time
- You can only read or change the document if you're in the same room as the document
- Changes to paper documents don't record who made the change or when it was made
- Multiple paper copies can lead to confusion about which version is the most accurate and up to date
As you can imagine, these scenarios cause delays to the construction schedule and rework.
Digital, connected solutions remove these obstacles. Errors and conflicts are discovered more often prior to any work in the field being completed. This will significantly reduce rework. Plus, digital connected solutions easily fit into workflows on projects that use BIM (Building Information Modelling) and/or digital twins.
---
4. Design It Right with the Right Tools
One of the great adages of construction is "plan the work, work the plan."
But if your plans have design errors, your project will suffer from at least one of the following:
- The project will be delayed as design flaws are discovered in the field
- The field team will wait for decisions from the office on how to proceed
- As-built items will be incorrect
As a result, your company will waste time and resources undoing or altering what was built, so that it fits with the new design changes.
The best way to eliminate design errors is to use accurate data, have a clear understanding of the scope of the work, and to use 3D BIM. If you build in 3D, you should design in 3D. This eliminates errors when going back and forth between 2D to 3D.

5. Build the Best Team
Building the best team doesn't mean all your employees, partners, and suppliers are industry leaders. It means there are people who will support your efforts by doing what is expected of them. They should be committed to your project's success and your company.
Tip: Don't build your team on people who treats you or your company in a transactional way.
Instead, you should look to build relationships. Seek out individuals and companies who share similar values to your company.
---
6. Document. Document. Document.
The best decisions are the ones that are based on the best data. The best data is current and its data from which you can draw meaning regarding the items, processes, and people that have the potential to influence your project.
Not having current data is a major reason for rework. A major construction project can generate hundreds of change orders and RFIs (Requests For Information). All design changes have to be documented so other people in your company, subcontractors, or others can be made aware of it.
---
7. Maintain Consistent Communication
This brings us to the final point. Documented changes (or any construction plans) are useless if they aren't communicated to the people who need to know about them.
This is especially important when you consider that one study found almost half of all rework is due to poor communication among stakeholders and poor project data.
Having great communication begins at the start of a project by establishing a communication plan, which needs to be communicated to employees, subcontractors, and other partners. You must also determine if they will communicate according to your plan. Outline through which channels (app, text, phone) communications will be made and any other communication protocols and preferences.
Make sure to be consistent with your communication channels. Not only will this decrease the chances of someone missing critical information, but it also helps you track all project data and ensure it is secure.
Ready to avoid rework and learn how to make the most of your construction data?  Get started here.
Nathan Medcalf
Nathan Medcalf writes about technology, heavy equipment, and construction for numerous clients and has been published in more than 30 trade publications since 2006.
Asite Insights in your inbox.
Sign up for product news and our latest insights published monthly. It's a newsletter so hot, even global warming can't keep up.