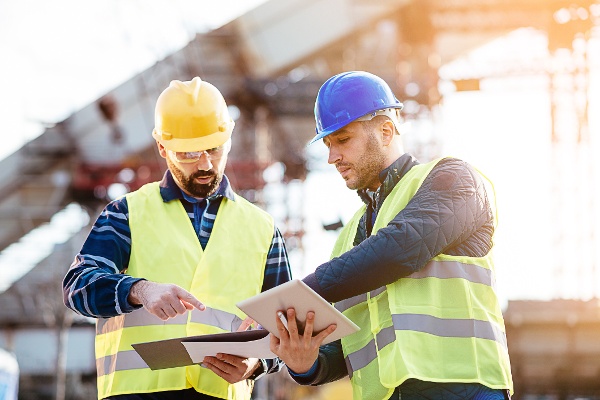 The $1.2 trillion infrastructure bill signed by President Joe Biden last year is designed to provide a once-in-a-generation opportunity to modernize America's infrastructure.
As the funds flow into cities and states around the U.S., contractors will want to put their best foot forward to win these much-anticipated government contracts.
Let's look at where the funding will go:
-Roads and bridges - $110 billion
- Power infrastructure - $73 billion
- Rail - $66 billion
- Broadband - $65 billion
- Water infrastructure - $55 billion
- Public transit - $39 billion
- Airports - $25 billion
- Road safety - $10 billion
Ready to get your piece of the pie? Here are nine steps to help you win more government contracts.
---
1.
Know How
the Process
Works
For starters, you can make sure your construction business is in the mix by ensuring eligibility to work with public sector agencies.
You can do this by registering your business with the System for Award Management (SAM). You should be precise about your company's expertise and services since many people in government agencies use this as a tool for deciding whether your company is potentially a good candidate for the job.
SAM.gov is also where you obtain the drawings and specifications for a project, as well as any additional instructions. You can obtain information about regulations, resources, and financing opportunities for individual states here.

2. Find

O

ut

A

bout

N

ew

Bids ASAP
There are advantages to placing an early bid. Maybe the news that your company, or multiple companies, has already bid on a project will dissuade other companies from placing one. This may help to decrease your competition.
You should also use a professional bid service to find out about project bids as soon as possible. Set up alerts and create custom searches when possible.
GovernmentBids.com is the best bid service for government jobs.
---
3. Don't Bid on as Many Contracts as Possible
The construction industry is of two minds on this. Some treat bidding as a numbers game. The more projects you bid, the more you'll be awarded.
Considered exclusively in those simple math terms, it may seem logical. You may believe if you win 20% of your bids, you should bid on twice as many projects to double your winnings.
There are three potential problems here. First, you could be pushing yourself to bid on projects outside your expertise. Not only are you less likely to be awarded the project, but you may also fail to complete the project on time and on budget.
Second, if you sacrifice estimate quality to create more estimates, your bids could be off, and you could end up losing money on a project. In this case, it's better to have not won the contract in the first place.
Third, you spend more time on activities that don't lead to generating income. You may be better off trying to improve your bid-hit ratio by submitting a detailed bid that demonstrates your expertise.
Many experts say it is best to reduce the number of bid proposals you submit and improve the quality of your bids.
---
4. Consider

Y

our

C

ompetition
Other companies will bid on the same projects as you. You need to find out who is bidding on a project and who is likely to bid, so you can differentiate yourself from those companies.
If your competition can edge you out on quality, beat them on cost and service. If your competition can edge you out on cost, beat them on service and quality. You need to find some metric to make your company stand out as the best contractor for the job.
"Knowing who your competitor is, is going to tell you if their prices are going to be higher or lower. Knowing this allows you to adjust your pricing," says Daniel Quindemil, founder of I Am Builders, a construction sales and consulting firm for contractors across the U.S.

5. Demonstrate

Y

our

E

xpertise
Contractors win bids by proving they are the best service provider, providing good value, and keeping their estimate within the project's budget.
Showcase your expertise with case studies to demonstrate your points. Show off your qualifications and flex your reputation. In the end, you will get more bids by promoting your company's value rather pushing a lower price.
You can also offer alternative means to accomplishing project goals. If you can identify better quality and/or lower cost materials or processes, it adds to your reputation as an expert, consultant, and partner within the agency.
---
6. Show Them You Understand
In your bid, use a lot of details to show your thought processes. This will better communicate the degree to which you understand (or don't understand) the project's specifications and the government agency's desires.
You should detail exactly what tasks need to be performed, what equipment is needed, and how long each section of the project will take to complete. This instills confidence in your ability to perform what is in your bid.
You can also break down individual costs so the agency has a better understanding regarding prices. You should present the material in a way the agency can easily see the return on investment (ROI) gained from working with your company.
---
7. Research Relevant Government Agencies & Departments
If you don't already know, find out which federal, state, and local agencies or departments are bidding contracts in the region where your company operates.
Look up previous contracts awarded by these agencies. From these, you can learn the identity of winning bidders, bid amounts, contract information, and agency contacts. You can predict future decisions based on previous decisions made by that agency.
It's also valuable to learn the organizational structure of any government agency you plan to submit bids to and identify the decision-makers at those agencies. Now, you can build relationships with them and get to know them. You want them, especially, to believe you are a great candidate for upcoming projects.
Even better—attend conferences they attend. Connect with them on social media and use your channels to continuously promote your company's work. This helps you stay front of mind, so they have a great impression of you.
By creating relationships with key decision-makers, you can proactively find jobs by ensuring you become a favored contractor.

8

. Track and

E

valuate

B

id

P

erformance
If you wish to increase the percentage of bids you win, you need to compare your winning and losing bids. By making these comparisons, you will be able to recognize patterns to help you identify formulas for writing a winning bid, as well as which projects on which to bid.
"Shake hands and let them see your face so that when you start calling, they can associate your face with the phone call or the email. This is essential in running a successful construction company," says Quindemil.
---
9

. Do

G

reat

W

ork

!
The final way to get more government contracts is to do great work. Meet specifications and deliver quality work. For example, you should complete jobs on or before time and on- or under-budget.
Have a history of doing as you have stated in your bids. The customer (government agency) is taking on risk every time they hire a contractor for a construction project. Make sure you have a history of meeting or exceeding performance standards and take some of the risk out of completing that project.
Ready to discover how tech tools can help you projects on-time and on-budget? Find out how Asite can help here.
Nathan Medcalf
Nathan Medcalf writes about technology, heavy equipment, and construction for numerous clients and has been published in more than 30 trade publications since 2006.
Asite Insights in your inbox.
Sign up for product news and our latest insights published monthly. It's a newsletter so hot, even global warming can't keep up.