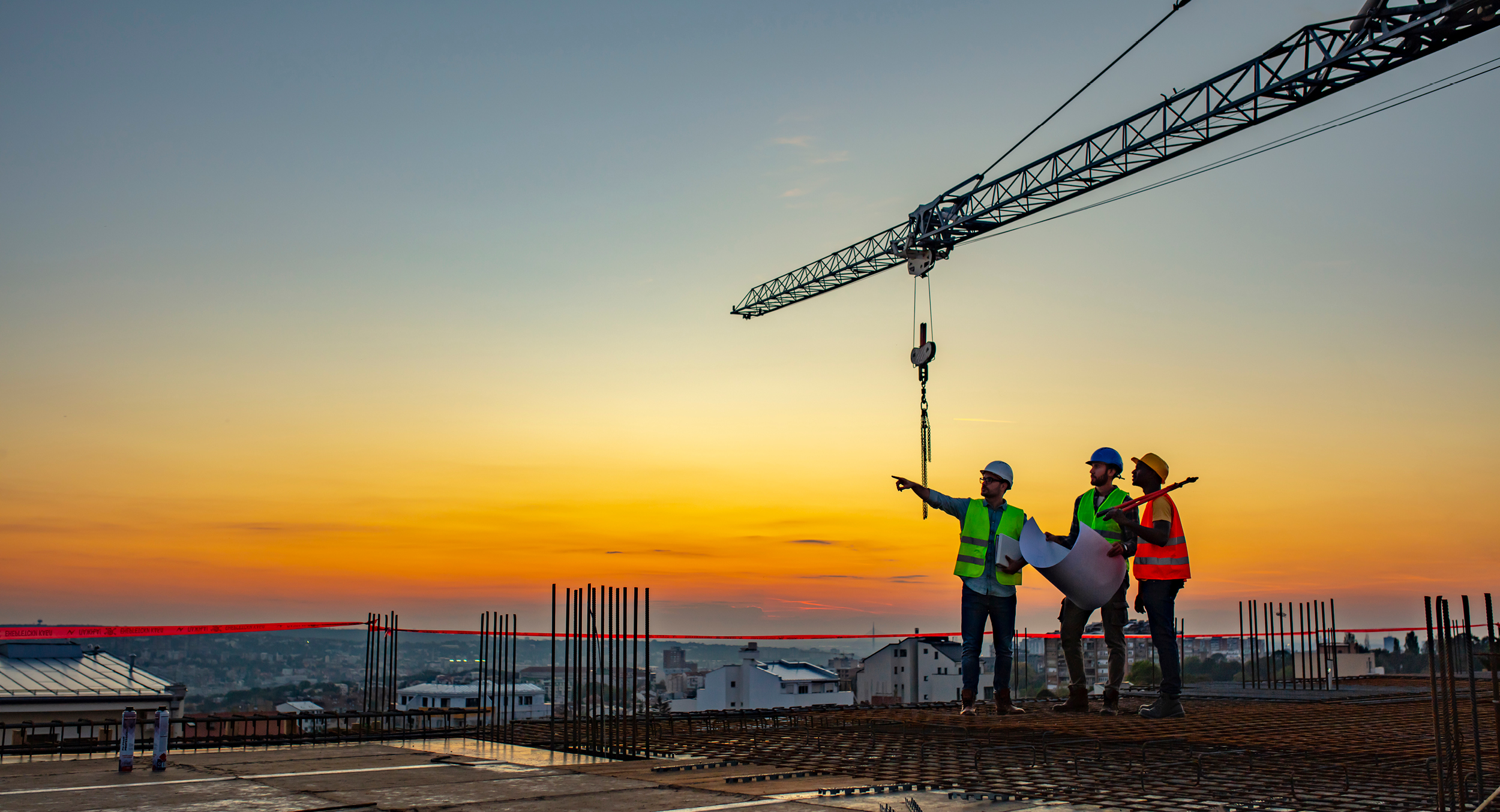 Get the breakdown on the U.S. infrastructure bill and its impact on the construction industry.
After months of political haggling, the United States is one step closer to a long-awaited $1.2 trillion infrastructure package. With passage by the U.S. Senate, the spending bill is headed back to the U.S. House of Representatives for final approval—expected after their late September recess.
With $550 billion in new funding, it is the largest infrastructure bill in recent history to reach this critical legislative milepost. It will improve the nation's roads, railways, public transit, water systems, power grids, and broadband internet.
One wrinkle is an effort to tack on $3.5 trillion in human infrastructure spending on childcare, paid leave, and climate policy. It is still considered a bipartisan win for President Joe Biden after previous presidents—Trump and Obama—failed to pass large infrastructure bills.
While the back-and-forth political drama played out this summer, the U.S. construction industry—from owners to subcontractors—eagerly awaited the final legislation. When will the dollars flow into the economy? Who will benefit? Will it improve productivity and drive change in the industry?
Let's take a closer look at this ground-breaking legislation (officially called the Infrastructure Investment and Jobs Act of 2021) and its impact on everyone in construction—from the makers of bulldozers and cranes to the next generation of boots onsite.



1. New Roads Driving Millions to States
Large, populous states are in line for large sums of money. California and Texas could get more than $25 million each to rebuild roads, improve drinking water, and fix the electrical grid. That's a lot of dollars for asphalt, concrete, pipe, and wire—not to mention heavy machinery.
How much need is there for repairs and upgrades? The American Society of Civil Engineers (ASCE) gave the U.S. infrastructure a C- in its 2021 report card. They identified 50,000 bridges across the U.S. as "structurally deficient." However, the ASCE had previously rated the U.S. with a D+ grade so the 2021 rating was an improvement.
While "crumbling" is often used to describe the current state of roads and bridges, it's not entirely accurate. The Washington Post notes the much-touted World Economic Forum statistic of the U.S. infrastructure being ranked 13th in the world does not tell the entire story. They note that of the 12 economies the WEF ranked ahead of the United States in 2019, three—Singapore, Hong Kong, and the United Arab Emirates—are tiny coastal city-states.
But a barely passing mark is not reassuring. Consider these stats from the ASCE:
- There's a water main break every two minutes, leading to losses of 6 billion gallons of treated water each day
- Some 43% of public roadways are in poor or mediocre condition
- About 42% of all bridges in the country are at least 50 years old, and 7.5% are considered structurally deficient
- About one in five school-aged children lacked the high-speed internet connection needed to access lessons last year

2. Clean Water & Broadband Internet Included
The $1.2 trillion bill covers a lot of ground. Remember, the U.S. covers 3.8 million square miles with 4 million miles of roads, more than 500 commercial airports, over 615,000 bridges, approximately 140,000 miles of freight railroad, and more than 300 coastal and inland ports.
Here are some of the highlights of the spending measure:
- $303.5 billion over five years for Federal Highway programs, a 35% increase from previous bills
- $40 billion in dedicated resources for bridge repair, replacement, and rehabilitation, which is the single largest dedicated bridge investment since the construction of the interstate highway system
- $118 billion bailout of the Highway Trust Fund from the Treasury's general fund
- $55 billion for water projects with a focus on upgrading infrastructure—the largest investment in clean drinking water in our nation's history
- $66 billion in passenger and freight rail
- $65 billion to rebuild the electric grid
- $65 billion to expand broadband Internet access
- $39 billion to modernize and expand transit systems
- $7.5 billion to build a national network of charging infrastructure for electric vehicles

3. Spending Will Fuel Post-COVID Recovery
There won't be as many "shovel-ready" projects to start immediately because getting projects initiated and in the pipeline takes time. Economists say it won't boost economic growth until 2023. But in 2025 and 2026, it should add a healthy one percentage point to the economy's growth rate—plus create up to 775,000 jobs.
An Associated General Contractors (AGC) survey in June 2021 showed construction activity in the U.S. had returned to pre-COVID levels in 34 states. The survey also showed the toll the pandemic took on construction in the U.S., with 61% reporting having at least one project halted or canceled. Also, 1 in 4 firms reporting material shortages are causing project delays.
Globally, construction has been hard hit by the pandemic. GlobalData estimates that the sector contracted by 2.5% last year. The construction output value in 2020–2021 was roughly $1.1 trillion lower than that predicted pre-pandemic, according to GlobalData. In the UK, construction companies furloughed as many as 80% of their employees.
While the U.S. was already showing signs of recovery, spending on infrastructure will have a long-term multiplier effect and a huge impact on future growth. For example, improving an airport or transit system will result in higher traffic and trickle-down as the entire built world gets a piece of the pie.
The Congressional Budget Office estimates that, on average, every dollar invested in infrastructure generates as much as $2.50 in incremental output. According to the AGC, the return on investing in infrastructure is higher than any other major spending program or from tax cuts.

4. Hiring Skilled Workers May Get Harder
The number of new jobs created by this legislation is debatable—the White House puts it at 2 million jobs. Dedicated workforce training dollars are not in the final bill passed by the Senate. But money for training could be added during the reconciliation process.
The rising demand for skilled labor will only get more intense. There are now more than 20 million construction and manufacturing jobs in the U.S. Turnover and vacancy rates are high, with more than 700,000 workers leaving their jobs and more than 1 million jobs vacant. Baby boomers retiring daily only exacerbate the situation.
With or without the billions pouring into new infrastructure projects, a booming housing market fueled by low-interest rates has caused a shortage of skilled craft workers.
Rising wages may attract new workers who were displaced during the pandemic. There also are nearly 200,000 apprenticeship programs that could help close the gap.
An AGC survey found that more than 76% of construction firms expected to increase their construction workforce before the infrastructure legislation. They also learned:
- 57% of companies say the skilled labor shortage is the biggest challenge to construction worker health and safety
- 44% have seen higher project costs because of it
- 40% say projects are taking longer than expected due to the shortage
According to the Labor Department, high-paying jobs will hopefully lure Gen Z into the construction field as the typical wage for a construction job is close to $30 an hour, which is significantly higher than the median pay of $19 an hour for all U.S. jobs.

5. Digital & BIM Usage Will Increase
Lagging productivity rates have consistently pointed to a U.S. construction industry that is slow to embrace digital methods of working. An FMI study showed more than 30% of construction professionals spend 14 hours or more on non-productive work like looking for project information, conflict resolution, and dealing with mistakes and rework.
Unproductive activities like these cost the construction industry more than $177 billion in 2018 alone. Many believe the infrastructure bill could drive efficiencies if the government raises the digital bar.
While the United Kingdom is the gold standard for BIM, it is not required on a national level in the U.S. Experts say the Federal Highway Administration (FHWA) will likely require better digital deliverables, so we can expect this infrastructure bill to drive tech adoption—especially BIM. After the 2008 banking crisis in the U.S., the General Services Administration (GSA) began to require BIM on projects.
With this kind of funding, there will be a need for transparency across the project lifecycle. Bid and contract management can be done digitally, and BIM and Digital Twin programs may be used on larger projects.
If the industry leans into connected systems and workflows that link people, processes, and phases, the industry could see productivity gains of 14% to 15% and cost reductions of 4% to 6%, according to McKinsey.
Make sure your organization is ready for the infrastructure bill. Subscribe to our infrastructure updates. Find out how contractors, operators, and owners can capitalize on this opportunity.

Asite Insights in your inbox.
Sign up for product news and our latest insights published monthly. It's a newsletter so hot, even global warming can't keep up.