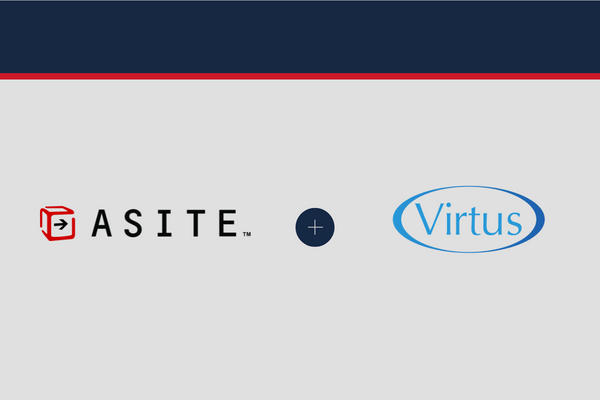 Asite Helps the UK's Leading Temporary Traffic and Highway Management Expert Achieve its BS EN ISO 19650 Re-Accreditation
Virtus Ltd is the UK's leading Temporary Traffic and Highway Management expert. Through its cutting-edge design, planning, and project delivery, Virtus Ltd delivers a full range of professional services tailored to meet the ever-changing demands of the Highways and Construction Industry.
---
How to Use Construction Technology for a Competitive Advantage
Virtus Ltd is a consultant and design house for traffic management. As leaders in their field, they offer a unique product. However, they realized they could take a big step forward by implementing BIM and adopting a Common Data Environment (CDE).
As a Tier 3 contractor, Virtus Ltd is often dictated to by the requirements and wants of larger operators. Adopting technology such as BIM and a CDE would allow them to carve out a stronger identity and deliver a more robust offering to its clients.
Virtus identified how adopting and implementing these tech solutions would put them at a competitive advantage—propelling them 2-3 years ahead of their competitors.
As they were nearing their ISO 19650 re-accreditation, Virtus Ltd saw a perfect opportunity to move forward. Relying primarily on SharePoint as their CDE, the company also realized they needed to improve how they managed data over the long term.
The traffic management design house knew they needed an industry-recognized platform to deliver this re-accreditation and boost their identity goals. After extensive market research and a stringent procurement process, Virtus Ltd chose Asite as their CDE provider.

Achieving its Goals with Asite's Industry-Compliant CDE
As its ISO 19650 re-accreditation was a high priority for Virtus Ltd, Asite's position as an industry-wide recognized CDE and its BSI Kitemark for BIM Software were big selling points. As Ryan Williams, Digital Development Lead at Virtus Ltd, explained: "Asite were holders of the BSI Kitemark for BIM software, so straight away that gave us confidence that if this software is in line with the same 19650 standards as us, that's already half the battle."
Although the company had been previously awarded the accreditation, they found the platform they had been using—SharePoint—wasn't sharp enough. The team described it as too mechanical and not displaying the data professionally.
Not only did Asite provide a cost-effective option for Virtus Ltd, but they also offered the company a high level of professional support. The Asite team's desire to help the company achieve its goals also stood out during its decision-making process.
Importantly, the Asite CDE fell into line with how Virtus Ltd already worked. As Phil Watts, Senior Design Manager at Virtus Ltd states, "With Asite, we could keep it most uniform and it was very similar to how we would set it up for our clients. So, there was very little in terms of our guys having to learn a new CDE every time they go on a new contract, which just weakens the product."
Today, Virtus Ltd uses Asite across 35%-40% of all end users in the business. The software is implemented on high-profile projects such as HS2—the new high-speed railway between London and Manchester—and the Southampton to London pipeline projects—a replacement for the existing aviation fuel pipeline.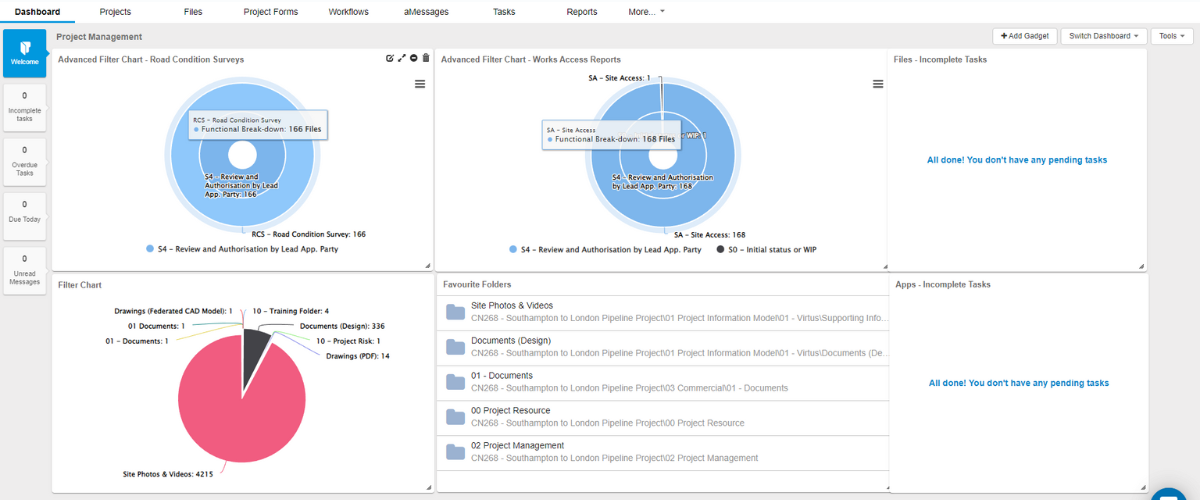 The Asite Dashboards helped Virtus Ltd monitor progress and completion of works for the works access assessment reports and road condition survey reports.
---
Achieving ISO 19650 Re-Accreditation and Improving Processes
With a high level of training and tailoring, the transition to Asite went smoothly and opened a wealth of benefits for the Virtus Ltd team.
One of these benefits, Tomasz Dlugosz, Designer at Virtus Ltd, mentions, is the ability to access all up-to-date information at the right time. "It puts me at ease, and I can hand over the information to our customer fully knowing and being confident that it's correct," he said.
With Asite, the Virtus Ltd CDE is optimized for its specific processes, with the use of the CDE differing across projects depending on requirements. Here, it enhances project delivery, streamlines processes, and helps the Virtus Ltd team manage their workload more efficiently.
End-to-end processes are managed more successfully, and the team is provided with an accountable audit trail and version control. This time-saving way of working has helped the Virtus Ltd team work quickly, focus on additional jobs, and even start jobs ahead of time.
Exchanging information to clients is also improved. Virtus Ltd can package its work quickly using the Asite Document Management solution and its dashboards. As Ryan mentions, it eliminated the need to dig through "subfolder after subfolder in SharePoint. Instead, it was all listed in a way that we can just export it out and land it into their system in the format and output that they needed it."
The Asite Platform also played a considerable role in Virtus Ltd achieving its ISO 19650 re-accreditation. With Asite, during its re-accreditation process, Virtus Ltd was able to confidently sit with the Asite Platform and demonstrate how they conform with the standards. "It was so much more of a confident delivery on our part when we were being asked those questions, simply because it was being delivered on such a better platform. Just the aesthetics of it alone were a huge improvement," said Phil.
"I think we would have been at a much higher risk of underachieving compared to what we are now. With the guidance from Asite leading up to our recertification audit, I think we have really raised the bar, and Asite just helped us achieve that," added Tomasz.
When speaking about measurable benefits the Asite Platform has introduced to Virtus Ltd, Ryan gives the example of a recent project deadline the team met by using Asite:
"We were up against a project deadline towards the last month of our appointment…With three users, we uploaded, checked, reviewed, and approved over 4,500 documents into the system. Fully document coded, checked, reviewed, approved, and loaded with the metadata attributes. That's also including the time required to give in-house training and get people set up on the system.


So among the three of us, that's 1,500 files each over a month, nearly 400 files a week. It was a bit of an output. I think if we weren't using Asite, that deadline would have been potentially missed, or it probably wouldn't have been as smooth as it all panned out in the end."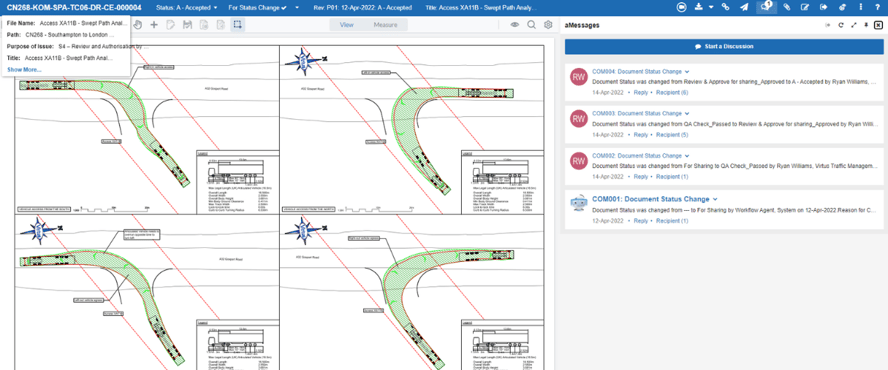 SLP Drawing—Created and delivered by Virtus Ltd's design partner Komvos. This highlights Virtus Ltd's ability to integrate its suppliers and partners into its CDE and its BIM journey.
---
Making Virtus Ltd's Lives Easier
The Asite Platform has introduced an abundance of benefits to the Virtus Ltd team, including:
- Introduction of leaner business processes, improving efficiency and reducing time-wasting
- Over 4,500 documents uploaded, checked, reviewed, approved, and loaded with metadata attributes in a single month
- 35%-40% of all end users in the business use Asite
- Increased confidence during information handover
- Reduction in time spent on manual processes and involvement in contracts introduced personal time saving
- End-to-end processes managed more successfully
- Improved visibility across projects
These benefits have led Virtus Ltd to recommend Asite and its CDE. As Ryan says, "If you are looking at getting in a CDE, I would recommend Asite to not just small medium enterprises, just organizations, in general, looking at beginning, continuing, or advancing their BIM journey. From what we've seen already, it's made our business leaner, it's made us more efficient, and the quality assurance has massively improved…By having this platform in place, it just makes our lives much easier on a day-to-day and on some of our projects."
Want to learn more about how Asite can help you become industry compliant and achieve similar success?  Learn more here.
Asite Insights in your inbox.
Sign up for product news and our latest insights published monthly. It's a newsletter so hot, even global warming can't keep up.