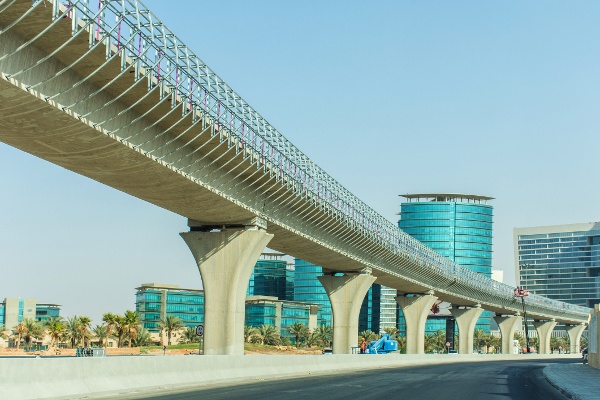 Infrastructure projects—most notably urbanization projects—are driving growth in the Middle East construction industry, according to Global Data.
According to the RICS Global Construction Monitor's 2021 Construction Activity Index (CAI), the region posted a reading of +8 in Q2 compared to +3 in Q1, its strongest reading since Q2 2020. While Global Data gives the region a score of 0.88 on their Construction Project Momentum Index—the third-highest score globally.
And leading this resurgence? Infrastructure projects. According to the survey respondents, ICT, energy, and agribusiness are the main growth areas.
With a surge in infrastructure projects will come greater uptake in digital tools to keep projects on-schedule and on-budget. The Middle East has long been a beacon for digital innovation, with the construction industry in the region benefitting from innovative tech.
Spending on digital transformation in the region is expected to top $58 billion by 2025, according to IDC—the market research company.
With construction technology set to make its mark on infrastructure projects across the Middle East, let's take a look at one of the most transformative—a Common Data Environment (CDE).
---
3 Ways a CDE Benefits Infrastructure Projects
Infrastructure projects are complex. They are usually large, occur over a long time, and adhere to a strict budget and time constraints. They also bring together multiple stakeholders from different industries, sectors, and even countries.
With project information coming from all directions, chaos ensues. Project information is quickly caught in a tangled web leading to fragmented, inaccessible, and outdated data.
A CDE is your best answer to taming your infrastructure project's chaos.
How? A CDE can ensure everyone has the most recent information in real-time—from the field to the office. In the most basic terms, its central repository provides a single source of information for the project. It is used to collect, manage, collaborate, and share project information with the project team.
Here are just three ways a CDE can benefit your infrastructure project:
1. Eliminates Errors and Reduces Risk
As it stands, an estimated 10%-25% of project costs are thought to come from avoidable errors and unmeasured and indirect costs, according to the Get It Right Initiative (GIRI).
What does this look like on infrastructure projects?
The inability to locate or verify information can make staying on track a colossal undertaking. For example, let's take the installation of electrical wiring. Without the correct documents on hand, your contractors won't know where to make the installation. Or, if the installation can occur, it becomes difficult to determine whether the completed work is the same as the designs. Down the line, this can have a considerable impact on the safety of the asset and make operation and maintenance difficult.
These issues are no longer of concern within a CDE. All project information—models and associated files, reports, forms—are stored together in a central, secure location. Never waste time digging for documents, risk working off old or inaccurate data, or spend time wondering which file is the most up-to-date again.
2. Breaks Down Data Silos
One of the highest priorities for infrastructure projects is keeping costs down. However, each year millions is wasted due to data silos which introduce errors, inefficiency, and low productivity.
In fact, in its Construction Technology Report, JBKnowledge found that more than 26% of software applications don't integrate. Making data silos a megaproject mega issue.
As you can imagine, this has a significant impact on profits. According to research, a lack of efficiency in construction could add between 20%-25% to the cost of a project. For projects valued at AED 30 billion, this could mean an increase of between AED 6 million and AED 7.5 billion.
With a CDE, everyone involved in a project can input their data and information into one location. Here, the project data is secure and accessible to all project teams.
No more manually inputting information from one solution to another or jumping between tabs to get a complete project overview. And no need for specific software to view the information in a set format.
3. Helps Projects Get Future-Ready
While a CDE improves working in the present, it is also future-focused when it comes to the resiliency and sustainability of infrastructure projects.
With a robust CDE, you can create a solid foundation to transform how you use smart, digital technology on both the jobsite and back in the office. As noted by The Economist, BIM, digital twins, sensors, big data, and machine learning can increase infrastructure's operational efficiency and reduce its environmental impact.
However, all the information generated and required by these technologies needs a place to live to add real value.
A CDE brings all this information together to one collaborative platform, tackling ambiguity and unpredictability while ensuring that teams are well-positioned to deliver projects with resiliency at the core.

Introducing the Asite CDE
The Asite Common Data Environment helps infrastructure projects better manage their information. Sitting in the Project Portfolio Management solution, the CDE keeps project teams on the same page by providing organizations and their extended supply chain with shared visibility of their projects.
As well as being easily integrated with other solutions, the industry-leading solution is BIM-compliant and is used on some of the most significant infrastructure projects globally, including railways, metros, and highways to airports and aviation.
Most notably, the Asite Platform is used across Aldar Properties' project portfolio. Aldar Properties—the leading real estate developer in Abu Dhabi—most known for its iconic developments, including their internationally recognized HQ building (the first circular building of its kind) situated in the Al Raha Beach development, the Gate Towers in Shams Abu Dhabi on Al Reem Island, and Yas Island's F1 circuit, will utilize Asite on a magnitude of innovative and exciting projects. Here, the Asite CDE is streamlining information management at all levels of the asset lifecycle.
In Dubai, the Asite CDE played an integral role in the extension of Dubai International Airport. Here, the Asite Platform allowed a widely dispersed and varied project team to work collaboratively and seamlessly throughout the project.
Want to learn more? Discover how Asite can help you successfully deliver projects with highly configurable workflows that work with your processes, real-time dashboards that provide complete project visibility, and painless, easy collaboration tools to keep your project on track. Learn more here.
Asite Insights in your inbox.
Sign up for product news and our latest insights published monthly. It's a newsletter so hot, even global warming can't keep up.