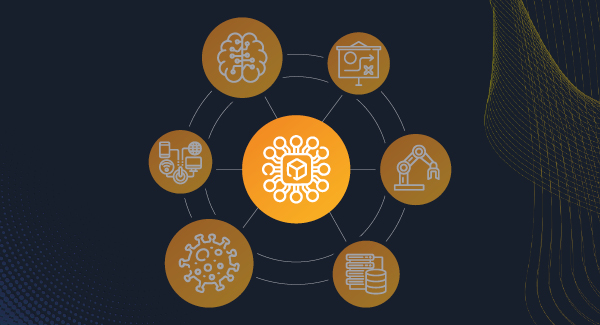 Despite interest in innovative digital technologies and recognition of their competitive necessity, there is still uncertainty surrounding how to leverage these opportunities to create a digital transformation strategy.
Some of this confusion likely lies in the language that we use. More specifically, the misapplication of two key terms related to digital transformation – digitization and digitalization. These words are often used interchangeably with digital transformation, but they point to very different things.
---
What is Digitization?
In its most basic sense, digitization is the process of changing from analog to digital form, also known as digital enablement.1 For example, converting music from CDs and vinyl records to MP3s or paper construction documents to digital files saved on a computer.
In business, this process often looks like initiatives such as legacy modernization or moving a system online. The conversion or representation of physical or non-digital things into a digital format means that this information can now be used by a computer system.
Creating digital versions of these so-called "physical carriers of information" allows us to extract data that can be processed, transmitted, or used to optimize processes. In this respect, digitization also includes the automation of existing manual and paper-based processes.2
Essentially, digitization creates value by cutting costs and laying the foundation for business use cases that leverage data.3
What is Digitalization?
Disentangling digitization from digitalization may seem like a nit-picky exercise, but they are very different concepts with very different implications.
One useful definition of digitalization is – "the use of digital technologies and digitized data to impact how work gets done, transform how customers and companies engage and interact, and create new (digital) revenue streams."4
Basically, digitalization cannot occur without digitization. To refer back to our example of converting paper documents to digital files on a computer, a digitalization initiative here could include uploading these files to the cloud to transform collaboration and reporting processes and using analytical tools to generate insights and actionable knowledge to mitigate risk and promote efficiency on future projects.
Whereas digitization is the process of making existing data and processes digital, digitalization embraces the ability of digital technology to capture and assess data to make better business decisions and enable new business models.

What is Digital Transformation?
Digitalization is an important step towards digital transformation and has a huge impact on product, service delivery, and people. It marks a culture shift within an organization, reshaping how value is created and business is conducted.
Digital transformation is broader than this; more than applying technology to existing business, it is the capacity to rapidly adapt when required through the intelligent use of technologies and information.5
To borrow the commonly used definition, "digital transformation is the profound and accelerating transformation of business activities, processes, competencies, and models to fully leverage the changes and opportunities brought by digital technologies and their impact across society in a strategic and prioritized way."6
To bring it together with the previous terms, it is a wider strategic and continuous mission that relies on the integration of digitized data and digitalized applications.

Why is Digital Transformation Important?
The overall goal of digital transformation is to increase the productivity and creativity (decision making, connectivity, innovation, and augmentation) of individuals and organizations. Here, technologies – such as smart devices, cloud and fog computing, big data and analytics, social media and networking, cognitive computing, and artificial intelligence – provide unprecedented access to pools of knowledge and resources, resulting in greater innovation and outcomes.7
In addition to radically extending the reach of organizations, digital transformation seeks to take advantage of the possibilities and opportunities afforded by new technologies in a faster, better, and more innovative way. For this reason, effective strategies recognize that the end goal will continue to move as true digital transformation is an ongoing journey, as is change and digital innovation.8
Digital transformation, essentially, positions organizations to become agile businesses, setting them up to swiftly detect, respond, and adapt to changes in consumer and employee expectations and demands and the wider business landscape.

Final Thoughts
The expectations of the industry go beyond the delivery of projects to include the provision of job opportunities, environmental enhancement, area regeneration, or improved accessibility. More importantly, the industry is capable of delivering these project outcomes and, by prioritizing the maximization of social value, can drive very necessary social transformation.
Digitization and digitalization can be seen as the first steps on a digital transformation journey. Understanding the difference between these concepts is vital to creating a viable digital transformation strategy, establishing where is your organization currently is in this journey, and harnessing the opportunities brought about by these processes individually.
Take the Next Step

—Do

wnload Your Ultimate Digital Transformation Guide
---
[1] Gartner [2] iScoop [3] Net Guru [4] C.Chapco (2018) [5] iScoop [6] IEEE Computer Society [7] IEEE Computer Society
[8] iScoop
Asite Insights in your inbox.
Sign up for product news and our latest insights published monthly. It's a newsletter so hot, even global warming can't keep up.