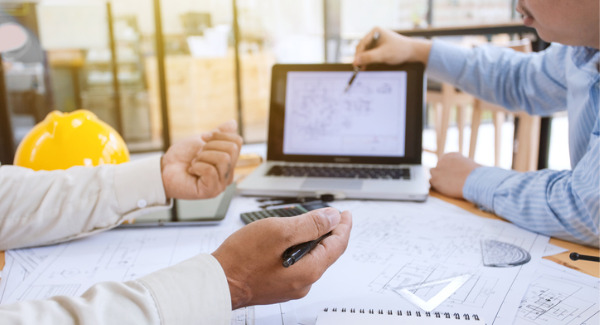 Construction projects bring together stakeholders from various disciplines and roles—architects, engineers, estimators, project managers, GCs, subcontractors, owners, heavy civil contractors, home builders, and facilities managers.
As you can imagine, the number of documents prepared, shared, revised, and shared again is huge. At their most basic, construction documents are designed to keep everyone on the same page.
If you've ever wondered just how hard this can be, check out our Ultimate Guide to Common Construction Documents for a deep dive into just how many types of documents can be involved in a construction project.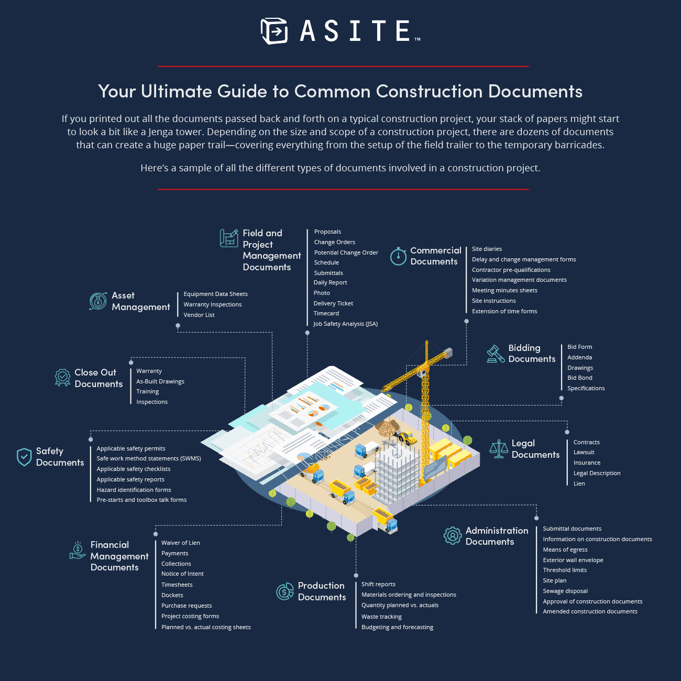 Click on the image above to download a pdf version.
Why You Need to Manage Your Construction Documents
All construction documents—bidding documents, construction drawings and specifications, floor plans, build permits, and construction contracts—are all prepared in different ways.
Here, one of the biggest hurdles to managing all your construction documents involves stakeholders using different tools and processes. In fact, over 26% of construction firms say "none" of the software applications they use even integrate, according to JBKnowledge, the information technology services company.
This means project information is in various formats and often stored in multiple places, making information management a mammoth task.
To ensure your project stays on track, asset owners need a way to manage this complex process. When your organization adds construction document management, you can standardize how you collect, upload, manage, store, track, and share all information associated with a project.
Usually housed within a single, secure, central location, a document management solution allows you to share and collaborate on information with your wider project team. Document management can refer to both physical and digital document management.
For many of us, the days of organizing information in filing cabinets in office basements or rebooting a 20+-year-old computer to get information off a floppy disk are thankfully gone. Now, more and more construction organizations and projects utilize the cloud to manage their documents.
With construction moving to more digital ways of working—using document management and collaborative solutions—you may no longer have to grapple with countless sheets of paper. Instead, all of your project docs are held in one secure location.
The Asite Document Management Software helps you keep your construction documents in check—manage all your project information on one centralized platform. Find out how you and your team can benefit here.
Asite Insights in your inbox.
Sign up for product news and our latest insights published monthly. It's a newsletter so hot, even global warming can't keep up.