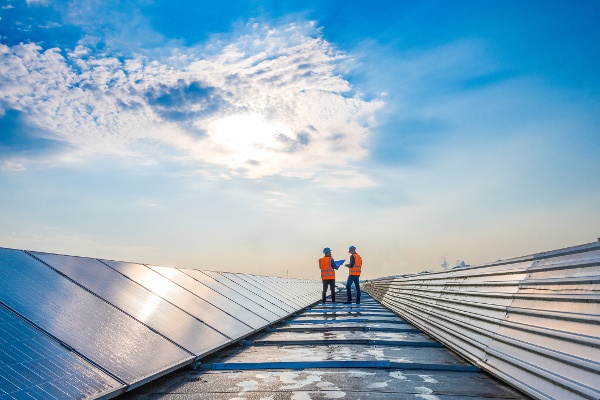 The climate is one of, if not the biggest, challenges we currently face.
Extreme weather events, melting ice caps and rising ocean levels, bushfires, extreme heat, drought, and famine are all direct results of our detrimental impact on our climate. The time for change has long passed, and action cannot happen soon enough.
One of the most significant moves toward positive change in recent years is the Paris Agreement. The Paris Agreement aims to limit the global temperature increase this century to within 2 degrees Celsius above pre-industrial levels while pursuing means to limit the increase to 1.5 degrees. It also states emissions need to be reduced by 45% by 2030 and reach net zero by 2050.
In response to the Paris Agreement, many governments are introducing national strategies, setting out their commitments to reduce carbon emissions—the world's greatest foe.
But with phrases like 'carbon neutral future,' 'decarbonization,' and 'zero emissions,' it can be easy to get lost in the sea of terms and not understand what it all means and how it relates to our end goal.
Instead of boiling the ocean—climate change is doing that for us—let's bring it back to the most common term—net zero.

What is Net Zero?
According to the United Nations, net zero refers to reducing "greenhouse gas emissions to as close to zero as possible, with any remaining emissions re-absorbed from the atmosphere."
This means a huge reduction in greenhouse gas (GHG) emissions we are currently putting into the environment with unavoidable emissions being consumed by the environment—forests, green space, trees, seas, and oceans.
Carbon emissions and CO2 emissions are commonly used interchangeably with GHG emissions, which explains why the terms 'net zero' and 'carbon neutral' are used alongside each other.
GHG emissions mainly happen through burning fossil fuels—coal, oil, and natural gas. GHG emissions occur commonly during our everyday lives, from electricity production, transportation, and commercial and residential properties to land use and the production of goods and materials.
By reducing this output and ultimately going net zero, we can reach a state where global warming stops intensifying. The global temperature needs to stop rising to limit the worst impacts of climate change, and reducing our emissions is how we achieve this.
Ultimately, when we reach net zero will be adding no more than what is being taken away.
But how do we get there?
---
How the Built Environment is Part of the Problem
Roland Hunziker, director of sustainable buildings and cities at the World Business Council for Sustainable Development (WBCSD), describes the built environment as the "sleeping giant" of carbon emissions.
Why? Just consider these facts:
- The built environment generates nearly 50% of annual global CO2 emissions—building operations are responsible for 27%, while building materials and construction are responsible for 20%
- By 2060 the world's building stock will double, and almost 70% of the global population is projected to live in urban areas, meaning emission figures could increase
- It is predicted that 80% of today's buildings will still be in use in 2050; however, 75% of this stock is energy inefficient
- If the cement industry were a country, it would be the third-largest CO2 emitter in the world—responsible for 7%-8% of global carbon emissions
Direct building CO2 emissions need to halve by 2030 to be on track for net zero carbon building stock by 2050
The stats don't lie. The construction industry and the wider built environment play a significant role in the climate emergency, a fact that many worldwide are aware of and calling for action.
The message from global leaders is clear—if we do not begin to embrace and adopt new ways of working quickly, the damage done to the planet will soon be irreversible.

How the Construction Industry Can Help the Climate Crisis
At the latest COP conference—the yearly global climate summit—COP 26 in Glasgow, Scotland, world leaders dedicated a day solely to discussing decarbonizing and creating a more sustainable built environment.
One of the biggest outcomes of the 'Cities, Regions and Built Environment Day' was the confirmation that 1,049 cities and local governments are now participating in the 'Race to Zero.' This is an UN-led campaign asking cities, regions, businesses, investors, and Higher Education Institutions to hit net zero emissions.
The day also saw confirmation that 109 regions, cities, and states have also signed up to its sibling campaign 'Race to Resilience'—a campaign "putting people and nature first in pursuit of a resilient world where we don't just survive climate shocks and stresses but thrive in spite of them."
Countries, cities, and regions are committing to a cleaner, greener future. Here is a breakdown of who is committing to what:
United States
Since rejoining the Paris Agreement under President Biden, the U.S. has set a reaching net zero by 2050 as one of its key climate goals. The Build Back Better Framework seeks to put the U.S. on course to meet its climate goals. It sets out measures to cut greenhouse gas pollution by well over one gigaton by 2030 while investing in a 21st-century clean energy economy including buildings, transportation, industry, electricity, agriculture, and climate smart practices country-wide.
United Kingdom
In June 2019, the UK Government became the first major economy in the world to pass laws to end its contribution to global warming, requiring the UK to bring all greenhouse gas emissions to net zero by 2050. To meet these goals, the UK Green Building Council (UKGBC) introduced a framework for the UK construction and property industry to transition new and existing buildings to become net zero. However, the UKGBC noted the need for urgent measures and government intervention to meet its targets.
Europe
The European Commission is working towards a unionwide net zero emissions target as part of its European Green Deal. Several targets in the deal directly impact the construction industry, with circular economy and building renovation flagship elements. It also includes a strategy to double the annual energy renovation rates of European Union (EU) buildings in the next 10 years. As well as budgeting billions in subsidies over the next five years for climate-friendly construction and renovation.
The Middle East
In the United Arab Emirates (UAE), the UAE Clean Energy Strategy 2050 states that new buildings in the UAE should be net zero carbon structures by 2030, and existing buildings should reach that level by 2050. The country also launched its own 'Sustainable City.' The first net zero operational city in Dubai will become a showcase for sustainable living and will also become home to the world's first net zero building—the SEE Institute.
The Kingdom of Saudi Arabia (KSA) has pledged to become net zero by 2060, with Crown Prince Mohammed bin Salman stating the state would invest over $180 billion (£130 billion) to reach the goal. The announcement aligns with Vision 2030, which puts sustainability at its core—accelerating energy transition, achieving sustainability goals, and driving a new wave of investment.
Australia
In Australia, the built environment is the fourth largest climate emitter due to embodied carbon—the amount of carbon that goes into a building. To counteract these emissions, the Australian Government, alongside the Green Building Council of Australia (GBCA), launched new National Carbon Offset Standards (NCOS) for Buildings and Precincts. The Standards enable building owners to calculate the emissions from their properties, reduce them as much as possible, and then purchase carbon offsets or carbon credits equivalent to any remaining emissions to achieve net zero. Australia also overhauled its 'Green Star Buildings' initiative, which set out requirements for buildings to be fully electric, fossil fuel free, and 100% powered by renewables. This is helping make net zero the norm.

Construction Technology to the Rescue?
For many modern-day challenges, technology is often called upon to provide a solution. Whether using video conferencing technology to keep people and businesses connected during the pandemic, using drones to help fight bushfires, or using the Internet of Things (IoT), mobile tech, and 5G to create smart supply chains. The climate crisis is no different. The net zero revolution will be digitized.
However, during COP26, there were calls for one technology to be pushed to the top of the agenda to mitigate the crisis—digital twins.
So, what is a digital twin?
A digital twin is an exact digital replica of a physical asset.
Be it a building, bridge, airport, or even an entire city; a digital twin can be created either during the asset lifecycle—from design to build to operation—or retrospectively—by monitoring real-time data from built assets to develop a calibrated model.
Digital twins integrate data from several sources, allowing them to understand real-world conditions, such as energy flows, environmental conditions, and the makeup of materials, as noted by Integrated Environmental Solutions, the leading global innovator of sustainable analysis technology.
The tech can monitor operations, evaluate conditions, and alert to deteriorations. This improves decision-making, tracks progress, reduces risk, and provides enhanced insights.  
From identifying inefficiencies and proactive maintenance to simulating different scenarios, sustainability is where tech like digital twins thrives. It can help asset owners and managers visualize the invisible and provide invaluable information to help improve the operation and output of both new and existing structures.
Ready to discover how construction technology and digital twins specifically can help the construction industry fight the climate crisis? Learn more here or download our free report, "Digital Twins: Weaving the Golden thread."
Asite Insights in your inbox.
Sign up for product news and our latest insights published monthly. It's a newsletter so hot, even global warming can't keep up.