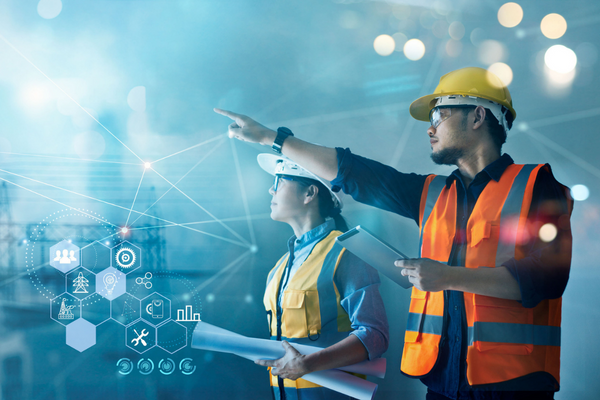 You don't have to look too far to find a list of high-paying, in-demand construction jobs around the globe—bricklayers, plasterers, electricians, and plumbers all rank highly.
While the skillsets that go along with these jobs may be obvious, there is also high demand for those familiar with construction technology—especially those with a background in project management, 3D modeling, and coding.
From the hourly construction laborer to the construction superintendent, all roles on the construction project are evolving—whether using RFID tags or drones or just digitally reporting snags and hours worked. This includes using back-office ERP systems and document management systems for digital collaboration and contract management for field, safety, scheduling, and equipment management on the jobs site.
---
Construction Jobs Lean on Technology
Today's construction tech jobs can involve tools, machines, and innovative software designed to make collaboration easier and the industry more efficient. This can include everything from creating a digital architectural design to operating autonomous machinery—from robotics to drones—from 3D printing and blockchain technologies.
No matter how physical the job, it's clear everyone in the industry has begun to face a digital reckoning—as the physical and built worlds become even more connected. Whether you're adding design-aid technology or 3D printing and robotics, the growing use of digital solutions will require new workers with new skills to improve productivity and profits in construction.
For example, tech leader JBKnowledge reports that 54% of construction companies have research and development departments for new technology. To stay competitive in the market, today's workers are expected to adapt to new advancements in construction technology, such as:
- Augmented Reality (AR) & Virtual Reality (VR)
- BIM (Building Information Modeling)
- Drones
- Mobile apps
- Construction management software
- Artificial Intelligence (AI) & machine learning
- Offsite construction
- Wearables
- Drones
- Digital twins

Changing ConTech Landscape
The much-cited McKinsey report showed that the construction sector has been historically slow to adopt process and technology innovations. The report noted that uncoordinated work between the office and the field is often completed on paper. They also reported that typical R&D spending on construction runs behind other industries at only around 1% of revenue.
But this may be changing. A Dodge Construction Network survey showed last year that 95% of office- and field-level respondents were willing to use digital tools to streamline parts of their work. While the DNC survey reported a desire for digital transformation, only 15% had implemented a digital transformation strategy, and 38% said they hadn't built out a strategy or made it a priority.
Additionally, a 2022 AGC Hiring and Business Outlook Report found firms were becoming more strategic, with 7% planning to create a formal IT plan in 2022. More than half (56%) of those firms reported using cloud-based technology and 47% of contractors use tech for field operations. Additionally, 45% used tech for accounting and 41% for time tracking.
Another interesting point: more than two-thirds of those surveyed (68%) planned to use mobile technology for mobile field reports. Accessing customer and job information and sharing drawings, photos, and documents were all key priorities—ranking over 55% for each.
However, the difficult part, they said, is finding the time to implement and train on new technology. They said their biggest challenges are keeping company data secure from hackers (39%), and more than a third saw connectivity to remote job sites and communications between the field and office as major challenges.
While many things fall under the umbrella of "construction technology," it is safe to say the main goal is to help the construction industry improve productivity. Whether your focus is on preconstruction or project management, there is a broad range of software tools, solutions, and new platforms to consider when adding new tools.
In recent years, there has been a strong move toward cloud-based tools, which allow you to have data at your fingertips. This makes running reports and seeing a dashboard of your progress much easier for all project stakeholders.
---
Who Will Fill the ConTech Jobs?
While most construction workers are comfortable with their mobile phones and tablets, there is a need for more tech savvy workers. Whether you're looking to add an IT system manager or a construction technologist, there is a growing need to fill more technical roles.
In 2020, the JBKnowledge ConTech Report found more than 30% of IT departments were run by the CEO and a scant 4% reported having a CTO in charge. Whether looking to fill roles in finance, estimating, project management, or BIM, all construction companies are beginning to understand the value of technology and training for their staff.
Not only must today's workforce understand the fundamentals of the construction industry, but they must have strong IT and project management skills. Let's look at areas where tech is driving change and disrupting the industry.

Architects Turn to BIM
To organize each phase of the creation and update to the BIM model, firms need individuals who can coordinate and manage between different disciplines. Typical roles include BIM Manager, BIM coordinator, and even BIM Specialists for Architecture and Structure.
When AEC firms hire for these roles, they often find a shortage of applicants with the proper digital skills. As a result, many will train existing employees.
With the BIM market set to explode to $107 billion by 2026, there will likely be more robust demand for BIM adoption. As organizations begin to embrace new BIM standards and government initiatives focus on BIM adoption, the question remains who will fill these jobs?
One group sorely needed to up their BIM game is architects. Many are heeding the call. Some young architects are embracing BIM to level-up their skills so they will experience less turbulence in the job market.
They note how BIM turned out to be pandemic-proof as work could be done remotely. Not to mention, BIM skills pay more—up to 40% higher than the industry average.
No doubt, digital design can make the construction, management, and coordination process more efficient. Firms that use BIM record project completion times shortened by about 7%. As a result, BIM was the second most requested skill behind field experience, according to one survey.
---
Engineers in High Demand
According to the U.S. Bureau of Labor Statistics, the engineering jobs showing the highest percentage of growth are in the construction industry—which is expected to grow by 13%.
For example, many of those who want to prevent problems in the field are looking for computational engineers who can write computer script and algorithms to comb through construction plans.
One builder told Construction Dive there is a significant demand for computational engineers who can interrogate the data in the model. He noted that there is a need for computational knowledge along with building knowledge, which is hard to find.
Computational engineers in the U.S. earn between $80,000-$100,000. As the AEC sector continues advancing into technology-based solutions and operations, the demand for computational engineering skills is likely to increase.
Computational engineering is transformative to how the construction industry works. For example, putting designs into the digital world makes them easier to share, iterate, and work on in real-time. This can reduce mundane and repetitive work, increase the speed of design delivery, and allow engineers to focus on solving problems without having to manipulate data manually.
Also, civil engineers are in high demand in construction—whether in land development, highway development, or government projects. With the passage of the $1.2 Trillion U.S. infrastructure bill, many cities and government entities in the United States are staffing up in anticipation.
Digital Officers, Technologists, & Data Scientists
Construction-technology firms garnered $10 billion in investment funding from 2011 through early 2017.
According to McKinsey, some of the leading players in the construction industry have begun to hire chief innovation or digital officers and data scientists.
Even smaller companies are starting to hire construction technologists. Whether flying drones or using virtual reality, construction technologists always seem to be creating and implementing digital footprints for the future of work and business.
In demand, construction technologists are essential to help companies navigate the ever-changing digital landscape. The paycheck isn't bad either as technologists can make upwards of $141,000.
While an IT systems person may handle a lot of your software issues, a construction technologist plays a broader role. For example, your company may be weighing whether to choose a single platform that does it all or a collection of programs.
In this case, a construction technologist would research and analyze the solutions. Plus, help with the design and resources to implement new tools or build an in-house tech ecosystem.
---
Delivering on the Digital Toolbox
As tablets and laptops on jobsites become as common as hammers and screwdrivers, one thing is clear: it is becoming harder to find those who can put it all together—from 3D BIM modeling to reality capture and project management—and ensure all the applications are working together.
Both small and large firms are likely to consider adding more technical roles—especially as they need help interpreting and organizing the data generated by construction tech tools.
McKinsey noted that the best construction tech tools pull historical data so firms can incorporate analytics into their daily workflows. For that type of work, firms must begin to expand who they are looking for to include data scientists—which may seem a far cry from the image of a typical construction worker.
Ready to take the first step? Want to learn more about how Asite can help you integrate your tools and avoid costly data silos? Learn more here.
Asite Insights in your inbox.
Sign up for product news and our latest insights published monthly. It's a newsletter so hot, even global warming can't keep up.