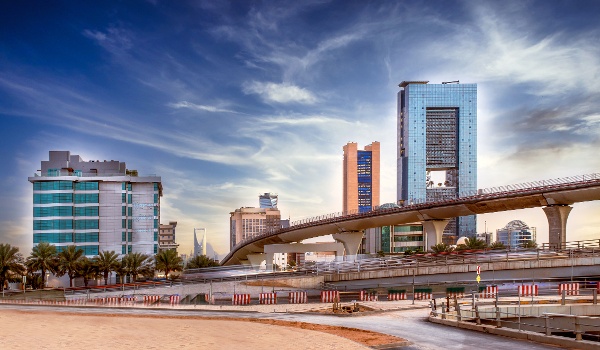 Home to the biggest airport in the world—King Fahd International Airport in Damman, Kingdom of Saudi Arabia (KSA)—and the busiest airport for international travelers—Dubai International Airport in the United Arab Emirates (UAE)—the Middle East is building its reputation as a transport hub.
Alongside its focus on tourism as a path to build for the future and the region's reputation as home to some of the most exciting and innovative mega projects transport is another sector of focus in the area—most notably public transport.
Discover How a CDE Can be the Answer to Improving Your Projects
Led by tremendous population growth, heavy traffic, a downturn in private car use, and public demand for more sustainable travel options, transport is seeing vast levels of investment across the Middle East—thought to be around $100 billion. This is a relatively new development for the region, which previously has not been recognized for its public transport options.
Across the region, many strategies and initiatives are placing a high priority on transport projects.
In the UAE, the Dubai Autonomous Transportation Strategy aims to transform 25% of the total transportation in Dubai into autonomous by 2030, cutting costs by 44% and reducing environmental pollution by 12%. In KSA, Saudi Vision 2030 and Saudi Energy Efficiency Programmes include providing high-quality public transport and roads in their program promises.
In Egypt, Egypt Vision 2030 includes plans to increase national public transport ridership from 1.9% in 2015 to 50% by 2050. The plan also aims to establish an integrated urban transport system, including a metro, a suburban railway, and a new monorail in Greater Cairo by 2050.
With transport projects taking off in the Middle East, here are five of the transport projects currently impacting the region:
---
1. The LINE, NEOM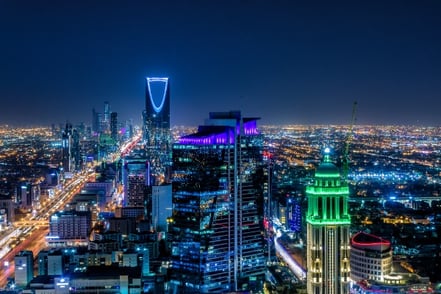 The flagship project of the Kingdom of Saudi Arabia's Vision 2030, NEOM, is a planned $500 billion high-tech city on the country's northwest coast.
At the center of the city's design is The Line—a 170km straight line from the Red Sea coast to the mountains and upper valleys inland. Designed in layers, the top layer will be a pedestrian and nature-friendly, vehicle-free tier. The two remaining layers will lie beneath The LINE's surface, one dedicated to infrastructure and the third and deepest layer solely for transport.
Artificial Intelligence (AI) driven vehicles, a metro line, and a high-speed freight transport system are planned for the underground transport layer. This "spine layer" will connect different communities, with transport from one end of The LINE to the other taking just 20 minutes.
This revolution in urban living at NEOM is desired to become a blueprint for how people and the planet can co-exist in harmony. 
---
2.

Etihad Rail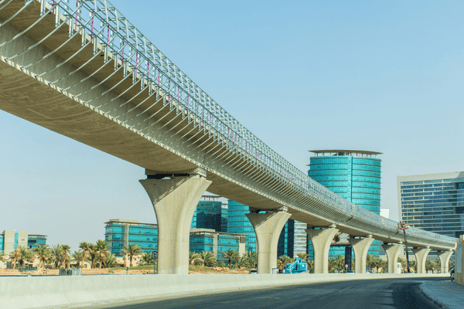 Etihad Rail is the UAE's new national rail network. With the goal of connecting all the Emirates as well as linking the country to its neighbor Saudi Arabia.
The state-of-the-art network will link the UAE's centers of trade, industry, and population replacing 5,600 heavy road vehicle trips and transporting millions of passengers between major cities by 2030. The network is also set to contribute about Dh200 billion ($54 billion) to the economy.
When complete, the new rail network, which has had an estimated investment of Dh50 billion ($13.6 billion), will stretch for over 1,200km across the country. It will also reduce carbon emissions by up to 80%.
The railway will redefine logistics and transport in the region, providing a modern, safe, efficient, and sustainable network. It will also act as a catalyst for economic growth and sustained social development.
---
3. Egypt High-Speed Rail System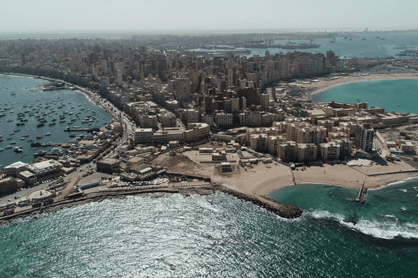 Egypt has announced plans for a high-speed rail line linking 60 different cities around the country.
The world's sixth largest high-speed rail system will have fully electrified lines with trains traveling up to 230 kilometers per hour. Electrification of the network will reduce carbon emissions by 70% compared to making trips by bus or car. 
The new network will consist of three parts: a 660km line linking Ain Sokhna, on the Red Sea, to Alexandria and Marsa Matrouh on Egypt's Mediterranean coast; a 1,100km line between Cairo and Abu Simbel, close to the border with Sudan; and a 225km stretch between Luxor and Hurghada on the Red Sea.
The project will be led by Siemens Mobility—a separately managed company of industrial giant Siemens—who will work to develop the new system with the Egyptian National Au
---
4.

Jeddah, Riyadh, and Makkah Metros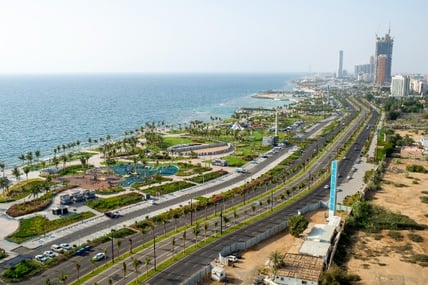 In Saudi's first and second cities, alongside the country's holy city, construction is underway for metro systems to serve the city's growing populations.
In Riyadh, the first lines of the city's new metro system are set to open in 2022, with the remaining lines set to become fully operational in 2023. The system will include six main lines spanning 176km with 85 stations.
Jeddah's new metro system will open in 2025, with three lines currently under development. The $60 billion project is being slated as an "integrated urban masterplan for the 23rd century" by project designers Foster + Partners.
While in Makkah, its new public transport program will include a new metro system and bus network. A four-line metro system will cover 180km and serve 88 stations. Due to complete in six phases over 20 years, the system will play an integral role in transporting the millions who visit the city each year to undertake Hajj and Umrah.
---
5. Dubai Sky Pod Network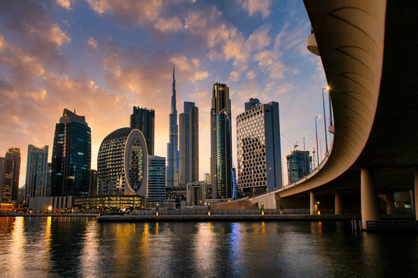 As part of Dubai's Autonomous Transportation Strategy, plans have been unveiled for developing the Dubai Sky Pod Transport System.
The initiative, undertaken by the RTA, is expected to revolutionize the transport network in the city with the introduction of driverless pods that would operate above city traffic.
Described as a cross between a sky-life and a monorail, the aerial, public transport system will look much like a high-speed cable car system with lightweight vehicles attached with steel-made wheels to move on an air-suspended airline.
Currently, 21 Sky Pod Stations have been announced, with the system expected to accommodate over 8,400 passengers in one direction per hour. Each driverless pod will have four seats and a top speed of 30mph or 50 km/hr.
No completion date has been given, but it is hoped the system will be in operation by 2030.
---
Improving Middle East Transport Through Digitization
Speaking about the MENA Transport Report 2021/2022, Mohammed Mezghani, UITP Secretary General, said: "The urban mobility sector in the MENA Region has been driven by ambitious projects and a shared determination of decision makers to provide their population with a broader range of transport modes, cutting-edge technologies and services centered around customers' needs."
Technology and digitizing public transport are at the heart of many ambitious projects. This is unsurprising considering the Middle East's position as a leader in digital innovation.
The construction industry can also benefit from this digital disruption.
How?
Construction technology and digital solutions—such as Common Data Environments (CDE)— can ensure everyone has the most up-to-date information regardless of time or location. A CDE is a central repository that provides projects with a single source of information for the project. It is used to collect, manage, collaborate, and share information with the project team. 
Construction technology and digital solutions are helping bring some of the most significant construction projects across the Middle East to life. Is your project next? Find out how the Asite CDE can help you transform your projects here.
Asite Insights in your inbox.
Sign up for product news and our latest insights published monthly. It's a newsletter so hot, even global warming can't keep up.