Robotics and AI are set to light up the construction industry in a big way in 2022. And number one on the list is 3D printing.
One thing is clear: 3D printing is big business with a capital "B." According to research, the 3D printing construction market will be worth $1.5 billion by 2024—a nearly 250% jump from where it was in 2019.
While it may be difficult to wrap your head around—a machine printing a house or a robotic arm producing the walls of a building—3D printing has been making its mark in the construction industry for many years.
The idea behind this technology has been around since post-World War II, with the concept coming to fruition in the early 1970s. Since then, the world of 3D printing has advanced dramatically from its initial basic concepts to become something more highly sought after across multiple industries—aerospace, medical, automotive, and construction.
How Construction Uses 3D Printing
So, what does 3D printing in construction actually look like?
3D printing in construction is based primarily on concrete. Although stone-like material—using a 'D-Shape' 3D printer—and metal 3D printing are also used.
Working in from a 3D digital model—created using computer-aided design (CAD) or a 3D scanner—the 3D printer "prints" layers of concrete, building up the support structure as it goes. Here, the structure is fused together to ensure the structure is stable. Think of it like a piping bag—piping icing onto a cake—or Play-Doh—placing one piece on top of another until you have a solid structure.
This can be done in two ways. Firstly, through a 3D printer attached to a robotic arm, the component or building can be printed directly on-site. Or the 3D printed parts or building can be printed offsite in a factory and transported and assembled at the site later.
3D Printed Homes Break Ground Globally
One of the most significant areas using the innovative tech is in 3D printed buildings—predominantly houses.
In fact, according to The B1M and the World Economic Forum, 3D-printing houses are one of the top three pieces of construction tech to watch out for.
Multiple projects worldwide are already on board.
In the Netherlands, 'Project Milestone' is a five-3D printed house project in Eindhoven. The first completed house is the first legally habitable 3D-printed house in Europe.
In the U.S., construction companies BIG and ICON announced they would be creating a neighborhood of 100 3D-printed homes in Austin, Texas. Breaking ground this year, the new development, when complete, will the world's largest communities of 3D printing homes.
One region making the most of the innovative tech is Dubai in the United Arab Emirates.
---
Dubai Leads the 3D Building Charge
Already home to the world's largest 3D printed building—a 6,900-square-foot, 9.5m-tall administrative building for the Dubai Municipality printed by Apis Cor 3D—Dubai is leading the charge when it comes to 3D printing in construction.
Aiming to become a leading hub of 3D printing technology by 2030, Dubai has implemented several initiatives for the construction industry to achieve this feat.
As part of the 'Dubai 3D Printing Strategy', 25% of buildings in Dubai will be based on 3D printing technology by 2030.
This isn't the throwaway number either. According to His Highness Sheikh Mohammed bin Rashid Al Maktoum, Vice President and Prime Minister of UAE and Ruler of Dubai, this percentage will increase alongside the development of global technology and growth of market demand.
So, with 3D printing becoming a huge part of the construction industry in Dubai, does it live up to the hype?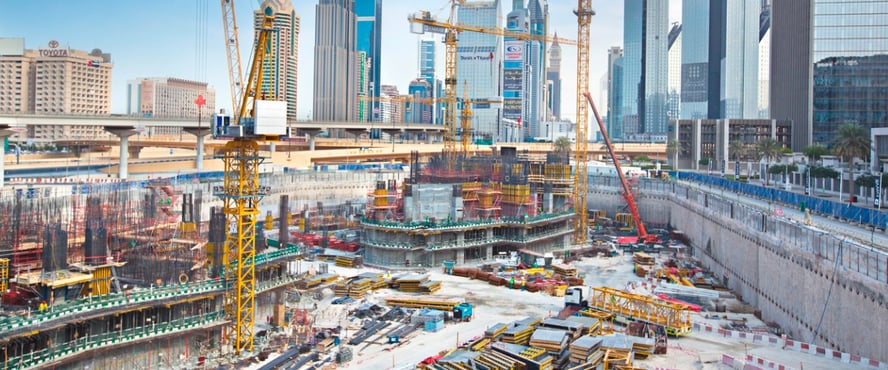 Benefits of 3D Printing in Construction
With the introduction and promotion of this transformative tech, Dubai expects to reduce average building construction costs by 50%-70%, with labor costs reduced by up to 80%.
These figures show that 3D printing isn't just some fancy-looking bit of tech to introduce on the jobsite. This fancy bit of kit can also bring tangible benefits to a project. These include:
- Saving Time On-Site
The construction of a building takes time. According to McKinsey, with construction projects regularly becoming delayed—large projects typically go 20% over schedule—time is precious.
3D printing speeds up traditional construction work and reduce lead times.
With a shorter supply chain and faster output, 3D printed homes can be completed in as little as two days versus the month-long wait time with traditional methods.
In Dubai, they are predicting the time needed for 3D printing buildings and products will be just 10% of the time it would take using traditional techniques.
Even the most skilled worker would struggle to maintain pace with a 3D printer.
- Cost-Effective Building Processes
Once you've gotten past the initial investment, 3D printing could help drive down costs on your project.
3D printed buildings require less raw materials and labor. With printed components taking as little as a day to create, the number of workers needed on-site, and the amount of materials required is dramatically reduced. And with 44% of construction companies reporting increasing costs due to labor shortages, according to AGC, this could be a handy workaround.
- Maintaining Safety On-Site
Construction sites can be deadly. Not only are on-site workers open to the elements, but they also have to deal with precarious heights, open electrics, and bulky materials.
In fact, according to the National Institutes of Health (NIH)—the U.S. Medical Research Agency—injury rates in construction are 71% higher compared to all industries on average.
This makes keeping your team safe on-site is a huge issue. With 3D printing, safety is increased. You simply set up the machine and let it get to work with little to no interference necessary.
- Reducing Waste
Each year the global construction industry is responsible for over 1 billion tons of waste. According to a Construction & Demolition Recycling report, this number will double by 2025.
By only using the exact about of material necessary to print a structure, 3D printing dramatically reduces waste.
Dubai predicts 3D printing will reduce construction waste by 60%.
- Supporting Sustainability
With the built environment responsible for nearly 40% of global carbon emissions and using 32% of the world's natural resources, there is enormous pressure on our shoulders to reduce our negative environmental impact.
While 3D printing does use cement—the environment's arch-nemesis—efforts are being made to reduce its impact through sustainable cement.
As detailed in Forbes, Fortera, a materials technology company, has recently partnered with California-based 3D printing construction company Mighty Buildings to produce an innovative cement that reduces CO2 emissions by more than 60% compared to the traditional material.
Despite these benefits 3D printing could introduce to projects globally, there are still many challenges standing in the way of widespread implementation.
Overcoming 3D Printing Tech Barriers
Unfortunately, it's not all plain sailing when implementing 3D printing technology on your project.
As with introducing any new tech to the construction industry—one of the least digitized globally—there are a number of hoops you have to jump through to get the industry on board:
- Finding the Money for a Big-Ticket Purchase
Despite 3D printing becoming more widespread in everyday life—even hobbyists having 3D printers at home—it's an entirely different ball game for the construction industry.
Here, 3D printers are much larger, need to be more advanced, and are considerably more expensive.
3D printers for construction cost anywhere between $180,000 to $1 million; according to additive manufacturing and 3D capture solutions consultants Aniwaa, it's a hefty price tag for many in the industry to fork out for.
This also doesn't factor in the materials or maintenance of a 3D printer.
- Working Without Defined Regulations
3D printing for the construction industry is still relatively new.
While 3D-printed buildings still have to meet regional laws and regulations to ensure they're up to code, rules around 3D printing in construction specifically are yet to be defined.
Without concrete regulations to govern how to use and implement the tech, 3D printing may struggle to impact.
- Finding the Right People for the Job
Highly sought after but sparse on the ground, highly skilled workers are a commodity in the construction industry.
According to the USG and U.S. Chamber of Commerce, 92% of contractors report being at least moderately concerned about the skill levels of their workers.
With 3D printing requiring a unique set of skills and the skilled labor shortage showing no signs of slowing down, if the industry wants to implement 3D on their projects, they will need to develop a solution.
- Gaining Buy-In in a Tech-Adverse Market
The construction industry is digitally adverse. According to JBKnowledge, nearly 60% of construction firms do not have a dedicated R&D budget. Investing in tech simply isn't on their radar.
Embracing digital had always seemed like a daunting undertaking, which would take time, money, and could potentially fail.
With these hurdles to navigate, 3D printing has a long way to go to become mainstream. Even if you're not ready to make a huge leap into the world of 3D printing, tech doesn't have to be cordoned off. There are always great ways to start small when embracing digital ways of working.
Want to learn more about how you can introduce construction technology and improve your projects? Learn more here.
Asite Insights in your inbox.
Sign up for product news and our latest insights published monthly. It's a newsletter so hot, even global warming can't keep up.