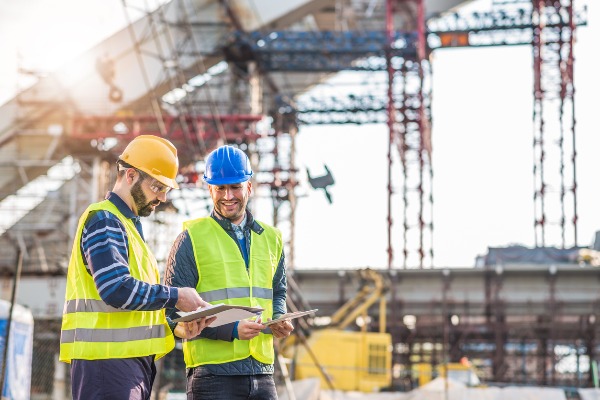 In the age of information, data is becoming increasingly important. Whether you're an architect, engineer, construction superintendent, or project manager, data can help to improve collaboration, productivity, and efficiency from the back office to the jobsite.
Many in construction companies are discovering a wide range of benefits from data, such as improved safety, greater compliance, the implementation of green solutions, and establishing performance and predictive trends for future project planning.
The construction industry is also re-examining the data they collect and asking questions. How do you collect data? How can data help to complete projects sooner and at a lower cost?
Despite these obvious benefits, many firms do not identify and analyze data for benchmarking. One U.S. study found only 50% of contractors consistently capture and review project data to measure construction project performance. This means a lot of construction pros are not bothering to make the effort.
In fact, the Associated General Contractors reported that large infrastructure projects are voluminous — requiring an average of 130 million emails, 55 million documents, and 12 million workflows. Of that, 95.5 percent of all data captured goes unused.
If you're appalled by these statistics, it may be time to solve your data puzzle.

Keeping Your Project on Track with Data
Data without context is useless. By giving data context, it becomes information. By consuming information, you gain knowledge. With knowledge, you can problem-solve and make informed decisions.
What is the most important data on a construction project? The data that will help the project manager keep the project on schedule and on budget. In short, you want to collect all data that will help you make better decisions regarding workload, schedules, and finances.
How do you do it? Using a project tracking software is probably the best way to keep track of projects because it monitors all the tasks associated with a project. With this management software, you can automate certain tasks, and can alert or notify appropriate people when tracked data is changed or an event occurs that can threaten the scheduling or financial success of the project.
Plus, it creates a single source of truth, which can be made accessible to all key stakeholders.

Key Data Points

to Track
Measuring progress will look differently based on what you are building. But a lot of it will involve measuring materials progress. How much concrete was laid? How much asphalt? How many piles were installed? How many stories high is the building?
However, there are some key data points you want to track regardless of the project.
1. Building Materials
Whatever building materials your project requires, track how much is being used, how much is being wasted, and how much is unaccounted for.
2. Labor Hours
Labor is one of the largest expenses on a construction project, so you want to track how many hours of work is being complete. Companies have always attached a dollar figure to labor, so companies have at least a rough idea of how many hours of work are expected to complete a project, so why not determine that number at the beginning of a project and track it.
When comparing labor hours and project progress, it gives you a better idea regarding productivity. You can calculate how much work is complete for the number of hours worked. Then, you can see whether or not you have a productivity problem by comparing the productivity of that part of the project to company or industry averages.
If you're behind schedule, and you don't have a productivity problem, you will have to check your other data to determine what is slowing down project completion. Perhaps a few days of bad weather shut down activities for days.
3. The Number and Kind of Safety Incidents
Tracking safety incidents will give companies a better chance to identify risk and mitigate it. A good safety record is a selling point; a bad safety record is a learning opportunity.
4. Machine Data
Modern machines come equipped with diagnostic tools that allow for unique insights "under the hood" of the machines in your fleet. Although the fleet manager will track a lot of it for machine health optimization, a project manager only needs to know that there will be enough equipment on site to complete the work and how much fuel is being used.
5. Change Orders and RFIs (Requests for Information)
More change orders will result in the generation of more work and potentially rework, which will have an impact on both the project schedule and finances.
Keeping track of the number and nature of RFIs and change orders is great data for explaining to the customer why a project will cost more or go over schedule.
6. Customer Requested Data
Every project requires providing owner-requested information; this could include project progress reports, financial statements or change orders, but it could also be data regarding building materials, such as reporting on asphalt compaction values for a state department of transportation.
7. Customer Satisfaction
How many companies keep data on customer satisfaction? Potential customers see the value in a scorecard evaluation of your performance. Being able to say "93% of all customers are highly satisfied with their product and another 98% found the advice your company gave to be very helpful" is a great selling point.
8. Costs
This includes costs already paid, expected costs, and potential costs. The more detailed your cost tracking, the easier it will be to determine which items are nearing or exceeding their budgeted amounts.
Keeping On Top of Your Data
With so many data points to track, keeping on top of your data can be tricky business. Data silos quickly crop up, costing your business big—impacting your bottom line, stealing your valuable time, and increasing risk on your projects.
So, how do you avoid falling into this trap?
To keep data silos at bay and make the most of the data you collect, the first essential step is to ensure all your data is in one place. This ensures no valuable data goes missing and your entire team has access to project information. Here, you'll improve collaboration and productivity.
The next question is, how do you get all your data in one place?
Integrating your various project tools and utilizing construction management software helps you get your data ducks in a row. By implementing this type of software, all your project data feeds into one central location, allowing it to be securely stored and accessed across the supply chain.
Asite offers this solution and helps you say goodbye to data silos.
The Asite Platform allows everyone involved in a project to input their data and information into one secure location. Organizations can store, track, manage, and securely share project data from one centralized location across the supply chain. Here, a single source of truth is created and maintained.
---
E

nsure

Y

our

D

ata is

Q

uality

D

ata
You should occasionally review how data is collected and analyzed. Once your company has enough data and a framework for organizing data from different projects, you can get into predictive data analytics.
This will help your company business determine which projects will most likely make the most money for your company. Ultimately, this will help anyone in construction design, build, bid, and win more profitable projects.
Ready to learn how to make the most of your construction data? Get started here.
Nathan Medcalf
Nathan Medcalf writes about technology, heavy equipment, and construction for numerous clients and has been published in more than 30 trade publications since 2006.
Join Our Asite Insights Community
Your monthly regional newsletter full of news, tips, and tricks.