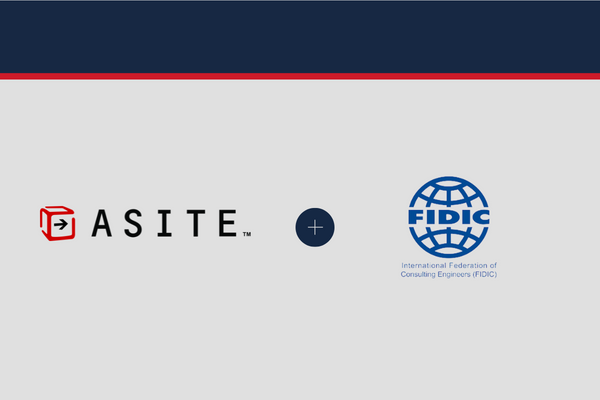 Asite's FIDIC (Yellow Book) Contract App complies with the guidelines and requirements as stipulated in the Plant and Design-Build Contract 2nd Edition
London, UK (October, 2022) – Asite, the world's leading data platform, is pleased to announce its FIDIC Yellow Book Contract Management solution is now validated.
Following a rigorous assessment by an external industry expert, Asite's FIDIC Yellow Book Contract Management Module was found to comply with the latest guidelines and requirements as stipulated in the Plant and Design-Build Contract 2nd Ed. (2017 YELLOW BOOK).
Asite's FIDIC (Yellow Book) version has been deemed suitable for managing FIDIC Yellow Book compliant Contracts.
Released as part of a range of recent improvements to the Asite Data Platform, this new Fédération Internationale des Ingénieurs-Conseils (FIDIC) validation demonstrates Asite's dedication to offering solutions that comply with industry standards and help our clients build better.
Denis Antony, Senior Vice President of Global Product Management at Asite, said:
"We are delighted to receive this validation for our cloud-based FIDIC Contract Management solution.

We constantly endeavor to deliver world-class solutions to the construction industry worldwide, so this recent validation is yet another demonstration of this commitment. It also demonstrates our in-house teams' and specialists' expertise in creating solutions that meet industry standards. This is what makes Asite so unique and helps us to stand out in this competitive industry.

Over the coming months, we will continue to validate our additional FIDIC Apps, providing our clients with the tools they need to succeed."
The Asite Contract Management solution provides teams with real-time visibility and control across the contract process, significantly reducing risk on any project.
The solution caters to many different contract guides and series, including FIDIC and New Engineering Construction (NEC). Under NEC, Asite supports both NEC3 and the newer version, NEC4. Here contract types Engineering and Construction Contract (ECC), Professional Service Contract (PSC), Term Service Contract (TSC), Subcontractor Contract (ESC), NEC3 Supply Contract, NEC3 Engineering and Construction Short Contracts are all supported.
FIDIC Yellow Book is a guide for anyone preparing, administering, or contributing to the FIDIC suite of contracts, 2017 edition.
It is mostly used for construction works where the design, construction, and assembly are made by the contractor. The FIDIC Yellow Book is widely recognized for its fundamental principles of balanced risk sharing between the employer and the contractor.
Initially published in 1999, FIDIC Yellow Book has been widely used for nearly two decades and is a trusted international standard.
To find out how your project or organization could benefit from using one of the construction industry's most secure cloud platforms for creating and managing contracts across the lifecycle of your asset, please contact sales@asite.com.
---
Asite is the world's leading data platform for the built environment, helping organizations come together, plan, design, and build with seamless information sharing across the entire supply chain. 
Founded in 2001, the Asite Platform has been used widely across the globe as the go-to- project management platform for complex, capital projects, including Dubai International Airport, Thames Tideway, and Australia's Bushfire Recovery Program. 
Today, more than 62,000 organizations, including Laing O'Rourke, Goldman Sachs, Transport for London (TfL), Aldar Properties, and the New York City Metropolitan Transportation Authority (MTA), utilize Asite's cloud-based Data Platform with their 127,000 projects and over 53 million files.   
Asite is headquartered in London with regional offices in New York, Houston, Amsterdam, Riyadh, Dubai, Sydney, Hong Kong, and Ahmedabad.  
For more information about Asite, please contact sales@asite.com or visit www.asite.com.
Asite Insights in your inbox.
Sign up for product news and our latest insights published monthly. It's a newsletter so hot, even global warming can't keep up.