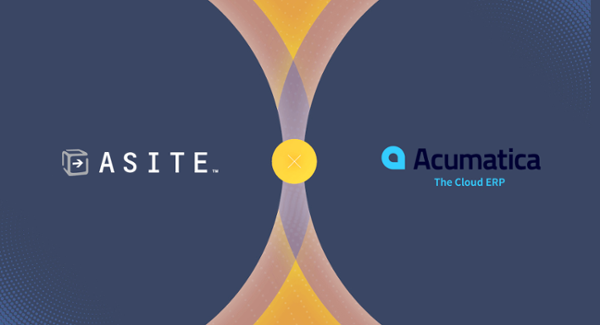 Ac

umatica

ERP

integration will help

contractors and owners

move away from data silos

and

revolutionize how

they

manage the complete project lifecycle
Houston, Texas, United States (April, 2022) – Material costs are rising, labor is tight, and the construction industry is trying to do more with less. From concept to handover and operations, getting the most important information into the right hands is a struggle. In North America, contractors waste more than 20% of their effort because they do not have accurate project data, causing projects to be late and over budget.
Why? The construction industry has focused on moving paper documents into point solutions—only to create more fragmented data silos. Lessons learned on one project are routinely not carried forward and accessible on the next project.
The good news is that there is a solution! Asite is pleased to announce a partnership with Acumatica, the world's fastest-growing cloud ERP company. Construction and Project Management based organizations now have a cost-competitive and high-quality alternative to the limited construction management solutions on the market today.
Fully and seamlessly integrated with Acumatica's Construction Edition, companies can now work with Asite to manage their entire project lifecycle with confidence. With 20+ years of experience on the largest projects in the world, Asite is perfectly positioned to help contractors and owners bring all project data together on a single secure platform.
Now, users can enjoy increased control of their project data, documents, and processes as well as real-time visibility into all project details, progress, and potential issues—minus the project blind spots and hidden risks. With this strategic relationship, data is no longer unstructured, uncoordinated, and inaccessible.
Nathan Doughty, Chief Executive Officer at Asite, said:

"I am delighted to partner with Acumatica. Asite is on a mission to become the go-to data platform for the built environment around the world, and part of that is getting our world-leading project management and collaboration solutions into the hands of builders across North America.

Built on our feature-rich data platform and with an innovative pricing model, our Asite Project Workflow solution will help construction customers to fast-forward their Asite adoption and reap the rewards of the platform. 

Acumatica and Asite are both on tremendous growth trajectories. We are delighted to partner together and turbocharge each other's success."
Ajoy Krishnamoorthy, EVP of Products and Chief Strategy Officer at Acumatica, said:

"Customers who want to stay competitive need flexible, responsive technology to execute their long-term business strategies. We're proud to add the Asite Project Workflow solution to the Acumatica ecosystem. Customers in the construction industry will benefit from a modern technology solution that spans the needs of the entire organization."
Acumatica is rapidly expanding, with countless construction sector partners and customers joining the company's cloud ERP ecosystem.  
Accelerating this growth, the Asite Project Workflow will help customers to unlock the value of their project data to drive innovation, decisions, and profit.  
With Asite and Acumatica, companies gain features such as: 
- Easily manage and collaborate on all project documents, including RFIs, Submittals, Daily Field Reports, Drawing Logs, Issues, and more.   
- Store, track access, share, and manage all project documents and files—from plans to BIM files to contracts.  
- Get on-the-go access to all project management-related details with the Asite Field Management and Mobile tools. 
- Work the way you want with easily tailored forms to your organization's needs, including Punch Lists, Checklists, and Health & Safety forms. 
- Ensure team members access only the most up-to-date project information and easily set up alerts and workflows for project updates. 
- Create an unlimited number of forms with limitless capabilities to meet the demands of your organization with Asite's easy-to-use Form Builder tools. 
- Ensure all information, changes, comments, and more are properly routed for review and approval to ensure the absolute highest standard of deliverables with Asite's configurable workflow tools. 
- Improve performance and reduce risk throughout the project life cycle with real-time access to all project information anywhere, anytime, on any device. 
- Ultimately, users will build better with enhanced collaboration across their project teams.  
---
About
Asite
Asite is the world's leading data platform for the built environment, helping organizations come together, plan, design, and build with seamless information sharing across the entire supply chain.
Founded in 2001, the Asite Platform has been used widely across the globe as the go-to- project management platform for complex, capital projects, including Dubai International Airport, Thames Tideway, and Australia's Bushfire Recovery Program.
Today, more than 62,000 organizations, including Laing O'Rourke, Goldman Sachs, Transport for London (TfL), Aldar Properties, and the New York City Metropolitan Transportation Authority (MTA), utilize Asite's cloud-based Data Platform with their 127,000 projects and over 53 million files.
Asite is headquartered in London with regional offices in New York, Houston, Amsterdam, Riyadh, Dubai, Sydney, Hong Kong, and Ahmedabad. 
For more information, contact Dan Lehman at (832) 681-7302 or dlehman@asite.com.
About Acumatica
Acumatica Cloud ERP provides the best business management solution for transforming your company to thrive in the new digital economy. Built on a future-proof platform with open architecture for rapid integrations, scalability, and ease of use, Acumatica delivers unparalleled value to small and midmarket organizations. Connected Business. Delivered. For more information, visit Acumatica.com. 
Asite Insights in your inbox.
Sign up for product news and our latest insights published monthly. It's a newsletter so hot, even global warming can't keep up.